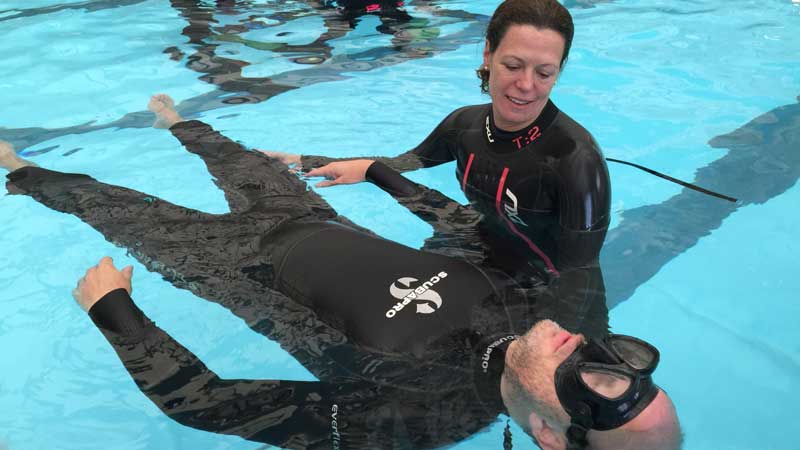 A fantastic introduction to the exciting sport of freediving
Taught by some of the world's most experienced freediving instructors, our Try Freediving course will introduce you to the history and development of freediving and give you the chance to experience it for yourself.
You'll learn about buddying and freediving equipment, how to breathe correctly, how to hold your breath safely, and uncover the secrets of the mammalian dive reflex. You'll then get the chance to put it all into practice in the pool. Static and dynamic apnea sessions will prove how long you can hold your breath for and how far you can swim underwater. You'll be amazed at what you're capable of – especially when you strap on a pair of long freediving fins to power your way through the water.
Course details
The Try Freediving course lasts 3 1/2 hours, split between the classroom and the pool. You'll learn the theory first before getting into the water for static apnea and dynamic apnea sessions. We'll provide you with all the kit you need including a wetsuit. We keep course numbers low so you can learn at your own pace under the watchful eye of our skilled, experienced instructors.
This course is a pre-requisite if you'd like to come to our freediving club pool training sessions or the Monofin Fundamentals course. We also offer you a lifetime guarantee*, so after the course you have the benefit of our continued support on your freediving journey.
Before booking please make sure you read our Terms and Conditions and medical statement

What's included
Pool hire
Theory material
Tuition
Equipment hire (including wetsuit hire)
Lifetime guarantee*
* Lifetime guarantee details
For as long as Go Freediving is trading, we will happily answer your questions and provide advice via email, telephone or in person about freediving (within the scope of your course). So if you have any queries about kit, training, where to go freediving abroad, or how to improve your technique, we'll be there for you.

Wetsuits
Wetsuit hire is included in the price of our Try Freediving courses however if you already have a wetsuit then we recommend you bring it as it is likely to be a better fit for you. Scuba wetsuits are suitable as long as they're at least 5mm thick. Triathlon suits tend to be less suitable as they don't have hoods – although the course is held in a heated pool, you can get cold during static apnea.
Availability
We always have spaces on this course so please book and then email emma@gofreediving.co.uk with the date you wish to attend or simply book the course on this page!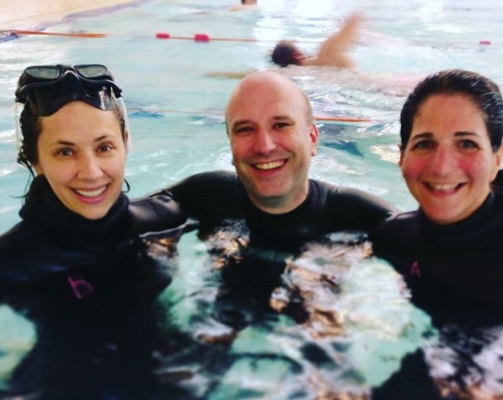 Bath
Dragonfly Leisure Centre, Gullock Tyning, Midsomer Norton, Bath, BA3 2SU
24 January 2020 | 6:00pm – 9.30pm
7 February 2020 | 6:00pm – 9.30pm
6 March 2020 | 6:00pm – 9.30pm
27 March 2020 | 6:00pm – 9.30pm
24 April 2020 | 6:00pm – 9.30pm
8 May 2020 | 6:00pm – 9.30pm
19 June 2020 | 6:00pm – 9.30pm
9 October 2020 | 6:00pm – 9.30pm

Every course has space on it unless stated above, so please go ahead and book and then send an email to emma@gofreediving.co.uk with the date you would like to come.
Gift vouchers are also available
To take part in our Try Freediving course you must be:
14 years of age or older
Able to swim 100m unaided
You will be required to complete this self-certifying medical form before the course. If you answer 'yes' to any of the conditions listed you must get approval from your GP.
Online Breath Hold Optimisation Classes
Improve your breath hold and lung function, and improve your freediving.
The Breath Hold Optimisation Classes are based on the programme Emma devised for Olympic and Paralympic athletes across cycling and swimming, and have been used successfully since 2010.
The exercises are designed to teach you how to breathe fully and efficiently, improve CO2 tolerance, increase breath hold capacity, increase Vital Capacity, decrease Residual Volume and improve diaphragm flexibility.
Emma's program uses techniques from yoga, freediving and the Buteyko method, and have been proven to improve lung function and performance.
These people loved it!
There was such a relaxed atmosphere on the course. We discussed about other topics and this helped to get a bigger picture of the freediving world!
I loved the calmness of the instructors, their good humour, laid back approach and professionalism!
"I don't think you guys realise how much you give to people. I just want to make sure you know that YOU (you and David and the whole gang) have already made a huge impact on my life."