Many people think that freediving only happens in exotic, blue water locations. However UK Freediving also has stunning locations and rare and unique wildlife to enjoy. We teach most of our courses in the UK, at the beautiful site of Vobster Quay in Somerset.
Here you can dive almost every day of the year, with no current, swell, waves or tides to consider. There are things to look at underwater for the beginner, as well as deeper attractions for advanced freedivers. And it's also an ARC site for the endangered white clawed crayfish.
UK Freediving wildlife
UK Freediving boasts seals, sharks, dolphins, and wrecks. With over seven thousand miles of coastline, there's a huge variety of incredible sights and wildlife. We've been blessed to have had incredible freediving around the UK. This has included freediving with seals in the Farne Islands which you can see below:
However the inland sites often don't get a mention when people talk about UK Freediving and this is a shame. Vobster Quay is full of fish to swim with, zebra mussels which keep the water clear, and the endangered white clawed crayfish. Although they are also elusive!
Why is coastal UK Freediving problematic?
The disadvantage with freediving at the coast is that weather can be unpredictable and visibility often very poor. This makes planning difficult, as weather can change dramatically throughout a day. It can also be tricky to find sufficient depth to train safely.
This is where the inland sites come into their own. Vobster has its own specially constructed freediving platform for freediving depth training, and everything from planes, cars and boats to swim around and through.
We've never had to change or cancel a course due to the weather, and hot food and showers are only a few feet away from the water!
Read testimonials from our UK freediving students
Check out what Nick, Mark and Martin had to say about their course this weekend: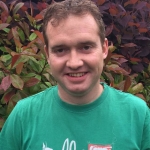 I love anything to do with water. I love snorkeling, and freediving is taking it to the next level in terms of what I could do when I snorkel, so that really was the main motivation.
The course was a birthday present but the experience with you guys has been brilliant, right from dealing with you, to the booking, through to today and yesterday, it's been really really good.
The biggest takeaway has been the breathing. Before when I was snorkeling, I'd be bobbing along and just stick my head out of the water, grab a breath and then plummet down and then come up and go 'huuuuuhhhhh' and now I know what I've got to do, be more controlled.
Benefits of doing this course I think would be technique, with bigger fins, definitely, how to follow a line down which was a bit of challenge at the start because you're constantly looking at where you're going, not at the line, and I guess breathing again has been the real revelation. Yesterday when you showed it to us first, about completely exhaling, and doing like a proper exhale as opposed to just a short 'huh', and then go, makes such a huge difference. You could really feel how to use your whole lungs, without a shadow of a doubt.
I'd definitely recommend the course, I don't think many people know the intricacies of freediving properly, I certainly didn't. I guess I thought it was almost snorkeling with big fins. And then when you come to do it, you realize it's nothing like that at all, it's totally different.
That's the other thing, I don't know if all courses are like this but having Zoe, Jorgen and yourself, it almost felt like a one-to-one. I had the impression the course might be more of you and it would be dive, twiddle…… Dive, twiddle….. But it was almost like dive, what do you want to do next? You need to do this, what do you want to do next? And you're constantly doing stuff and that was really really good. Thank you very much!
Nick Willson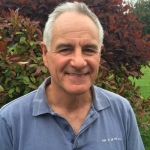 I started UK freediving about five years ago, I'd always wanted to do it since I knew about it. I started a course in London with a different outfit, but didn't finish it and we were always moving around, and work and stuff, so I always wanted to get back to it.
Then we moved to Portsmouth and I saw your club in Poole. So I went down there and loved it, so I thought, right, the next thing to do is get back on the training bit and thought let's go back to basics. I like these guys, I like the style, the biggest thing compared with some other people and groups is that there's no egos. People are very very good, but there's no big egos and that is my pet hate in life and so from that, I thought the best thing to do was sign up for a course, go back to basics, get your foundations right again, and so it's hopefully it's onwards and upwards, or onwards and downwards!
Having done it before, and known the skills before, looking back, the biggest thing that I didn't realize, was how little you actually have to do in the preparation to dive. Because I'd been through the whole 'blowing out the candles' bit and everything else, and I felt quite exhausted before I'd even gone under the water to be perfectly honest, and sometimes it's an actual strain. Of course it's a bit of a physical strain when you take a massive breath because it's not normal, but you can't avoid that if you want to take a big breath. But the fact, that actually there's nothing to it! All you have to do is breathe normally but try to relax more, then breathe out and breathe in! That's kind of it really. I know there's technique to it, but that's kind of it and that was so refreshing. And what was really really good and confirmed that, was you pointing out the amount of oxygen you've already got, so why on earth, even if you didn't get any more in, you can get quite a way on that without trying anything else, so that was a significant part of this weekend. And obviously refining the skills and everything else, and what I was finding, and very significantly, was trying to concentrate on my banana body, and my equalizing and my streamlining, and I was going down on the last few dives we did, and getting towards the plane and thinking 'it's a bit harder than it needs to be', but once I got there I took a second out and just stayed there and thought 'this is alright now'. And I thoroughly enjoyed it. And everyone, whether very experienced divers, or instructors, or newbies, were such a great bunch really.
I'd certainly recommend the course, because everyone is allowed to go at your own pace. Of course you're pushed a little bit because you want to reach a standard, if you don't reach it, it doesn't matter because you can come back and finish it, it's very professional but taught in a very friendly way. You won't let us get away with anything though mind which is good, in the nicest possible way. And it's relaxed and fun! And you come away thinking, I think I got that right, or maybe I got it wrong but I know how to get it right and so you can't ask for much more than that really.
Mark Card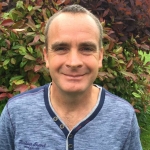 Davina McCall made me do this course. I saw her swimming with sperm whales and she learnt to freedive. And I thought, if she can do it… It looks amazing! I don't have much time off work and it's less demanding than scuba diving and cheaper and less kit. And I knew Vobster, so it was familiar, a good facility for UK freediving. And I wanted to get relaxed, and get the skills for my body so when I went abroad I can do more and take more photos.
I discovered it's harder than I thought! I didn't think, that being in a head down position would affect my body that way. I did a lot of breath training before the course and it really helped when I had equalisation issues. And reading through the course materials beforehand helped me relax.
The benefits of doing the course with you would be the professional approach, good information, good training, good instructors, the whole thing for was good really, and even with the problems I was having, there was never any pressure, you were never pushing me too fast too quick. And this paid off. This morning I didn't think I would even get anywhere close to passing, but then I did!
I'd definitely recommend the course! I've had a really good experience. Even if someone thinks they are a bit too far away, I'd say 'look, I've met these people, I've trained with them, they've been fantastic, everything's been really well organised and it's been fun as well as educational at the same time' so that's why I'd recommend you.
Martin Palmer
And read more testimonials here!
Come and learn to freedive with us
No other freediving course provider has our experience, safety and personal care and attention. We'd love to see you in the water! Find out more about our beginner RAID Freediver Course by clicking here!