Check out the latest film from our beginner freediving course, and find out what makes our courses the best, safest, and most enjoyable!
What happens on a beginner freediving course?
The beginner freediving course we teach is suitable for complete novices as well as people experienced in freediving, snorkelling, scuba diving and swimming.
The course is always adapted to your level and there is never any pressure to perform. People do best at freediving in a relaxed and supported environment, and our freediving instructors are the best in the world at making people feel safe and secure.
The beginner freediving course starts with theory work that is done at home at your own pace. On the first morning of the course we meet at a local swimming pool to learn first hand about the freediving equipment you will be using, as well as learning exactly how to breathe before and after a freedive.
After two pool sessions where the theory is put into practice, we move to the beautiful location of Vobster Quay. Vobster Quay is perfect for freediving, with excellent visibility, lots of inquisitive fish, loads of underwater attractions to dive on, and no tides, currents or bad weather to stop us diving!
You then spend the rest of the weekend freediving to depth and discovering what makes freediving so special.
Safest beginner freediving course
You learn the best when you feel safe and supported and our safety record is second to none. Learning to freedive is one of the most incredibly experiences you can have, where you discover that your limits are mainly self-imposed, and you marvel at what your body can do, exploring another world.
Meet Tim, Anne-Laure and Jerome with instructors Zoe and Jorgen on their beginner freediving course
So what did they think of their beginner freediving course with us?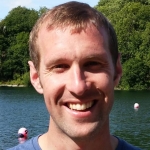 I have wanted to try a beginner freediving course for sometime as it looks both challenging and great fun.  I heard about your Try Freediving course through Oxford Dive Centre, which I attended and really enjoyed.  This course was the next step and I was really looking forward to trying some deeper water.
On the course I discovered that swimming slower sends you further!  It was great to put all the skills that we were taught into practise and find out how much more efficient you could be.
The support from Zoe and Jorgen was fantastic.  Once in the water they made sure I was safe and covered all the skills I had to learn at a good pace, but allowed me to do everything that I wanted to do and really explore the lake.   It was also great to have instructors that were clearly very passionate about what they were teaching.
Three benefits of doing the beginner freediving course with you is that you learn techniques that will enable you to go much further than you thought possible or would normally.  You do this in a safe environment with very knowledgeable instructors and you have a fun and relaxing weekend.
I certainly would recommend this course.  Brilliant tuition, great sense of adventure whilst being so relaxed (!), and good fun.
Tim Frost
Jerome read Emma's book One Breath and it made him want to try Freediving. And I followed!
On the beginner freediving course we discovered that freediving was a great way to relax. We also discovered that you can use one breath for quite longer than we originally thought. And that we could go down to 10m without breathing!!!! We were really not convinced of that before the week-end.
We also discovered what a great diving centre Vobster Quay is.
The thing we liked best about the beginner freediving course were our lovely instructors Zoe and Jorgen. It was great to hear about their two experiences of Freediving and made us realise that everyone is different.
Three benefits about doing the course would be very friendly instructors, relaxing week-end, and exactly the right pace (packed week-end, but still relaxing).
We definitely would definitely recommend the course, because it's a great activity, a great venue and great instructors!
Anne-Laure and Jerome Bedouet
And you can read more testimonials here!
Come take your beginner freediving course with us!
No other freediving course provider has our experience, safety and personal care and attention. We'd love to see you in the water! Find out more about our beginner freediving course by clicking here!
Want to see more films from all of our beginner freediving courses?
Then keep in touch by subscribing to our mailing list for weekly newsletters with exclusive articles, news, films, offers and more!