In part two of our interview with Carl Atkinson, he talks about his first experience at the AIDA World Championships – what he learned, what he would do differently, and how he and several competitors hijacked a bus (well almost).
Emma: So, your first AIDA World Championship! What was the venue like?
Carl Atkinson: I was pretty excited and eager to try some depth diving somewhere new. The venue for the AIDA World Championships was the Elite City Resort hotel – which is also home to Freediving Club Greece.  It's situated in Kalamatas' stunning bay – very well sheltered and surrounded by a fantastic mountain backdrop.
Emma: What was your first impression as a competitor?
Carl Atkinson: Many of the athletes were already there when I arrived as there was a pre-comp the week leading up to the AIDA World Championships – so things already felt like they were in full swing by the time I got there. Some national records had already been set and many of the divers were getting to grips with the venues dive conditions early.
On reflection it may have been a good idea for me to partake in the pre-comp too. By the time I arrived I had already spent quite a bit of time travelling (particularly with my build up training in Dahab), followed by three days in the UK to rest and recover), a fair bit of which was flying, which is inherently bad for germs and air cons messing around with sinuses to hinder equalisation.
Emma: Tell me more about what you thought meeting and seeing all the other competitors
Carl Atkinson: It was quite an incredible feeling for me to suddenly be dropped into the AIDA World Championships – a place full of divers that until then I had only read about and seen pictures of; national record holders, former and current world record holders, all there training and socialising together.
There was a huge sense of community where everyone seemed to know everyone with athletes being very approachable. However, there was a competition about to start and although everyone seemed in good spirits you could still sense a feeling of tension and you could see in many athletes eyes a state of concentration and "psyching oneself" for what was ahead.
Emma: So, what was your schedule?
Carl Atkinson: I arrived in Kalamata on the Thursday 15th of September with the CWT competition day the following Monday. The STA competition day was scheduled for the Thursday after, and the DYN competition day the Saturday after that.
I knew I wanted to do two days depth training on the Friday and Saturday with a rest day on Sunday before the CWT competition day on Monday. At this point I had no idea what depth I was going to announce for the competition as it really depended on how my two training days went.
The two training days went well with the first day setting the line to 75m and the second day to 80m  hitting them both comfortably. The 80m dive is one of my best to date as I had a really clean mouthfill, maintaining constant pressure the whole way down until the lanyard tugged on the bottom plate and had plenty mouthfill left at the bottom. I felt confident at this point that I would announce 80m for my AIDA World comp dive.
Emma: What were the conditions like?
Carl Atkinson: There were a few differences in conditions at the AIDA World Championships in Kalamata compared to the Blue Hole where I had just been training. To start with, it was a 10 minute boat ride out to the pontoon where the competition lines were.
There were thermoclines here ranging from 26C at the surface dropping down to 16C at around 75m. This meant I was wearing a thicker suit then what I had been using in Egypt. I focused on being ready for  each thermocline as it hit me so tried to stay relaxed and keep my mouthfill.
There were no visual references in Kalamata. I hadn't realised how much I had got used to being able to see the coral walls of the Blue Hole as a visual reference to know how far I had travelled when surfacing.
Emma: How did you feel on the day?
Carl Atkinson: I felt good and well rested that morning. I did my normal pre dive dry breath holds before catching my boat out to the comp lines. At the AIDA World Championships you're allowed to enter the water 45 minutes before your official top, as I just do one warm-up dive I didn't enter the water straight away and just stayed on the boat for a bit relaxing.
I like to have about 15′ surface interval from my warmup dive to my official top. I got in the water with about 35′ until my official top. There was only one 40m warm-up line and there were a few divers trying to use it, some were being a little possessive over this line so this delayed my warm-up dive, making it a little rushed and only giving me a 7′ surface interval, making it all less relaxed then I like.
Emma: What was your announcement?
Carl Atkinson: We discussed as a team what we were going to announce.
We concluded that to be competitive at this particular AIDA World Championship we were going to have to go pretty big in our announcements and hope that other teams would get red cards. We would announce:
Adam – 55m
Tim – 63m
Me – 80m
There were three competition lines starting with deeper announcements running to shallower announcements.
Emma: Tell us about the competition! How did it go?
Carl Atkinson: My breathe up was nice and relaxed helped by the fact that the sea was like a millpond. My descent was good and my legs felt fresh from the previous rest day. My mouthfills went well and felt strong with no leaking sounds. Then for some reason I swallowed losing most of my mouthfill…
Emma: Oh no! What happened?
Carl Atkinson: It's not normally an issue with me and I don't understand why on this dive I got the urge to swallow. Thankfully I swallowed at the same time my 75m depth alarm went off (I always set a depth alarm 5m from the bottom plate) meaning I was fully equalised at that point with only a few meters to go. At that depth there isn't a great deal of pressure change so it was easy just to ride out the last few meters.
Hitting the bottom and grabbing the tag I had a slight sense of elation that I had managed the depth in the AIDA World Championship environment. But I still had some work to get myself back up. Once you make the turn its about engaging those finning muscles and working it. I knew with no visual references I was just going to fin fairly hard until I saw the first safety diver (using a scooter) at about 40m. Then, I would back right off the power and finning rate, and then stop finning completely when the I saw the second safety diver. I made sure I located the line with my hand and got myself ready mentally for surface protocol.
I surfaced still feeling good and not out of breath, my legs had felt good the whole way up. My surface protocol was clean and I received an AIDA World Championship white card for my troubles.
Emma: Fantastic! How did it go for Tim and Adam?
Carl Atkinson: After my dive I stayed in the water so I could coach Tim through his warmup and dive. Tim's dive went well and looked very clean receiving a white card. Adams dive came shortly after Tim's on the same line. The forecast was for a storm to come in at about lunch time and the AIDA World Championship organisers were hoping to get as many dives in before it arrived. The weather was just beginning to turn as Adam's dive approached. Adam made his dive and surfaced clean with the tag receiving a white card.
Suddenly the weather made a turn and the organisers were urgently trying to get all the competitors back in to shore. Nonetheless, with three white cards for the team this just added to the excitement of what we had just achieved.
Emma: Three white cards in your first AIDA World Championship – amazing! And you survived a storm too!
Carl Atkinson: Yes! The storm was pretty bad. The rain was horizontal and the lightning was right overhead with hardly any visibility and no sight of the shore. We were on a rib, packed with a load of divers going at a rate of knots on what was now pretty choppy water.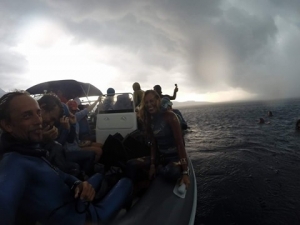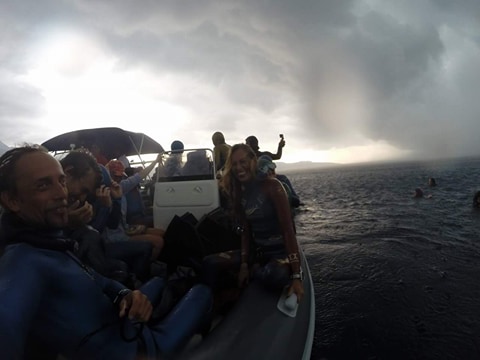 The boats dropped us all off at the harbour which was about a mile along the bay from the hotel where the boats normally drop us off. So now there was a troop of AIDA World Championship freedivers of multiple nationalities walking along the promenade fully kitted in wetsuits carrying monofins.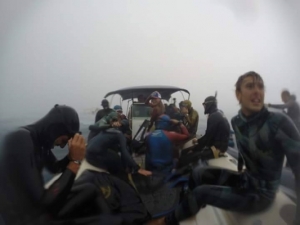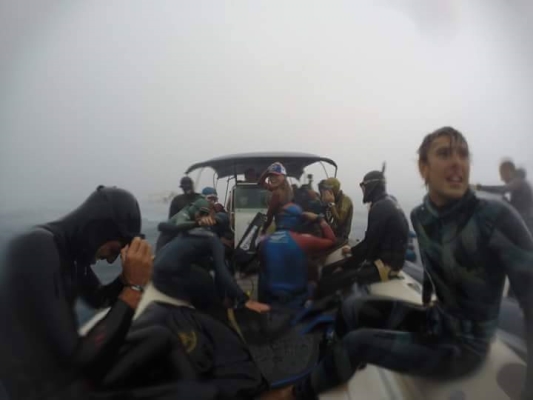 We came to a bus stop where one of the female Swedish AIDA World Championship freedivers approached the bus driver and asked if he would let us on the bus even though none of us could produce any money, to which the kind bus driver said yes (much to the disapproval of the current passengers on the bus who now had to share it with a load of wet rubber clad freedivers brandishing monofins). A fairly surreal experience.
Emma: Hilarious! I hear there was some controversy about the white cards. What happened?
Carl Atkinson: We were pretty elated at receiving three white cards. We heard red cards had been given to  divers from some of the top AIDA World Championship teams; the French, Czech and Alexey Molchanov of Russia for failing his surface protocol. After doing some maths we  worked out that we were in second place after the first day and in with a chance of a medal!
 The official AIDA World Championship results were published after the judges had reviewed the bottom plate cameras of every dive. We couldn't believe it – Adam's dive had been disqualified!
Emma: No! What happened?
Carl Atkinson: His dive had been disqualified for a pull on the line. We had to decide as a team whether we should appeal the decision. Adam believed he must have grabbed the line too early on ascent but didn't feel that he had pulled on the line, so we appealed, saying it was a grab not a pull. Unfortunately the judges stuck with their decision and it remained a disqualification. We had to respect the decision,  and carry on with the competition accepting the fact that we were no longer in the running for a medal.
Emma: So, how did this affect you personally?
Carl Atkinson:For me it was a case of looking at what teams were at a similar position to us in points and setting a goal to beat them. AIDA World Championship Team USA were at a very similar points position to us as they had a member take an early turn in his constant weight dive. This became my new competition.
Emma: Tell me how the Static part of the AIDA World champs went for you?
Carl Atkinson:Static was new ground for me – I have been primarily a constant weight diver and had never done static in competition before.  During pool training in the UK  I had had been getting around the six minute mark and was hoping to get somewhere near this in competition.
We had two days to rest and train in the competition schedule. I did a static training session each morning hitting 5:30 mins relaxed without pushing hard so as not to over train and burn out. I felt confident that I should be able to achieve somewhere between 5:30 to 6 minutes on competition day.
Emma: And on the day…?
Carl Atkinson: I was nervous.  I generally felt uneasy that day and not at all relaxed. My lack of static competition experience was showing already at this point. I announced a very short time to go earlier in the day.  I was lacking that "routine" that I rely on to make me relaxed and calm when I compete in Constant Weight.
I checked into the competition area and began some of my dry breath holds and relaxation breathing. All of my dry breaths were off my normal and felt a little uncomfortable and agitated. Sometimes I have days where it takes me a little longer to get into static mode, and therefore I do a couple more dry holds.
It was time to enter the water for my warm up holds. I did my normal warm up holds (First contraction + 30 seconds, First contraction + 45 seconds, First contraction + 1 minute. Each time the first contraction coming later). I was still struggling to relax and my contractions were coming a little earlier then they would usually. After my warm up holds I moved to a transition area of the pool next to the competition zone. I had about five minutes before my official top to breathe up and try to relax. I was nervous, and could feel my heart beating much harder then usual, as if I had gone into fight or flight mode, which is not ideal for freediving. I was just hoping that when I roll over to hold my breath I would calm down.
Emma: I'm holding my breath, just listening! How did it go?
Carl Atkinson: It was the last seconds of the count down to my official top, I took my final few breaths and then it was time…
The moment I rolled over I felt terrible, not like I had ever felt in a static before. My heart was pounding so hard it felt as though I could feel the shock waves throughout my body. I tried to think relaxing thoughts and hoped that after a minute of breath holding my body and mind would fall into a better place and my heart beat would become softer and calmer. It didn't. I continued to feel awful, as if my body wanted to do anything other then hold its breath. For a moment I genuinely considered just pulling up and walking straight off to my hotel room, but knew for every five seconds I could draw this out it was another point and  I would have to battle on.
So I fought through some of hardest contractions I have ever felt for longer then I have ever gone through contractions before.
I managed about 5 minutes. Way off my personal best or what I had been doing in training, yet it felt harder and more pushed then any static I had done before. but I completed surface protocol and managed to get some points on the table.
Emma: It's amazing how differently we can perform under competition conditions. What about Tim and Adam, How did they do?
Carl Atkinson: Tim's official time was similar to mine – he put in a solid 5:46 min performance giving us a good amount of points. This was not what he had original hoped for coming into the competition, but another AIDA World Championship white card and points nonetheless.
Adam announced a bigger time meaning he would compete later. After his red card in Constant weight I got the impression from him that he was coming into static with an "all in" attitude and was going to go big.
He rolled over for his static, looking strong at 4 minutes, then by 5 minutes you could begin to see contractions. These contractions were increasing in size and frequency quickly, quicker then he had in training. by 6:30 mins he was battling strong contractions.  Shortly after seven minutes he surfaced taking one stuttered unclean breath in, then another. his coach shouting "nose clip, nose clip" His head was dropping and you could see he was struggling to stay conscious. Then unfortunately his face re-submerged and the safety divers had to grab him. It was a red card.
Emma: Oh no! But you all still had Dynamic to go. What happened there?
Carl Atkinson: We had a one day gap between static and dynamic, this would be my only day to train – and my first time training in a 50 metre pool. Rest however plays a big part in dynamic I find, so this session had to be fairly low intensity and more a case of scoping the ground and trying to get used to a 50 metre pool and how it feels.
I did a couple of 100 metre dives with a turn at the end to get used to turning at both ends of the pool. The dive felt uncomfortable, my chest tight and my legs aching which didn't fill me with much confidence. I put it down to tiredness as it had been an intense few weeks preparing for the AIDA World Championships so I decided to just relax and rest as best I could.
Emma: It can be incredibly tiring, especially if you are training and competing in a new discipline.
Carl Atkinson: Yes, this was my first year in training for this discipline. In the UK I had steadily been stepping it up with dynamic and had managed a few dives to over 150 metres in a 25 metre pool, so I hoped to manage this on the day.
On the morning of the competition day I still had a tight feeling chest and  generally felt run down. But I had to try and not let that get in my way. I hoped that once I did my warm up stretches and dry holds I would get into gear and start feeling better.
I arrived at the competition zone and tried to find a space for me to stretch and do my co2 table. I usually like to find a quiet secluded place to warm up and do my dry holds and can feel fairly uncomfortable when there are too many people and sounds going on around me, but this proved  almost impossible as there were many athletes around, dives currently taking place with supporters cheering and generally quite a hustle and bustle feel. This was a big element of the competition that I found challenging.
Emma: So, talk us through the actual dive..
Carl Atkinson:Five minutes before my official top I was by the poolside at the end of my designated lane waiting to get in the water. I could feel the nerves rising, I tried to ignore them by concentrating on my breathing. Much like on the static day I could feel my heart pounding, not particularly fast, but hard, way harder then I usually experience before a dive. I know this was the nerves.
I was in one of three lanes with two other athletes breathing up next to me. This was new to me and I had never done a dynamic at the same time as anyone else before and had not really learned to ignore and zone out from the other athletes and general going on around the pool.
It was Official Top and I was taking my last breath in, then pushed off the wall. I did not feel normal, right at the start I felt uncomfortable, like I wanted to come up straight away. I felt that burn you feel from excessive co2 build up after a long training session, but right at the start of the dive. My quads were burning and a general feeling of having no power in the legs whatsoever. My turn at 100 metres felt way more effort then ever before and I was burning all over, as if I had swam the last 100 metres without any glide between strokes and just solidly pumping my legs flat out.
I had strong contractions at this point and was for some reason lacking that mental state I sometimes have to control and persevere through the contractions. I was conscious that I wanted to make sure I got a white card and therefore had a clean sheet over the competition. I was also very conscious that I had never to date surfaced on a swimming pool rope before.
I surfaced at 130 metres, wrapped my arms firmly round the rope which was actually a lot more solid then I had anticipated, and completed my surface protocol cleanly. I was far from my better performances, but a clean dive none the less.
Emma: Absolutely! And what about the other guys?
Carl Atkinson: Tim completed a clean 160 metres, looking smooth with very fluid and efficient turns. There was a lot from his style I felt I could learn from, particularly the turns which I still find cumbersome and inefficient.
Adam gave a solid 125 metres. After the red cards inn the other two disciplines I got the impression that he was keen to get a clean dive and white card in this final discipline.
Emma: Fantastic!! How did it feel for it all to be over?
Carl Atkinson:I was knackered. Physically and mentally drained from a solid previous four weeks of depth training in Egypt and competing at the AIDA World Champs. But I could not believe it was all over, it felt surreal, like I was not yet ready to come down.
Emma: So, who won the 2016 AIDA World Championships?
Carl Atkinson: For the men, Russia got bronze, even with Alexey getting a red card in CWT, the teams outstanding performances in all the other dives gave them enough points. France silver. Czech Gold, Going for a moderately conservative approach to their CWT to ensure white cards and then pushed it on the other two disciplines paid off.
For the women, Russia bronze, Czech silver and Japan gold. The Japanese women were strong across the board however it was their unparalleled level at the depth across their team that really set them apart and won them the gold.
Emma: Did you enjoy the AIDA World Championship closing ceremony?
Carl Atkinson: The closing ceremony at the AIDA World Championships had a fantastic and fairly wild atmosphere, as there were a whole load of athletes who had to this point been very disciplined, focused, healthy living and composed, were finally able to let loose. Everyone was in fantastic spirits. It was interesting talking to many of the other athletes who are professional and finding out about their elaborate travelling lives around the world freediving, where their next stop is in their journey. This made  me insanely jealous of the fact that in less that 48 hours time I would be back at work in my full time 9-5 experiencing the "colourful" weather of the UK.
Emma: Yes, that always sucks! So now you've had some distance from the competition, what are your thoughts? What have you taken from it?
Carl Atkinson: On reflection after the competition,there are many things I could take away, lots I have learned and lots of questions that I need to find the answers to from within myself to understand myself better as a freediver.
I wanted to understand the reasons why my constant weight dives went well, but the pool disciplines did not go to plan. Why my chest felt tighter as the competition went on and my body more lifeless and drained.
Did I squeeze during my 80 metre constant weight? Could this explain the reduced apnea and tightness of the chest? I'm unsure, as after the dive I had no urge to cough or tightness of the chest which one would usually expect with a squeeze. I also had no affect on my apnea for the following two days, as my static trainings were going well and to plan.
Was I worn out and over trained? Over the last two weeks I had done four dives to over 80 metres and countless to over 70 metres, on top of that all the static and dynamic training. Possibly this had taken its toll on my body, and mind.
Lack of experience in pool disciplines? It was clear that a lacked the routine in the pool disciplines that I have developed in CWT through much training and previous competition experience.
Nerves? This could have played a large part and give reason as to why my heart was pounding so hard during static in a way that I have only experienced in a fight or flight type of situation prior.
Chest infection? On the day I traveled back, I was beginning to develop a cough and the following two weeks I proceeded to have a pretty horrible cold. Possibly due to the fact that in the last four weeks I had been on six flights.
In truth, like with many things, I believe it to be a combination off all the above, but to what degree I am uncertain.
The lack of experience could lead to the nerves. The over training lead to illness and impaired immune system. Did a small squeeze develop into a chest infection?
These are all questions that need answers so as to find out what works best for me in the future as a freediver.
Emma: What a journey! And you seemed to have gained so much knowledge – which I am certain will make you a better freediver. Thanks for sharing your AIDA World Championship experience with us!
Learn to freedive with Go Freediving
Go Freediving is the longest established, most experienced and friendliest freediving course provider in the UK, led by world class freediving instructor trainer Emma Farrell, and her team of personally trained instructors. No other course provider has such a good instructor to student ratio, safety record and personal touch.
Whether you're a beginner dipping your toes into the world of freediving, a seasoned pro looking to turn professional, or simply a freediver of any level who wants the best freediving holiday in the world, we're here for you!
Also check out our online guide, The Beginners Guide to Freediving by clicking here!
Keep in touch with everything Freediving
Subscribe to our mailing list for weekly newsletters with exclusive articles, news, films, offers and more!