At Go Freediving we pride ourselves on our student to instructor ratios. On average we have one instructor to three students – which we think  is pretty amazing. However, we also understand that for some students, private freediving tuition is a preferred way to learn – whether as an individual, or not.
Why Choose Private Freediving Tuition?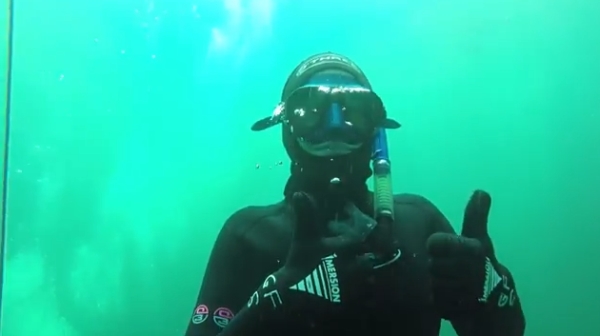 Opting for private freediving tuition means as a student you can choose an exact date, and sometimes an exact location for your private freediving tuition. For those with busy schedules or heavy commitments having this degree of flexibility when learning a new sport can have enormous benefits, particularly as the sport of freediving needs students to feel comfortable and relaxed in order to maximise any progress.
For some students their progress can be accelerated if they have private freediving tuition. This is because any difficulties they may be experiencing with an element of freediving – for example equalising – can be the focus of the session and can be explored and worked through with the instructor.
Another benefit of private freediving tuition is that it removes any degree of pressure. Many students automatically compare their progress to that of another student. For some this can be motivating, but equally for others this can have a detrimental impact on their learning, enthusiasm and overall ability to overcome difficulties they are experiencing as they put undue pressure on themselves to 'keep up'.
What Type of Student Chooses to Have Private Freediving Tuition?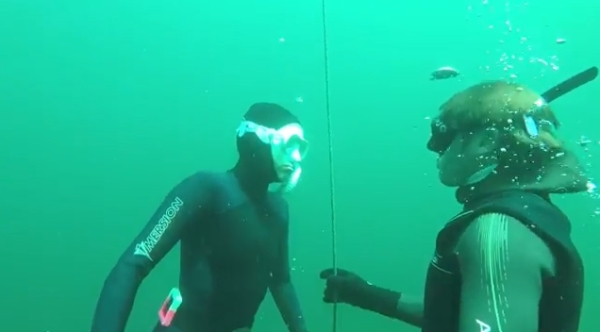 There are a surprising variety of students who may choose to have private freediving tuition:
The independent learner
Some students recognise they learn better in a one-to-one environment. They may find group learning interferes with their own ability to progress and so to enjoy and develop they prefer private freediving tuition.
The busy learner
The busy learner has an incredibly busy schedule, whether through work or home commitments find that many fixed courses dates simply aren't a viable option. Being able to choose a personal schedule via private freediving tuition allows them the opportunity to learn the sport they have longed to without their other commitments affecting it.
The retired learner
The retired learner may have more free time to explore new sports and activities, but may simply want to learn at a time and date that suits them. Having the flexibility of private freediving tuition allows them to learn exactly when they want to.
The performance learner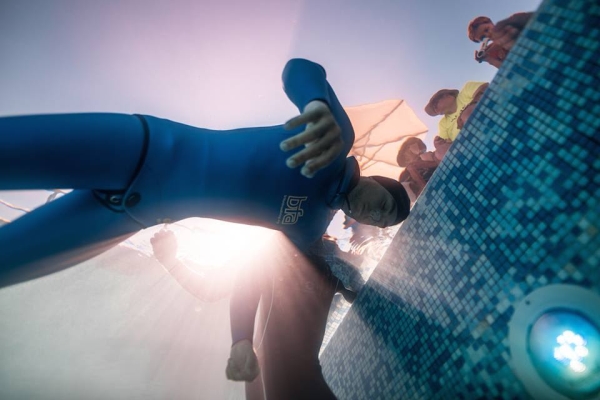 The performance learner is often an athlete or sport enthusiast who is driven to find ways to maximise their performance either as a freediver or a participant in another sport (freediving training can enhance performance in many other sports, due to the breath training involved). We trained everyone from amateur sports enthusiasts through to Olympic gold medalists
The professional learner
Some professions (we've had underwater cameramen, TV presenters, stunt workers, rescue divers, military specialists, underwater photographers and more) are enhanced by the ability to freedive. Having a freediving certification not only improves their skills base, but increases work opportunities.
The additional needs learner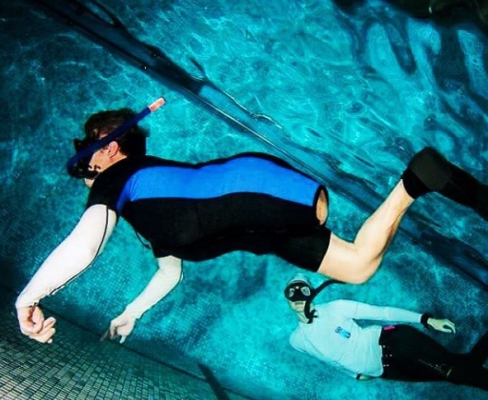 Some learners feel they have additional needs that may not be catered for sufficiently in a group. This may be due to physical ability, mental health or religious reasons etc. We believe our group courses are fully inclusive however we do understand that for some there is a need for private freediving tuition, so we always ensure this option is available.
Myths About Private Freediving Tuition
It's more expensive
Any form of one-to-one tuition as an individual is likely to cost more, that is true. However, in terms of what you can achieve for the same amount of money, you are likely to discover that private freediving tuition will allow you to progress personally at a faster rate than if you had joined a group course. This in turn can reduce the likelihood of needing to attend additional training days as a returning student. Additionally, if you are choosing the date for your private freediving tuition you are often able to co-ordinate and factor in other costs that may be avoided. For example, traveling and staying in accommodation can vary depending on the time of week and year. Also, childcare costs can be minimised, as can any work commitments. By controlling when you attend your course you can minimise other out of pocket expenses or disruption. If you are organising private tuition as a group the cost could well be comparable to a public group course.
Tuition can only be on a one-to-one basis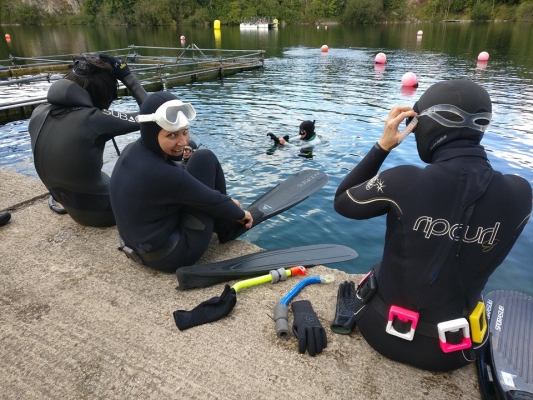 Private freediving tuition simply means that we are teaching a person or persons outside of our publicised courses. We have provided private tuition for sports clubs, specialist groups, religious groups, couples, families, friends, business motivation courses and more, though we do of course welcome individuals to undertake private freediving tuition too!
You don't learn everything they teach on a full course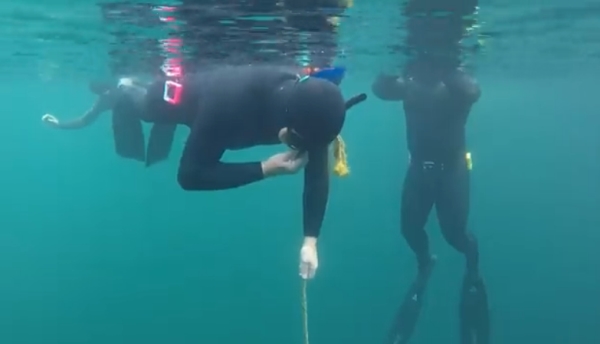 All certification courses require a certain number of competencies are learned during the course. There is no exception. In addition to this your instructor, by signing you as competent is also signing that they have taught you that technique correctly and satisfactorily. There is no incentive to just sign you off so that you can go home with your certification. Once all of these competencies have been taught, there is flexibility for any additional time available to focus on any areas you may feel need additional attention, and this is where your course content may differ to a group session.
Private courses are very intense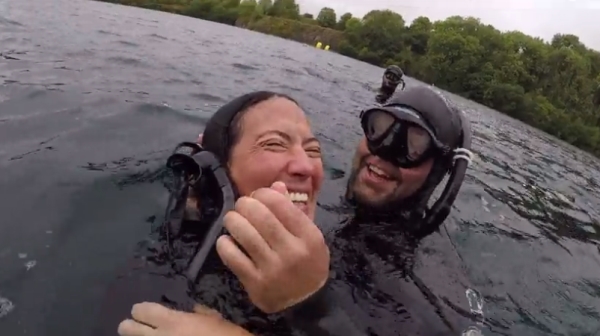 Just because you are doing your course privately does not mean the course or session will be more intense or devoid of any fun or relaxation. We are experienced at teaching individuals and small groups and always ensure we provide the right balance to suit your learning style.
You have to do a course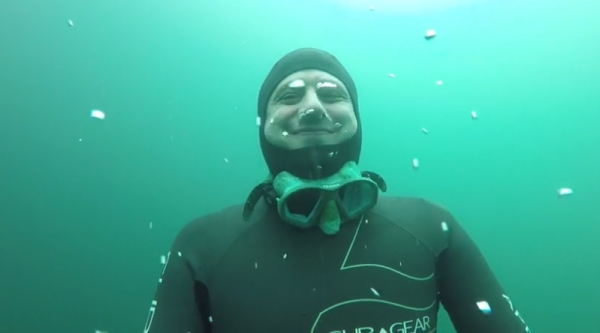 The beauty of private freediving tuition is that you choose what you want to learn. You don't HAVE to do a course. You may just want a couple of hours in pool practicing dive techniques. You may want a focus session on equalisation. You may want a private skype session where you can practice breathing techniques. Whatever your needs, they can be accommodated.
You learn faster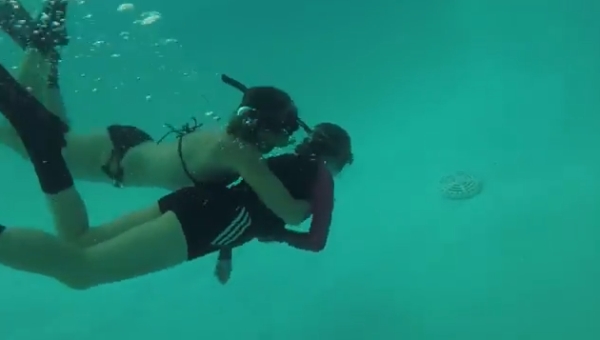 This may sound like it is contradicting the previous entry, but for some students having one-to-one tuition is not a guarantee that you will learn faster. It will however provide the optimum learning environment to learn at the right pace for you. The objective of private tuition should not be considered to be a short cut to gain certification, instead it should be an opportunity to maximise your learning of this exciting sport.
If you think you could benefit from private freediving tuition, why not get in touch and see how Go Freediving could help you?

Here is what one of our private students said:
Yesterday I had the privilege of doing a one-to-one freediving session with Emma Farrell. It was an amazing experience and I exceeded my own expectations (as well as those of Emma I suspect). With the Frenzel technique mastered (otherwise known as the FFF to those in the know) I was so much more comfortable in the water. Emma's patient and clear instruction enabled me to meet the physical and relaxing challenge of freediving. With the added benefit of Vobster Quay and the glamorous assistant what more could a girl want when its over 30 degrees. One-to-one is simply a better way to learn and so worth the investment with a professional.     Carol Austen
Learn to freedive with Go Freediving
Go Freediving is the longest established, most experienced and friendliest freediving course provider in the UK, led by world class freediving instructor trainer Emma Farrell, and her team of personally trained instructors. No other course provider has such a good instructor to student ratio, safety record and personal touch.
Whether you're  a beginner dipping your toes into the world of freediving, a seasoned pro looking to turn professional, or simply a freediver of any level who wants the best freediving holiday in the world, we're here for you!
Also check out our online guide, The Beginners Guide to Freediving by clicking here!
Keep in touch with everything Freediving
Subscribe to our mailing list for weekly newsletters with exclusive articles, news, films, offers and more!