Congratulations to our latest RAID Freediver Course Students
Sean, Pablo, Robert, Korey, Alice, Alfie, Claire, Richa, Joseph, Louise, Luke, Jamile and Philippe
and returning students
Paul and Adam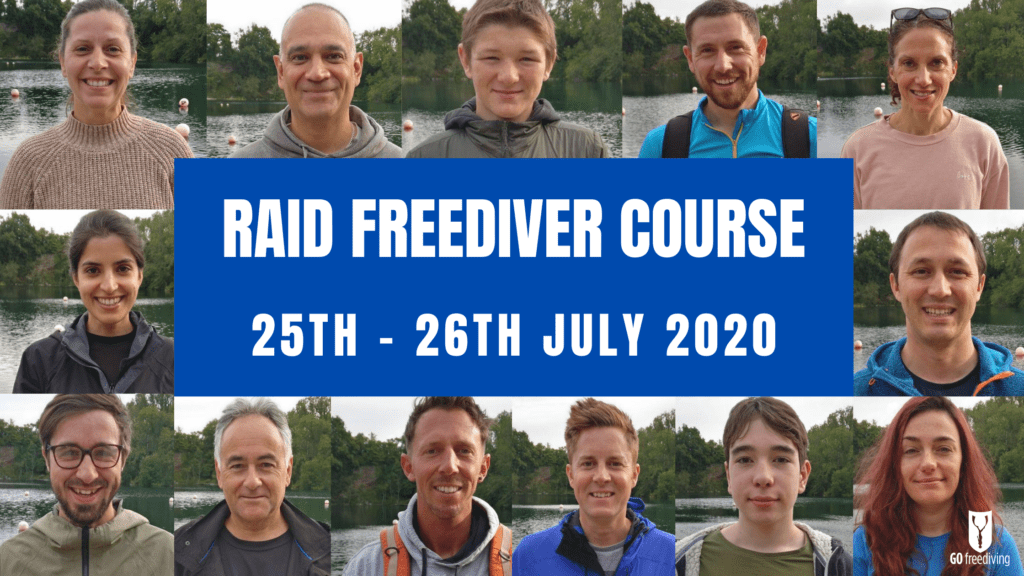 Watch their awesome video, here:
And, find out what they thought of their course, here:

Looking on your website, I saw amazing pictures! I always tried to freedive by myself but without proper qualifications, and I thought now was the time. I really, really wanted to learn to freedive properly!

I chose Go Freediving because of Emma. I was looking at different schools and different programmes like PADI and RAID and I've been doing some research and I know that you've been teaching some really good people like Olympic athletes, so you know your stuff. So if you are going to pay the same, why not go to someone who has got really good experience?

I'm quite chilled normally, but now I feel even more relaxed. What I loved most about the course is the people that are around. All the instructors are really good, really friendly. On top of that if you need any help they are just really, really helpful.

I also do scuba diving, so freediving will improve my gas consumption rate. I'm going to be more relaxed and more confident in the water too. And, if I know that I am diving with you and have competent instructors and divers around me that will keep me safe.

I would definitely recommend this course! It is so good! All the instructors are really good. I have only dived with Jorgen, but talking with the other guys I can see you are all really good and know your stuff.

Pablo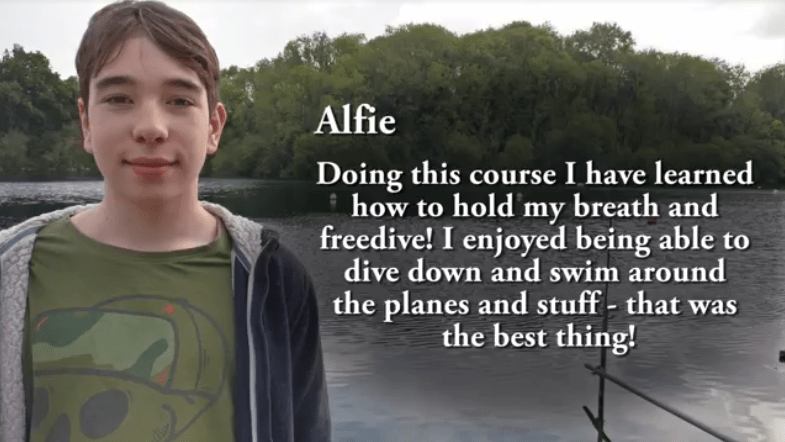 I want to do spearfishing at some point and freediving seemed really fun. I was already scuba diving. Doing this course I have learned how to hold my breath and freedive!

I enjoyed being able to dive down and swim around the planes and stuff – that was the best thing.

This course makes you get a lot better at breathing and it's quite good for just general fitness. I would recommend this course as it is really fun and good!

Alfie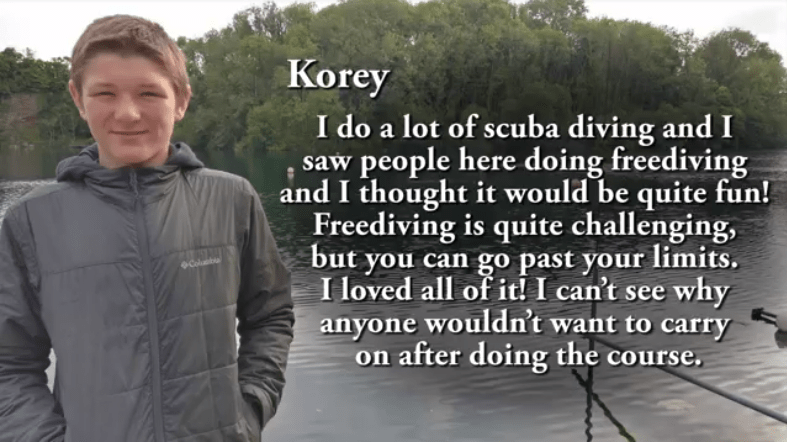 I do a lot of scuba diving and I saw people here doing freediving and I thought it would be quite fun! We looked at other places to do the freediving course, but this was one of the highest rated ones and it was quite near as well.

I've discovered that freediving is quite challenging, but you can go past your limits. I loved all of it!

Learning to freedive improves lung capacity and I definitely think I will be doing more! I would definitely recommend this course because people do different things and I can't see why anyone wouldn't want to carry on after doing the course.

Korey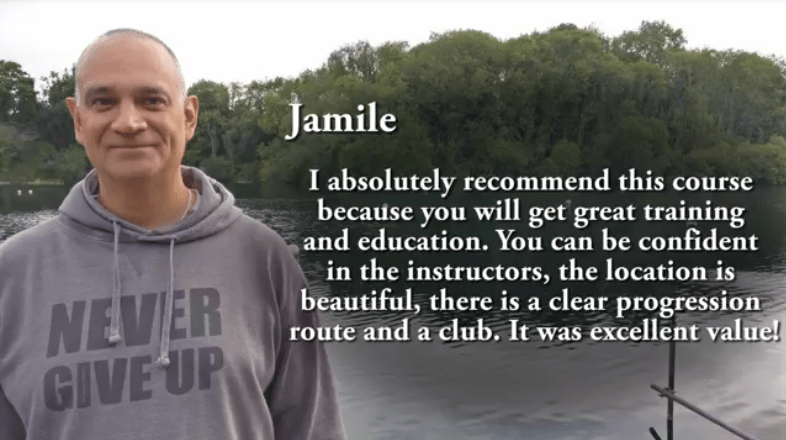 I always loved swimming underwater – since I was a child. Then, when I was in my early twenties, I swam with dolphins. I was wearing a 7mm wetsuit and wasn't weighted and I could see this dolphin really wanted to play, but I couldn't go under the water. Then I started scuba diving and my buddy was my wife, but then she didn't want to scuba any more, so I wanted to do a sport to challenge me that made me relax as I have a very stressful job, and a sport I could develop with.

I looked around, found some videos on YouTube – Sophia Gomez and various other freedivers like Guillaume Nery and I thought it was amazing and then I found Go Freediving!

I knew nothing about the freediving scene in the UK, so I googled and you guys came up first, so I had a look at your bio and thought she clearly knows what she's doing, I'll go with them!

I've discovered I need to keep my legs straighter and tuck my chin in! I can go deeper than I thought I could. I thought the challenge would be breath hold, it hasn't been equalisation, it's been the duck dive of all things! Which I can do in a swimming pool no problem!

I do meditation every day and the frustration of knowing I can do it, but acknowledging that I can't do it, means I can move on and think about my heart rate and think about what I need to do and then do another roly poly under the water like a washing machine!

I've really enjoyed meeting new people, learning new skills, challenging myself and being here. It's really beautiful. It's a lot nicer than I thought. When people say quarry, you think Ughh, but really it's a big beautiful lake filled with really interesting things and people as well. And, when I get chatting to people it's funny, as there are a lot of similarities between people which has been interesting too.

The professionalism of the staff and the team has been very, very patently obvious, as has the safety. I've done a bit of pool freediving elsewhere and it is very obvious Go Freediving is a very professional outfit, very well organised. The instructors are very approachable and knowledgeable. Clearly a massive amount  of work has gone into putting the course together. The pre-course videos have been really good. The way the course has been adapted for the covid has been clearly thought out. I will come away from this with a lot more confidence in my knowledge and confidence in myself to be able to dive within my limits.

I absolutely would recommend this course because you will get great training and education, you can be confident in the instructors, the location is beautiful, there is a clear progression route and there's a club. Whatever I paid for this course, it was excellent value!

Jamile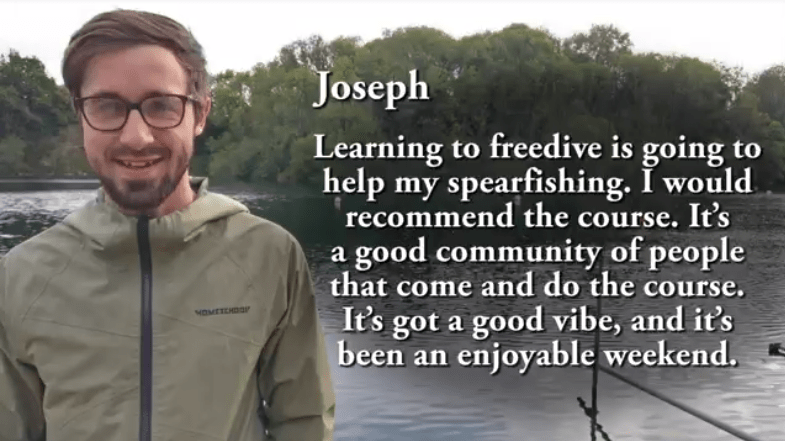 The two of us started spearfishing, and did a course in Cornwall, but felt like we hadn't learnt all the skills we needed, so we needed to further buddying, going deeper, and feeling more comfortable in the water. Louise, my partner, has recently learnt to swim so we're also building her water confidence so we had lots of reasons for doing the course.

We chose Go Freediving because there were a lot of good reviews and because we did a spearfishing course before, this was a specific freedive focussed course and so it is good to learn to get to depth, rather than also thinking about guns, and everything else.

I've enjoyed the group, and having different spots at Vobster to dive in and try out. It's good to get a gauge on where you're comfortable, so for example, this spot is 7m, this spot is 10m etc, rather than just guessing.

Learning to freedive is going to help my spearfishing which is going to be good, getting longer breath holds, and the mental aspect, learning about the brain and how to control it and how to get further in freediving and spearfishing.

I would recommend the course. It's a good community of people that come and do the course. It's got a good vibe, and it's been an enjoyable weekend.

Joseph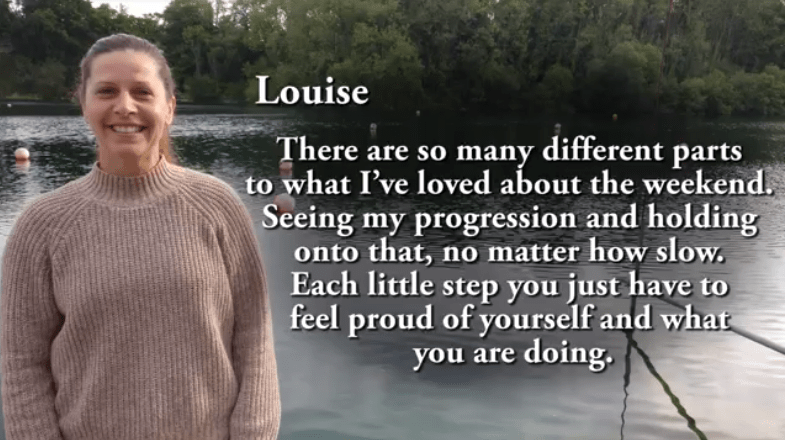 I only learnt to swim a couple of years ago, so wanted to try and push out of my comfort zone, and me and Joe wanted to learn to spearfish. So we did a spearfishing course, and now we're just trying to work on getting deeper and holding our breath for longer really.

We chose Go Freediving, because it was closer to use and had a club so we had somewhere to go and progress and keep on learning.

I've discovered that learning to freedive can be a slow process but there is always progression regardless, and I've discovered that I feel a lot calmer under the water than I do on the surface, which is a really nice feeling!

There are so many different parts to what I've loved about the weekend. Seeing my progression and holding onto that, no matter how slow. Each little step you just have to feel proud of yourself and what you are doing. I've enjoyed watching that whole process and the journey. And I've enjoyed learning more about equalising from the instructors, things that I can take away and practice after the course.

I'm quite an anxious person so I'm hoping that learning to freedive will chill me out in a weird way! When it comes to the point when I can go out and catch my own food, that will be a nice thing to do, and to look under the water and see what we've got around us locally in our own country really, in terms of what is under the water.

I think anyone should go freediving and learn something new, so you should definitely come and do it because it's been good fun!

Louise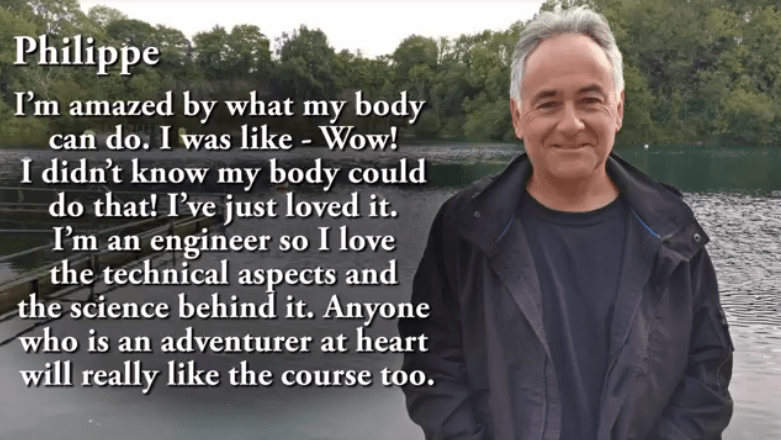 Freediving is something I have always wanted to do. Because I do meditation, for me it was the next level. I wanted to take it into the water. I have to be in water. I love the ocean. I've dived, scuba dived and snorkelled. Freediving for me was the next level. I've wanted to do it for a few years, and finally, here we are!

Go Freediving was the closest school to me and from what I could see you were also the busiest – which I thought must be a good thing.

I've discovered there is still a lot to learn. I'm amazed by what my body can do. I was like Wow! I didn't know my body could do that! I've just loved it. I'm an engineer so I love the technical aspects and the science behind it.

I've loved being in the water. Getting the kit on is a pain, but getting in the water is good!

I've loved learning the skills, discipline, the relaxation and comradery, just the people who naturally gravitate to it. I liked that.

I would recommend this course for the technical aspect, the relaxation, the enjoyment, the freedom of open water. All those things. The adventure, the nature. I am always looking for new things and anyone who is an adventurer at heart will really like the course too.

Philippe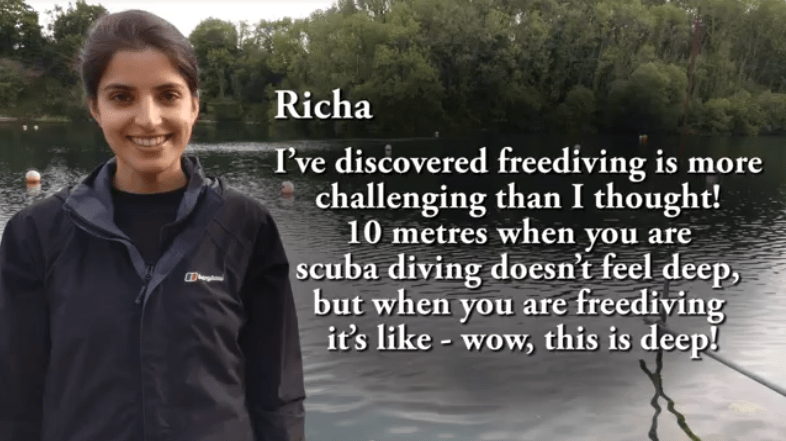 I wanted to learn to freedive because I do scuba diving but don't really like all the equipment. I like the idea of being free and being able to dive down.

I choose Go Freediving because it had good ratings online and is close to where I live as well.

I've discovered freediving is more challenging than I thought! 10 metres when you are scuba diving doesn't feel deep, but when you are freediving it's wow, this is deep!

What I've liked most is that you have really good instructors, really friendly and reassuring so we can progress in our own time as opposed to pushing our limits beyond what we would be comfortable doing, just to tick a box.

The benefits of learning to freedive is the freedom!

I would absolutely recommend Go Freediving. It's a really supportive environment. All the instructors are really knowledgeable. It's just a really good place to learn.

Richa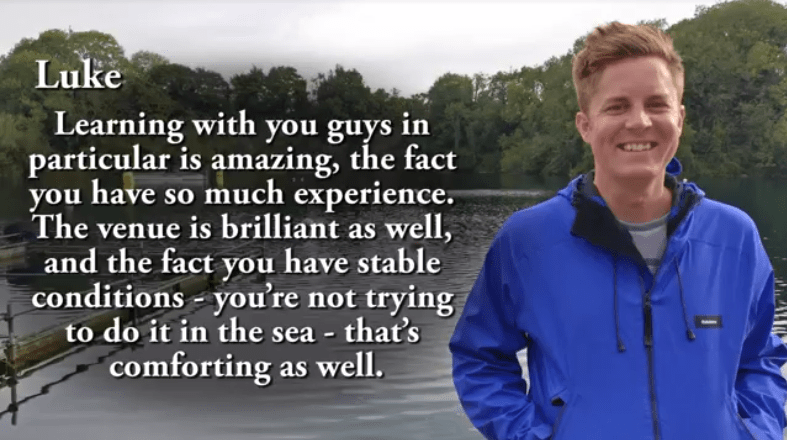 There were various reasons I wanted to do a freediving course. I've suffered from anxiety on and off over the years so working on something where I have to be totally calm is a good idea. I run a coaching and training business working with people all the time and working on their performance and wellbeing in business settings as well, so I think I could use it there too. And I love just the challenge of freediving.

I've been scuba diving for years, but love being able to get out there and do this without all the clobber.

I've been to Vobster on and off over the years swimming and scuba diving and then I saw your instagram post about teaching Foxy and I thought if you're good enough for him then you're good enough for me! And, I've seen you on TV over the years and your name rang a bell and that was enough of a reason!

The RAID Freediver course is far more difficult than I expected! The respect I have for you all has gone up even more! It is such a subtle finessing art of bringing this alchemy together. So yesterday I was thinking about my breathing and the concept of being under for that long and how deep I was and what was going on, whereas now I am not thinking about that so much, I am thinking about my chin and my finning and my equalisation.

I've liked the pace. It's just been gentle and relaxed. Also, learning your body and your mind's potential. Learning that it is so much more than you expected and the practical application you can take back into everyday life. Learning with you guys in particular has been amazing. The fact you have so much experience. The ratios as well have been brilliant, and the venue, the fact you have stable conditions – you're not trying to do it in the sea – that's comforting as well.

I would recommend this course – the videos and the fact the length, depth and breadth of all of your experiences was worth it. It's friendly, accessible, real and the whole yoga aspect angle to it is less macho. It's accessible to anyone.

Luke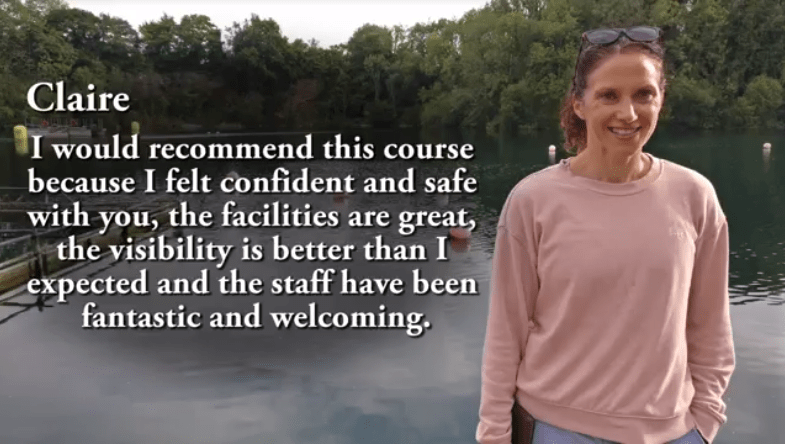 I wanted to do this course because I want to spearfish. I don't know where I am going to go with my freediving, but I want to try different elements of freediving before I decide. And also, I wanted to learn to freedive because I have never liked the idea of scuba diving and tanks and gear.

I did some research, read some reviews and you looked like the most competent course provider based on my research.

Doing this course I've discovered I'm just as childish and impatient as I always was! But it seems to be one of the sports that I can't physically push through, which is really weird for me because I am used to pushing through and getting the job done, so that has been the most difficult hurdle for me.

I've loved being underwater!

Learning with you has meant I have been confident I will be safe. For me my pre-course preparation, doing yoga practise has helped me be still.

I would recommend this course because I felt confident and safe with you, the facilities are great, the visibility is better than I expected and the staff have been fantastic and welcoming.

Claire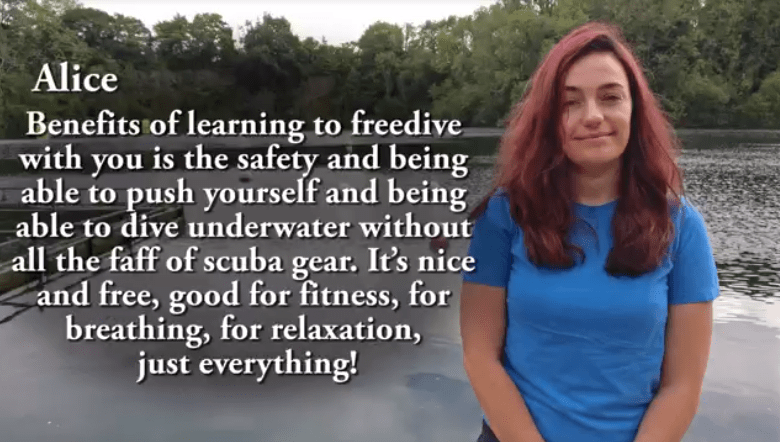 I love being underwater, but I wanted to do a freediving course because when I scuba dive and snorkel with my son Alfie, he goes really deep, and I wanted to know how to freedive safely for him, because I didn't know how to breathe, or anything like that properly, and it would give me reassurance when diving with him.

I chose Go Freediving because of your really good reputation. I've discovered on the course that I equalise in a really weird way. I just swallow which I thought was normal, but I've never even done the valsalva, which I thought I was doing, so it was good to figure that out. And I'm now learning the frenzel manoeuvre  which is really interesting. And all the videos you provided before the course are really interesting as well as all the other materials.

I've liked being under the water the most, and the really nice community, as we're all helping each other. That's been really nice.

Three benefits of learning to freedive with you are safety, being able to push yourself and being able to dive underwater without all the faff of scuba gear. It's nice and free, and I suppose that's why they call it freediving.

I would recommend this course to everybody actually, just because it's a really good hobby to do, and it's such a nice easy hobby that you can do anywhere. You can do it in a lake in the UK or abroad. You can do it anywhere and it's free. You don't have to pay, you can just do it anywhere when you know how to do it safely, which is amazing. Most of the earth is water and so freediving opens up so much more. It's good for fitness, for breathing, for relaxation, just everything. It's a really good hobby to do.

Alice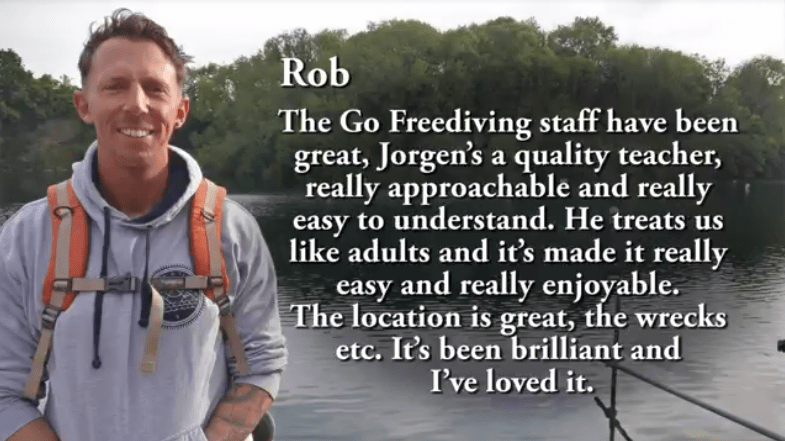 I'd seen a netflix documentary about freediving,and I thought it looked cool and kind of zen, and I liked the fact there's wildlife involved as well in parts. I love the water as well, and I thought I'd give it a go. It would be something I could try. I had a look online with all this free time in furlough, and I thought I'd try it, and it's really caught me.

I looked for somewhere closer to me, and you guys had just started up again after lockdown and I jumped on the first course I could. The location was great, your website was great, and someone recommended you on facebook, so I got in touch with you guys and you were really helpful. It was really easy, all the way through the process, because I know I was an admin nightmare as well! Everyone helped me out.

I've learnt a lot about relaxation, I've haven't been to meditation or yoga or anything like that, but I do feel that when I freedive, when I go down deep, I do feel relaxed. It's a feeling I've not really felt before. I've learnt a lot about relaxation. Forgetting everything else, the stresses. And I've learnt that I love freediving!

The Go Freediving staff have been great. Jorgen's a quality teacher, really approachable and really easy to understand. He treats us like adults and it's made it really easy and really enjoyable. The location is great, the wrecks, it's been brilliant and I've loved it.

Three benefits of learning with you guys is that you don't mess about. I've loved how you've just got on with it. The course is really well organised, great instructors, no time wasted. You learn a lot about yourself, like I said with the relaxation, and freediving itself, it's a really good company to take the plunge with.

I would recommend your course 100% and I'll be able to do another course with you guys for sure.

Rob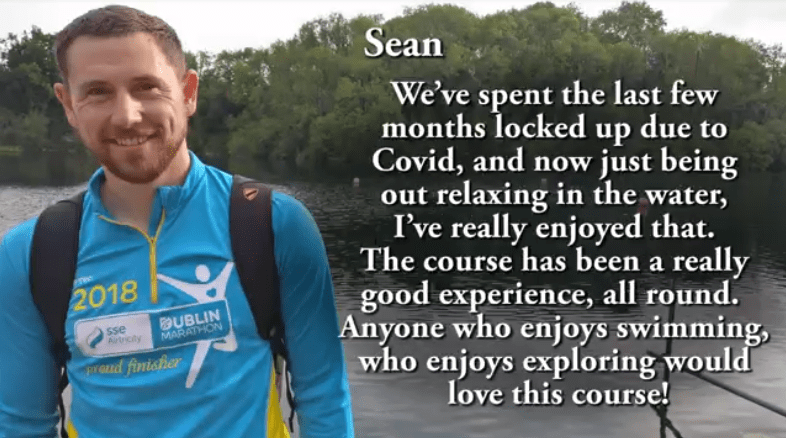 I decided to learn to freedive, because I was going on holidays to tropical places, and swimming down, I realised that compared to some of the people I was diving with, I was okay at it. Then my sister bought the course for me as a birthday present as she knew it was something that I enjoyed doing on holidays.

I have discovered that there are beautiful places in the UK to freedive, so I'll be exploring more local places to freedive. It's not too cold, it's actually really warm, and it's as good as I thought it would be. Obviously I'm going to deeper depths than I would have done on holiday by myself, and that pressure you feel, but it's just about getting used to that, and I enjoyed it.

It's nice being out here and in the water. We've spent the last few months locked up, and just being out relaxing, I've really enjoyed that. It's just been a really good experience all round.

The benefits of learning to freedive in general are confidence in the water, confidence to push yourself a little more, confidence to explore a bit more. With yourselves, it's been a really good course. It's been really encouraging, You've grouped people well, so we're progressing at a similar rate. And it's just a really encouraging and safe environment.

I would definitely recommend this course. Anyone who enjoys swimming, who enjoys exploring, would love this course.

Sean

Want to learn to freedive with the best? Learn to freedive with Go Freediving!
Go Freediving is the longest established, most experienced and friendliest freediving course provider in the UK, led by world class freediving instructor trainer Emma Farrell, and her team of personally trained instructors. No other course provider has such a good instructor to student ratio, safety record and personal touch.
Whether you're a beginner dipping your toes into the world of freediving, a seasoned pro looking to turn professional, or simply a freediver of any level who wants the best freediving holiday in the world, we're here for you!
Also check out our online guide, The Beginners Guide to Freediving by clicking here!
Keep in touch with everything Freediving
Subscribe to our mailing list for weekly newsletters with exclusive articles, news, films, offers and more!