Yoga nidra for diving is a specific yoga nidra recording that Go Freediving head instructor and yoga nidra expert Emma Farrell has developed to help both scuba divers and freedivers. Yoga nidra literally means 'yogic sleep' and is a profoundly deep relaxation practice, taking you deeper than hypnosis or other guided relaxations.
Emma has spent the last seven years developing yoga nidra recordings for everything from sleep to diving and you can access all of them here.
How can yoga nidra help diving?
Yoga nidra works on many levels as a physical and mental relaxation and is a way of putting deep into the subconscious a thought, feeling, or idea that is important to you. This can be a way of helping deal and prepare with any stresses involved with diving, as a way of focussing the mind, and preparing mentally for future challenges.
When we move to another level in our diving, whether it is in terms of depth, or new techniques or equipment, the visualisation in the yoga nidra practice can be very helpful.
Eliza, a diver from one of our liveaboard holidays, writes:
'I have never experienced yoga nidra before and to be honest did not know what it was. Yoga nidra was wonderful and diving and yoga is great combination. The specific thing I liked most was the sheer relaxation of yoga nidra and the energy the normal yoga provided. I would absolutely recommend yoga and yoga nidra with Emma as you she has the most amazing voice when she instructs and she makes the moves seem really easy. And the yoga nidra for diving sessions were incredible! Everyone should experience those at least once in their life!'
Traditionally, yoga nidra is listened to lying on the floor on your back. However, what is more important is that you are comfortable. Many people, especially those with back problems, find it easier on their side with a pillow or bolster between their legs.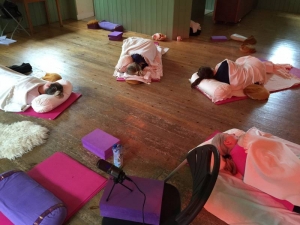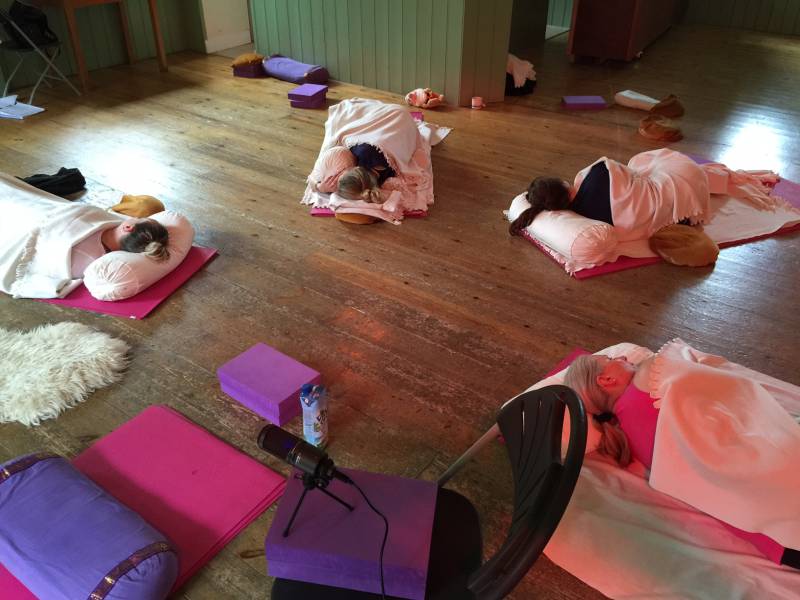 How to listen to yoga nidra for diving
Turn all electronic devices onto airplane mode. When you listen to yoga nidra it's important not to be disturbed.
It doesn't matter what time you listen to yoga nidra, but often people find it a useful way to go to sleep at the end of the day. Don't worry if you fall asleep, it will still work!
Make sure that you are comfortable and warm. You'll be lying still for a while so, if you are on the floor, place a pillow under your head and another under your knees. Use a blanket or duvet, as deep relaxation can make you cold
Consider programming your device to play the recording on repeat. This is useful if you plan on listening to it through the night and is recommended if you are listening to the yoga nidra for sleep recordings.
At the end of the recording, take time to get up slowly. You may feel tired but after a few minutes you will generally feel more energised than before.
Yoga nidra for diving – live
Yoga nidra is usually best done live, with an experienced yoga nidra teacher. They can make sure you're propped up correctly to make you super comfortable, and adapt the practice to where you are and your feedback.
On our freediving holidays, Emma teaches yoga nidra for diving every night under the stars. You'll either be on the top deck of a boat in the ocean, or on a beach, and it is the most incredible experience.
Here's what some other divers thought of yoga nidra for diving with Emma:
Katie:
'I had no experience of yoga before the trip and didn't realise that I could participate even having no experience. After doing the yoga I had the most amazing sense of relaxation and truly had the best sleep ever on the evenings that I did the yoga nidra.'
Nic:
'I liked the breathing exercises and especially the relaxation of yoga nidra for diving – getting a good night's sleep meant I was able to maximise the opportunities for diving, and enjoy the whole holiday.'
Listen to yoga nidra for diving
Go Freediving club members get the yoga nidra for diving recording FREE as part of their membership package. Join the club by clicking here!
You can buy yoga nidra downloads here:
And if you want a free taste of what yoga nidra is all about, listen to a short yoga nidra recording below!
Learn to freedive with Go Freediving
Go Freediving is the longest established, most experienced and friendliest freediving course provider in the UK, led by world class freediving instructor trainer Emma Farrell, and her team of personally trained instructors. No other course provider has such a good instructor to student ratio, safety record and personal touch.
Whether you're a beginner dipping your toes into the world of freediving, a seasoned pro looking to turn professional, or simply a freediver of any level who wants the best freediving holiday in the world, we're here for you!
Also check out our online guide, The Beginners Guide to Freediving by clicking here!
Keep in touch with everything Freediving
Subscribe to our mailing list for weekly newsletters with exclusive articles, news, films, offers and more!