Day 11 More x-rays and a decision for Honu. Plus, another special arrival at the sanctuary – thanks to the visiting vet program.
The day started with the usual, and once all cleaning and feeding was done it was time to perform some x-rays on Seaheart has an amputated fore flipper, and ligature wounds on all three remaining flippers, some so severe that the bone is visible. This might sound shocking, however sea turtles can cope with horrendous injuries, and in the previous days we were already seeing improvements.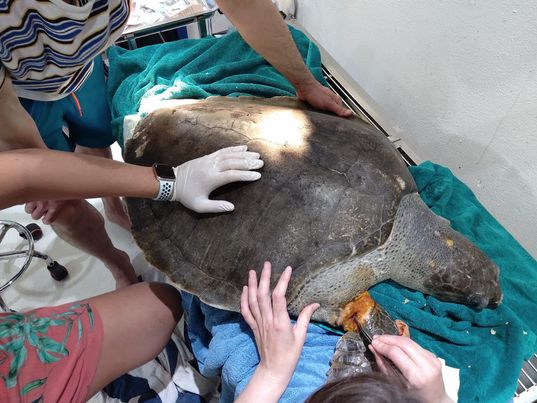 Seaheart is a big boy, and is pretty intolerant of being handled, so it was decided to sedate him for the x-rays. A cannular is inserted once we are in the clinic, and drugs administered to send Seaheat off to the land of nod for a short while.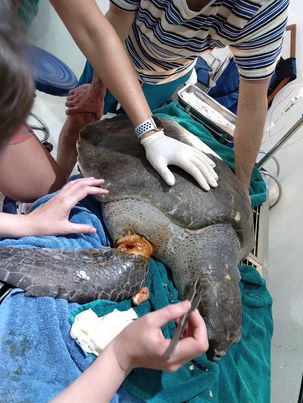 With him sedated, not only could x-rays be taken, but his wounds could be treated. The tissues were looking really good, I could see improvement, and although bones were visible on his remaining fore flipper and one of the rear flippers, they were clean with no signs of infection.
Once Seaheart was safely back in his tank after waking up, it was time for x-rays of Amber. Her treatment on the previous day to remove trapped air from between her body and her shell had not been successful, and she was lopsided while floating in the tank. X-rays were taken, but nothing was evident to suggest why.
It was explained that even ultrasound would be unlikely to detect the cause of the air leakage, what is really needed is an endoscope.
For some reason, anything related to veterinary medicine seems to be far more expensive than for human medicine, and an endoscope was no exception, at a cost of £6,000! This is something the project are fundraising for, and will really be invaluable in diagnosis of medical conditions.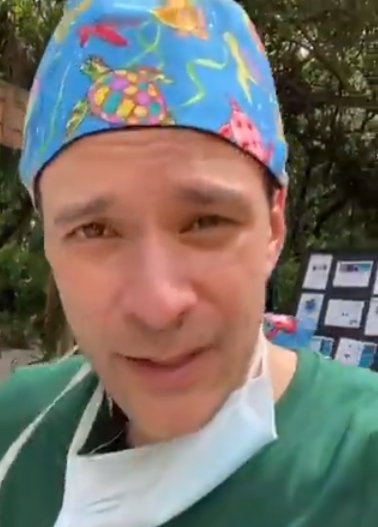 Today also saw the arrival of vet Dr. Paul Ramos.
This year, the project has finally been able to start its visiting vet program. The aim of this is to have vets with certain specialist experience to visit the centre, and pass on their expertise.
Paul is a wildlife exotics specialist, having dealt with koalas, orangutans, kangaroos and some experience with turtles. He worked in Australia in 2019 – 2020 during the bushfire crisis at the frontline triage centres providing emergency care to impacted wildlife.
Paul is hopefully the first of many specialists to join the project and provide expertise on different areas of veterinary medicine.
Honu was monitored carefully, and the decision was taken to perform surgery the next day.
The last thing to do was to pour some agar plates, something I hadn't done for more years than I care to remember when I was studying for a degree in biotechnology a lifetime ago! The agar had been made up and sterilized in an autoclave (something I am very used to dealing with in my day job).
Once cooled sufficiently, I poured the plates and once set, stored them upside down in the fridge. They are stored upside down so that no condensation from the lid of the petri dish can fall onto the agar and potentially contaminate it. The dishes were to be used to ascertain whether there was any kind of infection in Sunan's shell where it was starting to slough off.
With turtle work done for the day, it was time for more freedive instruction, and I was joined by all 3 vets! We were also joined by 2 juvenile squid on the freedive line, who stuck around for most of our session.
Everyone was showing great improvement and we stayed in the water whilst the sun set giving us a beautiful light display over the water.
Early-ish bed as we had surgery the next day, something I was excited to be involved with.
Day 12: Coming soon!

Missed Day 11? Read it  HERE

If you would like to donate to the Olive Ridley Project, you can do so HERE
Want to learn to freedive with the best? Learn to freedive with Go Freediving!
Go Freediving is the longest established, most experienced and friendliest freediving course provider in the UK, led by world class freediving instructor trainer Emma Farrell, and her team of personally trained instructors. No other course provider has such a good instructor to student ratio, safety record and personal touch.
Whether you're a beginner dipping your toes into the world of freediving, a seasoned pro looking to turn professional, or simply a freediver of any level who wants the best freediving holiday in the world, we're here for you!
Also check out our online guide, The Beginners Guide to Freediving by clicking here!
Keep in touch with everything Freediving
Subscribe to our mailing list for weekly newsletters with exclusive articles, news, films, offers and more!