As a business I hire out A LOT of wetsuits, either on courses, club nights, club weekends on on our holidays and trips, so the lifespan of my wetsuits is understandably shorter that average. Of course, I ensure all of my wetsuits are kept clean and well maintained, but as with all wetsuits there comes a time when patching and fixing a suit is no longer viable and they have to be replaced. The question is, what do I do with the old ones? Recycling wetsuits is obviously preferable to simply disposing of them into a landfill site – particularly as most wetsuits are primarily made out of neoprene – a non-biodegradable material made from petroleum – and not exactly environmentally friendly to start with.
There are a few options for recycling wetsuits:
Recycling Wetsuits Option #1: Repair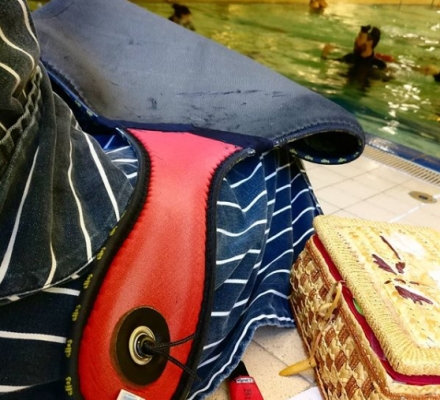 Of course repairing will always be a first option when trying to extend the life of your wetsuit. If you have been diving or surfing for many years the chances are you will have kept one or two old wetsuits from which you can source compatible neoprene patches for any necessary repairs to your current wetsuit. This can help to extend the life of your current suit while recycling your old suit too – a win-win!
Recycling Wetsuits Option #2: Alter
If your wetsuit has suffered a serious tear in the lower arm or leg region, it doesn't mean your wetsuit is a write off. There are plenty of specialists who are able to make alterations to your wetsuit in order to extend it's life either as a short wetsuit or reconfigured.
Recycling Wetsuits Option #3: Sell
Even retired wetsuits are sometimes good enough for someone to keep as a spare or use as a starter wetsuit while they decide whether to invest in a custom made suit.
If you have a wetsuit you no longer want, the advent of eBay and other classified sites have made it easier than ever to get rid of your unwanted wetsuit and let someone else benefit! One mans rubbish is another mans treasure and all that!
If you are starting freediving or any other type of diving for that matter and are thinking of purchasing a wetsuit, as well as checking classified ads sites, consider approaching local dive schools or dive centres. You may just strike lucky with suits they have retired and haven't yet considered how to dispose of them.
Recycling Wetsuits Option #4: Donate
If you don't want to go through the bother of dealing with enquiries from potential buyers, you can always donate your wetsuit. There are some great causes such as ReSurf  and WarmCurrent where retired wetsuits are being used by organisations providing experiences for underprivileged or troubled individuals and where budget constraints means donations of kit and equipment are always appreciated.
Recycling Wetsuits Option #5: Trade In
If you don't want to deal direct with organisations such as ReSurf, and like the idea of being rewarded for disposing of your wetsuit responsibly, there are a number of larger wetsuit suppliers that will offer you a shop discount of around 10% – 20% if you trade in your old wetsuit with them. They will then redistribute your wetsuit according to their recycle policy – this means they may send your wetsuit to a cause such as ReSurf, or send it to an up-cycling business. Either way, your wetsuit won't be finding it's way to a landfill site.
Recycling Wetsuits Option #6: Reprocess/Recycle
Completely recycling wetsuits – breaking the neoprene down and creating new fabric is possible. Neoprene is completely recyclable, though not every recycling facility can take it.
The process for recycling neoprene is a bit different from the processes used for more commonly recyclable materials such as plastics, metals, and paper products.
Often, neoprene is mixed with other synthetic rubbers when recycled to create new synthetic rubber blends that are used in a variety of products like athletic shoes. This recycled synthetic rubber is cheaper and easier to manufacture than new neoprene, and according to Encore Recyclers is cheaper and less damaging to the environment than harvesting natural rubber.
Recycled neoprene from hats to exercise equipment like dumbbells is manufactured using this affordable and versatile material.
Recycling Wetsuits Option #7: Upcycling
It's taken a while, but upcyling is becoming a more popular solution for recycling wetsuits. Many divers and surfers are finding novel ways to upcycle their old wetsuits, some have even turned that into a business. Mr Stitch is just one example (see the video below) not only will he create bespoke items from your own wetsuit, he creates other items from wetsuits that have been donated to or sourced by him. If you want to be even more eco minded you can purchase a recycled product from an upcycle business, such as The Upcycled Movement  in Ireland where 10% of all profits go direct to Seal Rescue Ireland.  so there are now plenty of businesses that can help improve the fate of our wetsuits!
There are now even companies that have dedicated wetsuit upcyclers as part of their business portfolio. For example Finisterre, a UK based surf shop who recruited Jenny Banks to undertake this exciting role. During an interview Jenny said:
Globally, 350 tonnes of old neoprene lies around unused every year, probably headed for landfill. There are 500,000 surfers in the UK alone replacing their wetsuits approximately every two years, and surfing makes up only a small percentage of the wider watersports (and wetsuit) industry. Generally derived from non-renewable sources, and currently very difficult to recycle, neoprene waste is a huge environmental problem.
Finisterre are committed to finding a solution to this environmental impact and have partnered with the University of Exeter's re-manufacturing department bringing together design innovation, science and engineering and commercial know-how to design for sustainability.
Wetsuits in the Future
In this era of environmental awareness, it is heartening to see that the life of a wetsuit can be extended. Wetsuit manufacturers are of course exploring natural and alternative material, such as rubber and other durable materials that can significantly extend the lifespan of the wetsuit while causing minimal harm to the environment. One company, Yulex,  has been making neoprene-free, Fair Trade wetsuits for the last couple of years. With no pun intended, we're confident more manufacturers will also follow suit.
What am I going to do with my retired wetsuits?
With all this talk of wetsuits, I felt it was a good time to have a thorough check of my stock and as a result I have just purchased 17 awesome new wetsuits and can't wait for them to arrive! I am also going to retire 14 older wetsuits too! 9 of these will be given to upcycle or donation programmes and the other 5 – which are perfectly serviceable and would make a great first wetsuit or spare I am going to sell off on a first come first serve basis for £50 each, so if you are interested let me know! I will be sending out more details in our next newsletter.
Freediving Courses With Go Freediving
Go Freediving is the longest established, most experienced and friendliest freediving course provider in the UK, led by world class freediving instructor trainer Emma Farrell, and her team of personally trained instructors. No other course provider has such a good instructor to student ratio, safety record and personal touch.
Whether you're a beginner dipping your toes into the world of freediving, a seasoned pro looking to turn professional, or simply a freediver of any level who wants the best freediving holiday in the world, we're here for you!
Also check out our online guide, The Beginners Guide to Freediving by clicking here!
Keep in touch with everything Freediving
Subscribe to our mailing list for weekly newsletters with exclusive articles, news, films, offers and more!