Underwater photography and freediving are a match made in heaven, so it was inevitable that we would write an article about it. In fact, we had so much fantastic information from underwater photographers that we decided to turn the spotlight on them for a change, and learn about their experiences from behind the lens.
Continuing our Underwater Photography and freediving series we speak with freediving legend, lanyard and nose-clip designer and underwater photographer Kimmo Lahtinen of FREEXPERIENCE, to find out more about what led him to underwater photography and freediving and what advice he would give to any aspiring photographers.
Emma: Hello Kimmo! Great that you could join us! Tell us a little about your diving background first – what led you to freediving?
Kimmo: I have been diving whole of my life.  I started scuba diving and I certified myself as a CMAS M2 instructor in 1990, after my military service as a diver in Finnish navy (air and mixed gases). I served as a diver (mostly combat diver with O2) in military reserve more than 10 years meaning probably I learned nothing in my military service as they called me back over and over again.
Emma:What is your history in freediving, how did you start?
Kimmo: My first freediving record, that I remember, I made in a lake at age 6. It was 5 meters. Needless to say that it was a cold dive!
Emma: So, it has been a lifelong passion!
Kimmo: Absolutely! I "activated" myself in Aida on 2000 and I helped Finnish diving community to build freediving activities from scratch during 2000-2005, being one of the first AIDA judges and instructors in Finland. We connected our freediving activities with Finnish diving federation system at that time.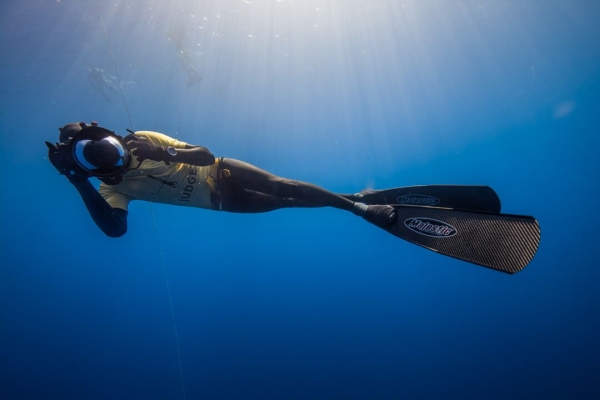 In 2005 I joined in Aida education committee (2005-2010) as well as I worked in Aida disciplinary committee for a while (2005-2007). From the beginning of 2010 until end of 2015 I served as an Aida president. So I have seen a bit.
Emma: What is your background in photography, and what led you to specialise
in underwater photography?
Kimmo: I simply enjoy to take photos sometimes. Its my second "flow hobby". My primary 'flow hobby' is freediving.
Emma: Why do you think photography and freediving work so well?
Kimmo: I shoot photos by freediving simply because tanks are clumsy and heavy.
Emma: What camera do you use?
Kimmo: I started to take photos with a Nikonos  V – a  very loooong time ago! When digital systems evolved to underwater, I swapped to those systems.  I have used many brands, housings and cameras during years. At the moment I use Nikon D610 with Hugyfor housing as well as Olympus EM5 mkII with Olympus housing. Mostly I shoot without a flash even I have a pretty good underwater flash (Inon). D610 is a full frame camera. So I use it when there are not enough lights available. Olympus works well in travels as it is light and small, in good lights and with a flash as it is M43 (Micro Four Thirds system = pretty small sensor).
1- DSC5205
26. JUNE 2016
13:21
DETAILS
NIKON CORPORATION NIKON D610
Tokina AT-X107 DX Fisheye 10-17mm F3.5-4.5
10.0 mm
f/4
Emma: What post-production software do you use?
Kimmo: Mostly I use stand alone Adobe Lightroom. Even I still miss Aperture from Apple. I also use DxO Photolab and AlienSkin Exposure X3 raw-editors sometimes.
Emma: What is your top tip for processing photos?
Kimmo: Remember to use Youtube to learn some new ideas for photo editing!
Emma: Ha! Yes! What is the one piece of equipment you couldn't be without?
Kimmo: There is none that kind of equipment. I can adapt fast for anything new if needed.
Emma: Do you use an assistant/buddy/model when you take photos?
Kimmo: I try to avoid to use models in my photos. Even though I may sometimes need a special kind of shots for some purposes, I prefer to shoot underwater action and authentic situations over models. Those kind of photos keeps me focused and challenge me.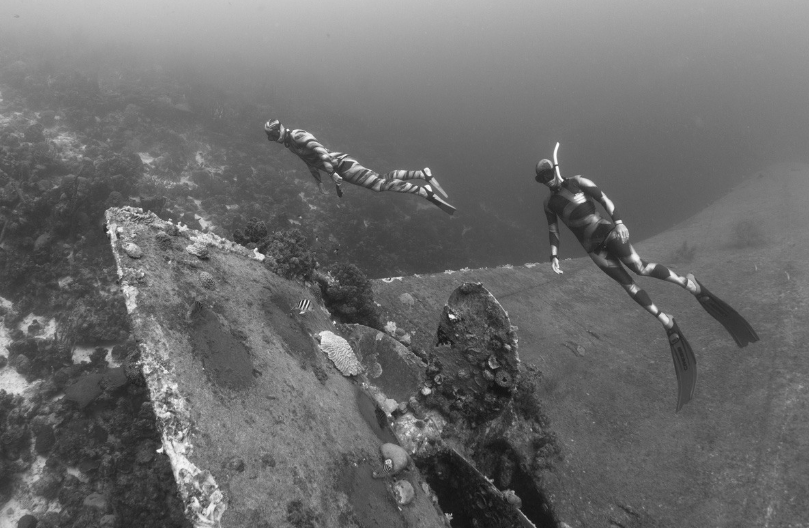 DSC6574
10. SEPTEMBER 2016
20:47
TECHNICAL DETAILS
NIKON CORPORATION NIKON D610
15.0 mm f/2.8
15.0 mm
f/5.6
Emma: Where has photography and freediving taken you?
Kimmo: Everywhere!  Oceans, lakes, rivers, quarries, pools and more!

Emma: I'm sure you have! What is your favourite location to take underwater photos and why?
Kimmo: My favourite place underwater is always a place where are good lights. I enjoy to use ambient lights over flash and there are always opportunities to find good moments in good lights everywhere.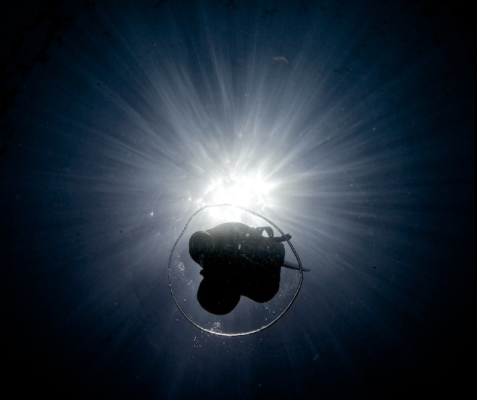 DSC1186
28. MAY 2014
18:05
TECHNICAL DETAILS
NIKON CORPORATION NIKON D610
18.0-35.0 mm f/3.5-4.5
18.0 mm
f/22
Emma: What is your favourite subject to photograph underwater?
Kimmo: People, wrecks, marine life, animals and much more. Including waves, different kind of moments during a year and day etc. Macros I try to avoid as it is completely different and a huge world with another needed skill set and tools.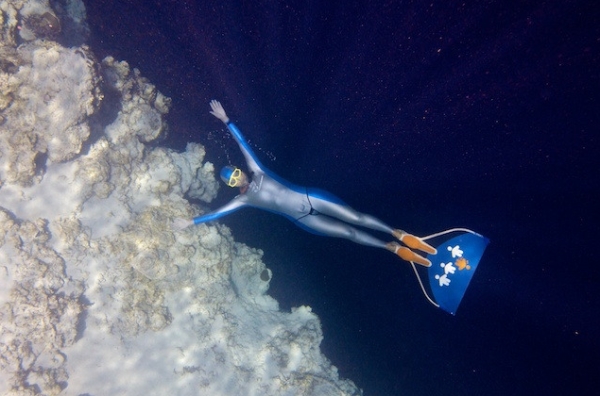 DSC6913
18. APRIL 2011
17:46
TECHNICAL DETAILS
NIKON CORPORATION
NIKON D300S
24
f/10
Emma: What was the most dangerous/risky photo you have taken, and why?
Kimmo: I try to avoid risks even shooting alone is a always a risk. Meaning most of the time nobody is spotting photographers in competitions for example.
Emma: I hadn't thought of that! What is the one underwater photo you have seen that you wished you had taken?
Kimmo: Actually I created a tiny bucket list recently for my photos: places and photos that I would like to shoot. Once in a while I take shots that are on that list but also once in a while I add more!

Emma: Have you entered any photo competitions?
Kimmo: A couple of times – just for a fun. Some years back I was also a judge for Finnish diving federation annual photo competition.
Emma: What is the best piece of advice you can give to someone starting underwater photography?
Kimmo: Start shooting today! Most phones can be taken underwater nowadays so there is no excuse to not start shooting underwater.
Emma: That's very true! What kit do you think every beginner should start with?
Kimmo: Maybe with a pocket camera close to surface as there is a lot of / enough lights available and the equipment is relatively cheap.

Emma: Good advice! Are there books on online resources you believe would benefit anyone starting underwater photography?
Kimmo: I  recommend Googling and checking Youtube at the beginning. Spotting talented photographers from Instagram may also be wise. This way you can find new ideas and ways to shoot as well as to learn all needed theory. The real skills you need to learn with your equipment by using them.
Emma: Which is the best underwater photography blog out there right now?
Kimmo: I would recommend Instagram over blogs. Quite often photos tells more about the photographers skills than blog texts with couple of photos.
Emma: Yes, I totally get that! Do you have any tips for taking photos underwater?
Kimmo: I may have just couple. Photos and adventures will not come to you. You must go for them. Meaning if you want good shots then you need to be ready to work a bit for them. Furthermore: learn to love what you do and you do it a lot. This is an efficient way to become good, whatever you do.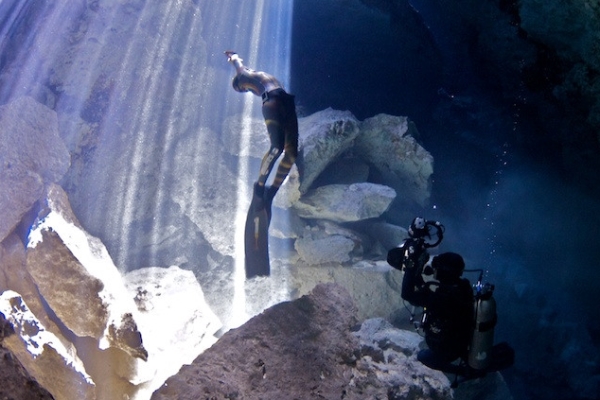 DSC5399
8. JANUARY 2011
17:02
TECHNICAL DETAILS
NIKON CORPORATION NIKON D300S
10
f/3.5
Emma: Absolutely! What is the most common mistake you see from beginner/novice/amateur underwater photographers?
Kimmo: Probably it may be the missing white balance. Beginners may not always know what white balance is and how to adjust it with a photo editors. But if you want (more) normal colours in your photos then it's the first thing for you to learn in photo editing.
Emma: That's really interesting! So, tell us, what is your next photography and freediving project?
Kimmo: There are couple of things on my "bucket list" that I'm trying to arrange at the moment. I want to take shots of wild Finnish seals during this summer, I want to shoot some old wrecks from the Battle of Svensksund and I want to shoot some wrecks in Dunkerque. And much more….

Emma: Sounds so exciting! I can't wait to see the results! Speaking of which, where can people find you/buy your work?
Kimmo: Underwater photography and freediving is a hobby for me. I sell my photos seldom. Mostly I give them to my friends for free if they need them. In my life philosophy the money never comes first even if need it to keep myself alive (=for food). But I try to publish almost daily something on my Instagram channel with a tiny stories and "lessons".
Here are the links to my "official sites"
@Web (products site): www.freexperience.com
@Facebook (FreeXperience / company): facebook.com/FreedivingWithExperience/
@Facebook (personal): facebook.com/kimmo.lahtinen
@Instagram: instagram.com/freediving_with_experience/
@Twitter: twitter.com/FreeXperience
Learn to freedive with Go Freediving in 2018
If you want to start underwater photography and freediving, Go Freediving is the longest established, most experienced and friendliest freediving course provider in the UK, led by world class freediving instructor trainer Emma Farrell, and her team of personally trained instructors. No other course provider has such a good instructor to student ratio, safety record and personal touch.
Whether you're a beginner dipping your toes into the world of freediving, a seasoned pro looking to turn professional, or simply a freediver of any level who wants the best freediving holiday in the world, we're here for you!
Also check out our online guide, The Beginners Guide to Freediving by clicking here!
Keep in touch with everything Freediving
Subscribe to our mailing list for weekly newsletters with exclusive articles, news, films, offers and more!