Freediving with sharks is high on many freedivers bucket list of things to do. You may think it's an experience that can only happen abroad, but each year we freedive with blue sharks off the UK coast and its an incredible experience!
Our 2018 trip took place mid September off the glorious Cornish coastline. According to our skipper for the trip, Charles Hood, the best time to see the sharks is generally is from early July through to mid October with August being the peak season, so we were pretty hopeful of some sightings!
We'd heard that this year there has never been a better time to get up close with sharks because of how unusually warm the water is, so to say everyone was excited was an understatement! There had been some newspaper reports of snorkellers being surrounded by up to twenty blue sharks at a time – and not a nip or bite in sight!
After the glorious weather we had all summer, it was a little too much to ask for great weather for the trip as well as lots of sharks, so we were more than happy to settle with dry but overcast weather, provided we could get that boat launched and enjoy some freediving with sharks!
Freediving with Sharks: Location – and why we chose it.
As part of an ongoing research project,  Senior Research Fellow Ken Collins of Southampton University has crowned
Cornwall as the UK's current shark capital with at least 20 species found off the coast, followed by the Scilly Isles and Devon. This became the focus of an awareness campaign by Nat Geo WILD during their Sharkfest season earlier this year.
South West Cornwall is hugely attractive to blue sharks at this time of year and they congregate in large numbers to feed on the nutrient-rich waters that are unique to the area.
Skipper Charles Hood says:
"There have always been blue sharks in Cornish waters but they've definitely increased in the past couple of years. We normally see ten when we go out, five on a poor day but around 20 on a good day. I would say there's usually double the amount around that you see."
However, despite the increase in numbers, Dr Ken Collins emphasises the need to protect this and future generations of sharks in UK waters:
"It's likely we will be seeing more sharks spread from warmer regions such as the Mediterranean Sea towards our waters in the UK over the next 30 years. These include the likes of blacktips, sand tigers and hammerheads, which are currently found swimming off the coasts of Spain and Portugal.

Though while the potential number of shark species around the UK may increase in the next few decades, the overall number of sharks, especially the larger ones, will fall as a result of over-fishing, plastic waste and climate change. It's really important we work together to prevent a premature extinction of these wonderful creatures."
He added that there is "no reason" why there should not be great white sharks in UK waters, as they were found in colder waters off South Africa and favoured seals to eat – found abundantly in Cornwall!
Freediving with Sharks: Blue Sharks Facts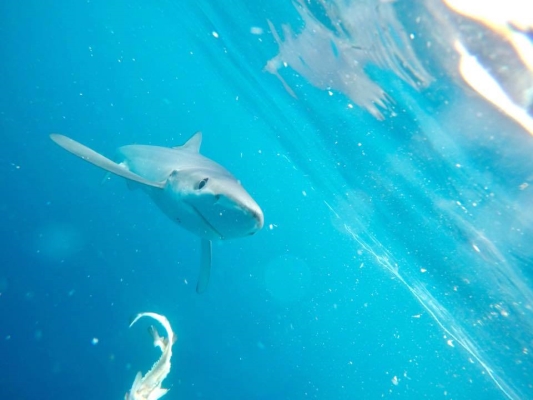 This freediving with sharks trip was specifically to encounter the blue shark, or to give it is official name the "Prionace glauca". Blue sharks are a member of the order Carcharhiniformes, of the family Carcharhinidae and the Genus Prionace. It is their naturally blueish skin that gives the shark it's common name.
The blue shark can reach lengths ranging from 3.8 to 4 meters and weighs about 240 kilograms and due to their slim streamlined body are often mistaken as pups of other shark species. But freediving with sharks 4 metres long in their natural environment was still going to be something pretty spectacular!
Even though the blue shark is one of the most widely distributed shark species (they are found off the coast of every continent but Antarctica) its status is classified by the Red List of the International Union for the Conservation of Nature, as Near Threatened  This means that its population has been in decline. Every year, millions of blue sharks are sadly killed through hunting or being caught in nets. They are hunted for  their skin, their fins and their liver.
Freediving with Sharks: Precautions and Considerations
When freediving with sharks it is important to remember that these are wild animals – they are not domesticated just because they are used to interacting with humans. They are potentially dangerous and unpredictable and you are entering their natural environment. However, swimming with sharks is  incredibly thrilling so provided you follow all of the safety advice you should have an unforgettable experience.
It is strongly advised that you only wear very dark clothing and remove any items that are white or shiny/reflective as sharks can mistake this for fish. Freediving with sharks in UK waters is almost guaranteed to be cold, so ensure you wear a thick wetsuit, even if the weather is warm.
It is worth checking what insurance policy applies for any chartered trip such as this. For example, Charles' insurance covers you while you are on the boat, but does not cover you during your time in the water. So, it is always worth considering additional insurance. This is particularly relevant for trips such as this because the boat cannot be guaranteed to launch until a few days beforehand.
Freediving with Sharks: The Boat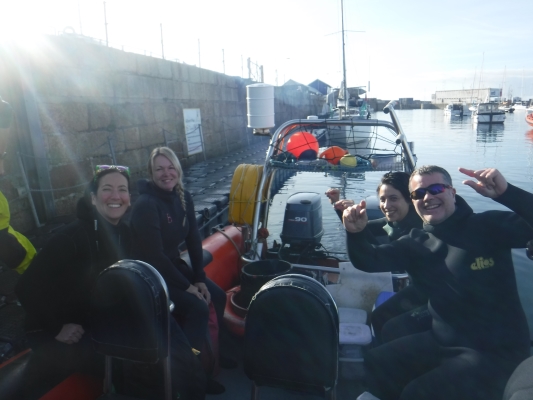 Our boat for the trip, was the bright orange RIB Logan –  a 7.2 metres (24 feet) rigid hull inflatable boat, licenced to carry 7 passengers plus skipper. Due to our trip being a freediving trip and not a sightseeing trip, it is recommended that the boat carries no more than 4 diving passengers to ensure all kit can be brought on board, but as we were freediving and not scuba diving, we have a lot less kit to bring (yay!) so Chris allows 5 passengers.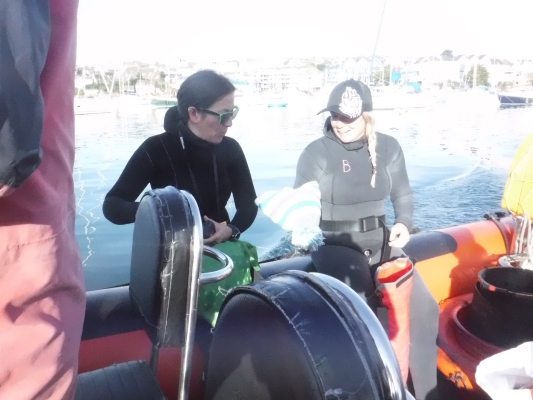 The trip was fully booked, which meant the  maximum of four passengers – Adeline, Paul, Sam and Wayne, plus one instructor (the delightful Heather) could go on the boat for the one day charter. This is the right number of people to be getting in the water without startling all the local marine life!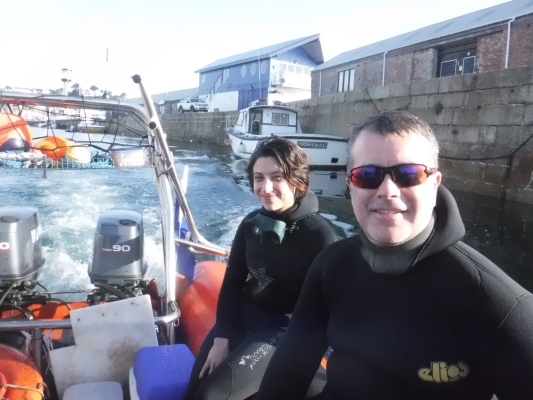 Freediving with Sharks: Meeting the sharks!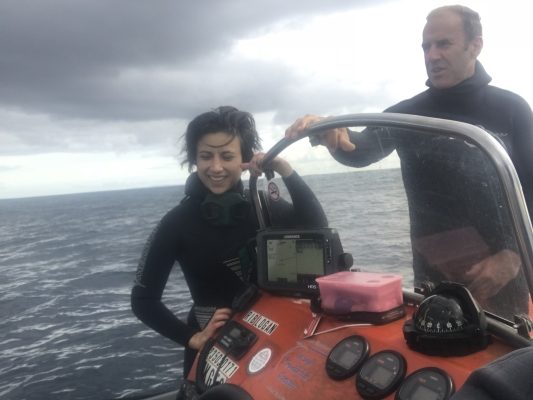 Blue sharks can need a little encouragement  to approach the boat, so to do this Charles uses a very smelly chum (which is a type of bait consisting of fish parts, bone and blood and is particularly attractive to sharks due to their keen sense of smell). We knew that when we went on the trip there was no guarantee we would even see sharks, but it is difficult to manage expectations when you hear of so many sightings in recent months. Also our trip last year saw plenty of sharks, so we hoped we hadn't lucked out.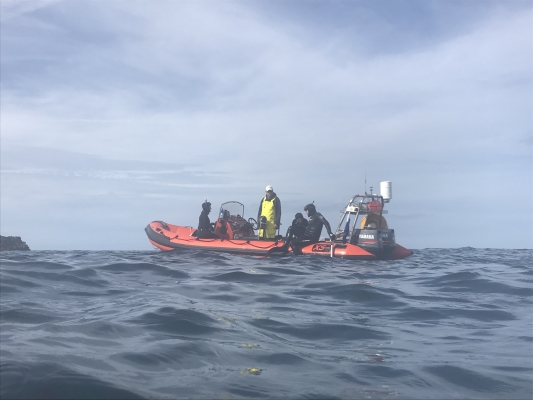 But then, … there they were!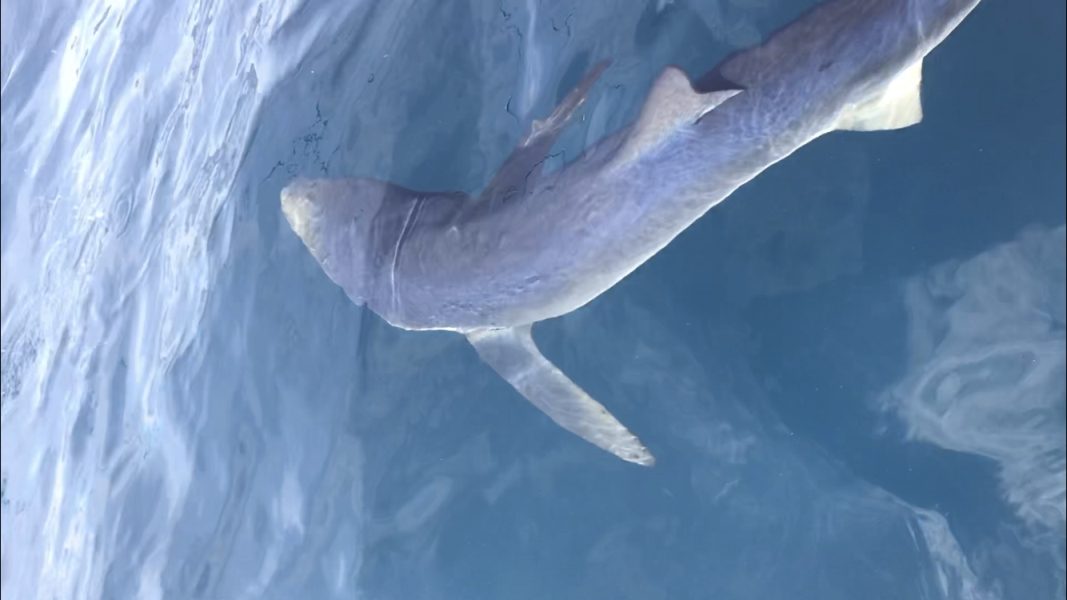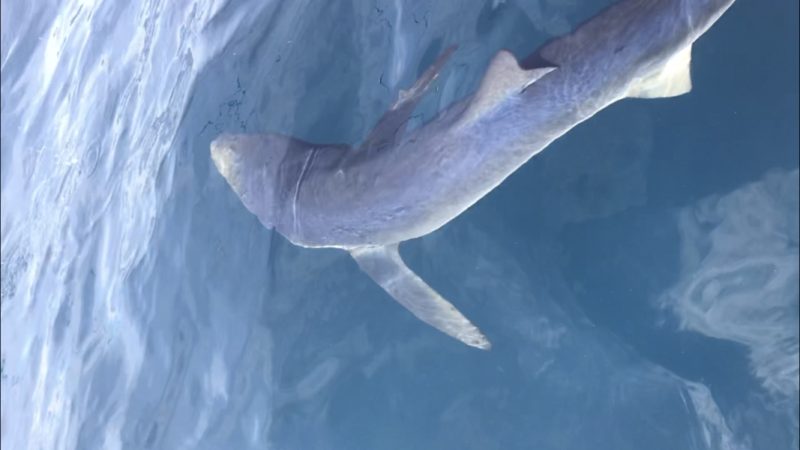 All eight of them!!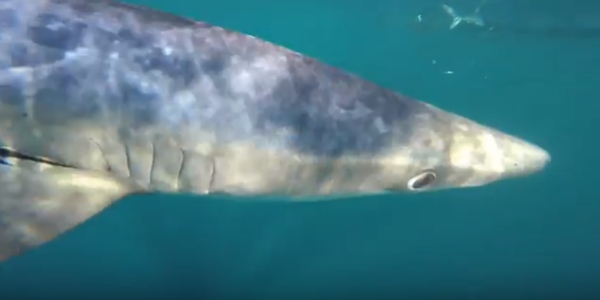 The visibility was awesome and we couldn't wait to get in the water with them!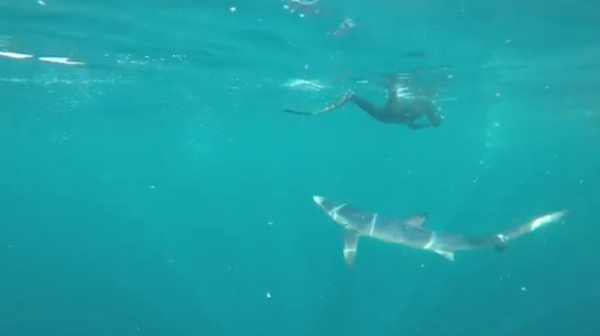 This shark was so curious it almost ate Heather's Gopro (check out the video if you don't believe us!)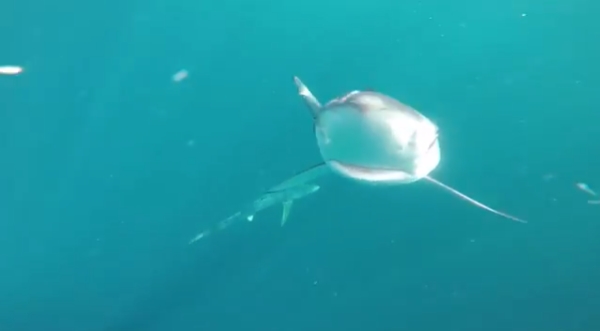 We just had the most amazing, unforgettable experience!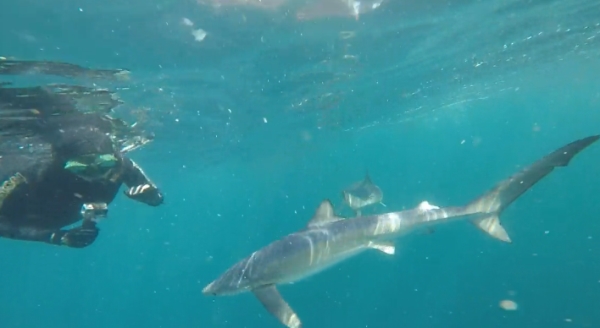 And already want to do it all over again!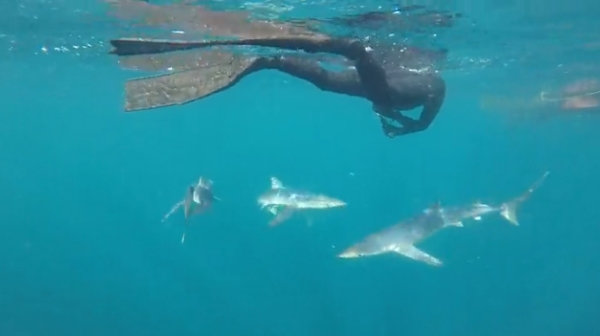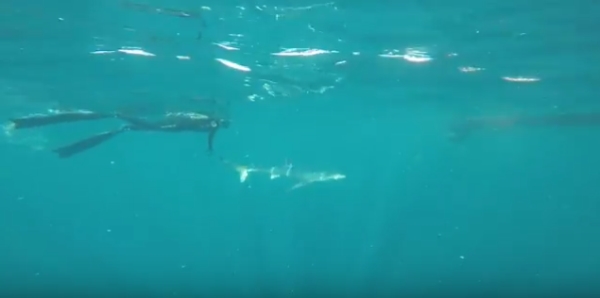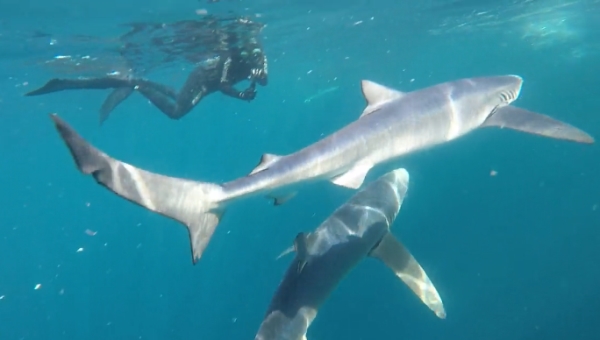 Freediving with Sharks: We also had a day freediving around the coast!
Following the high of the previous day's freediving with sharks, we couldn't wait to get back in the water and do some coastal freediving. The weather may have been a little dull, but even that couldn't dampen our spirits! The water was pretty calm – which was all we could ask for! We saw a fantastic variety of marine life and thoroughly enjoyed the diving. For some of us it was the first time freediving in these conditions, so it was all great experience!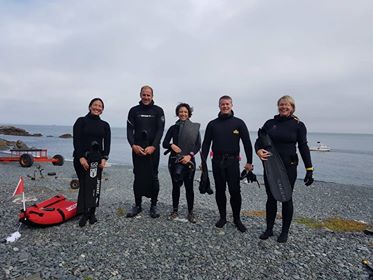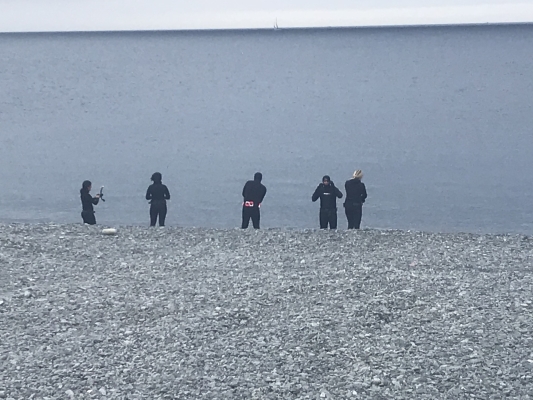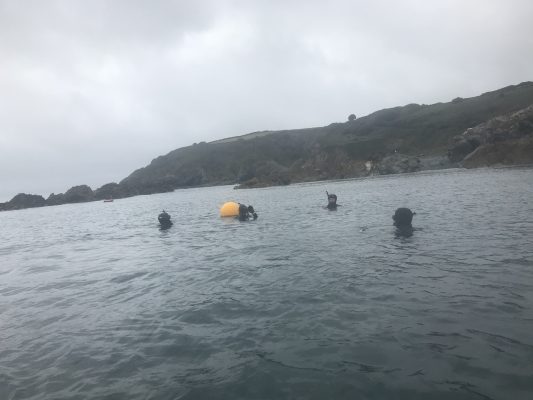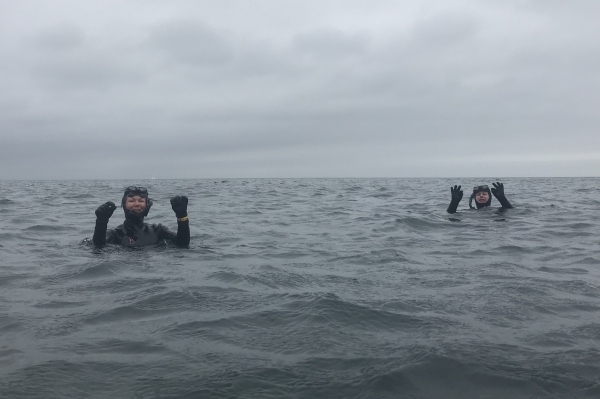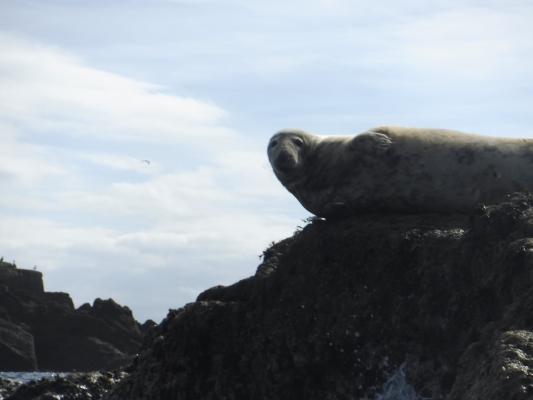 Freediving with Sharks: Where we stayed!
After a great day freediving, there is nothing better than coming back to your accommodation to change and dry off! The trip to go freediving with sharks was just part of a three night stay in the local area. Our accommodation was a traditional rustic stone built Cornish coastal cottage with sea views and was perfect for all of us to wind down, relax and finally catch our breaths!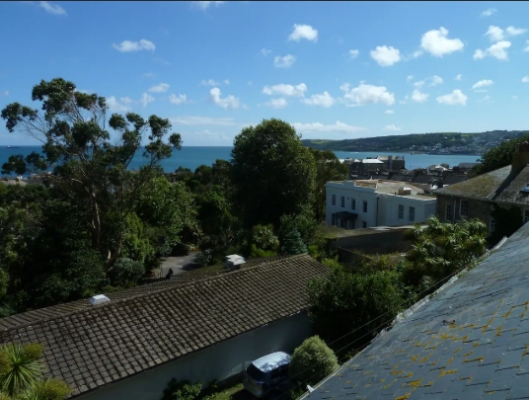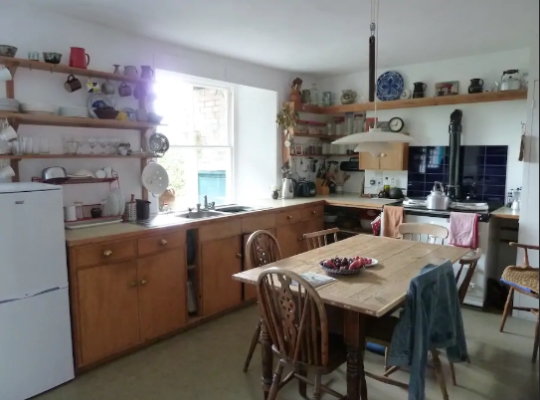 Freediving with Sharks: Where we socialised!
On Friday night after everyone arrived, we settled for a Thai takeaway and stayed in.
Saturday night, after our awesome dive we went to the The Admiral Benbow pub – the first place we could find that wasn't fully booked up!
When in Cornwall, one must partake in a traditional Cornish cream tea! So, on Sunday, after a successful day diving with sharks on the Saturday we went to highly recommended Roskilly Farm café  – a working Cornish Organic Farm on the beautiful southern tip of Cornwall on Sunday between dive sessions – and were not disappointed!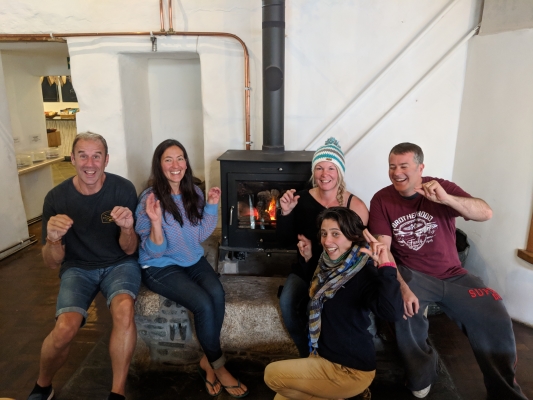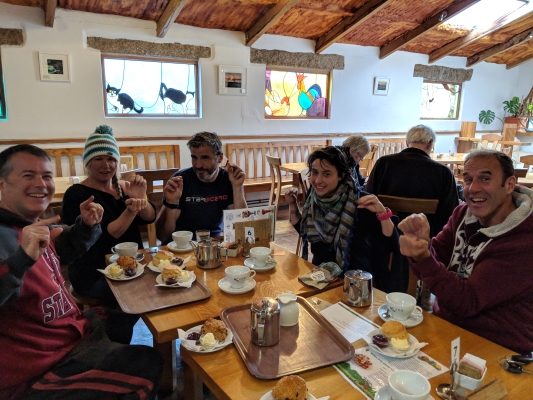 We also went for dinner at the Dolphin Tavern – a ship inspired pub – in Penzance on Sunday,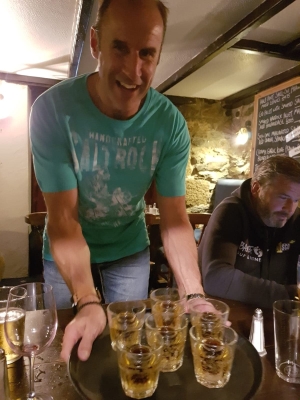 All in all, it was a wonderful weekend of freediving, sharks, cream teas, Cornish pubs and fantastic company. We can't wait for next year!
Freediving With Sharks: Want to join us on our next adventure?
We love freediving with sharks so much we have already booked the boat for next year! If you fancy joining us, you can make your deposit now, and pay the rest next year! Places are strictly limited so if you want to be guaranteed your seat on the boat we highly recommend booking early! Please note; The minimum deposit is £100 (which is non-refundable) so if you are thinking of joining us, please make sure you will be free on those days.

Learn to freedive with Go Freediving
Go Freediving is the longest established, most experienced and friendliest freediving course provider in the UK, led by world class freediving instructor trainer Emma Farrell, and her team of personally trained instructors. No other course provider has such a good instructor to student ratio, safety record and personal touch.
Whether you're a beginner dipping your toes into the world of freediving, a seasoned pro looking to turn professional, or simply a freediver of any level who wants the best freediving holiday in the world, we're here for you!
Also check out our online guide, The Beginners Guide to Freediving by clicking here!
Keep in touch with everything Freediving
Subscribe to our mailing list for weekly newsletters with exclusive articles, news, films, offers and more!