Every so often you see something come along and think two things – 'Why didn't I think of this?' and 'Why doesn't EVERYONE know about them?!' This is what happened when I first discovered Salmon Skin Crisps or Sea Chips as they are known.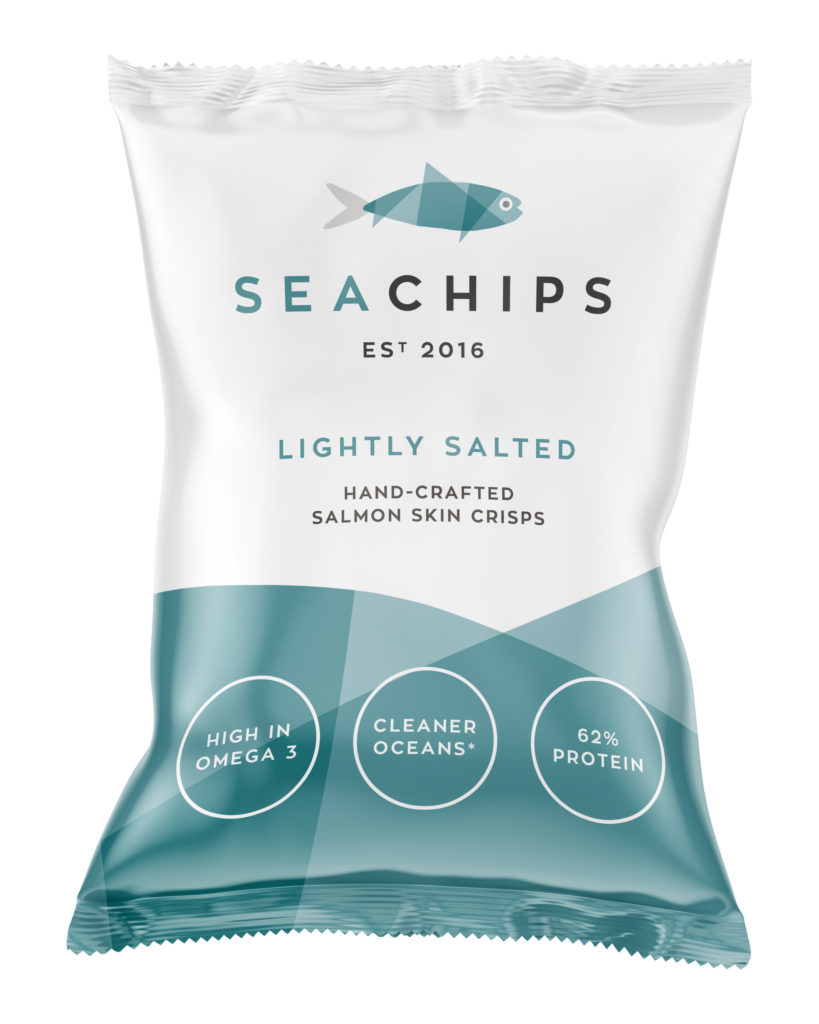 Firstly, I should make it clear that this post is not sponsored in any way. I was simply researching ethical and environmental ways sea waste is being managed (blog coming later regarding this) and stumbled across them. I was so intrigued I set up a quick interview with Dan – one half of Dan and Dom (the founders) to hear more about their story and what they had to say.
Of course, the first thing I wanted to know was what inspired them to create the salmon skin crisps in the first place.
Dan said: "Myself and my business partner Dom worked in restaurants where we saw incredible amounts of waste. One being was fish skins. When you baked them the skin went in the bin despite it being super delicious and nutritious.
We started to crisp the skin up like crackling and add it to the dishes as a garnish and customers loved it".
When I asked more about their background I discovered that Dan is an award winning ex chef and trained in cocktail mixology, cooking in 3 michelin starred kitchens to private catering for celebrities such as Kylie Minogue and Dom is an accountant by trade and keen foodie.
What led to the commercial production of salmon skin crisps?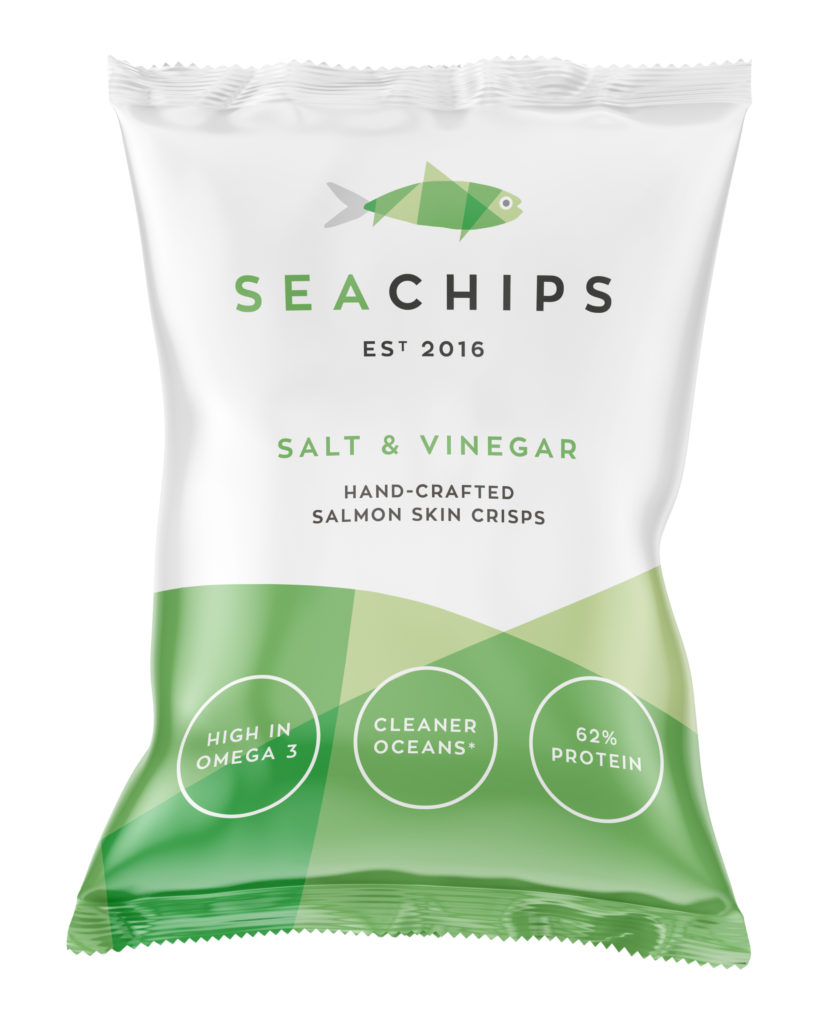 Understanding their background led me to ask what made them take such a big leap from restaurant to shelf products and this is where I discovered their passion behind the product.
Dan added: Upon speaking to fishmongers they were confused to why we wanted it as they said they usually just throw it out so it got us thinking that we should just starting our own business creating products made from under utilised parts of the fish, helping to reduce the statistic than more than half of the seafood caught in the UK is thrown away as off-cuts.
"…More than half of the seafood caught in the UK is thrown away as off-cuts…"
Based on that depressing statistic, particularly in this environmentally, waste conscious era  salmon skin chips, it seems, were just screaming out to be made!
I wanted to know what Dan and Dom were doing beyond the production side of things to further promote ocean protection and preservation. They didn't let me down!
Dan said: "…We also donate a portion of our profits to support ocean charities, who are actively helping to clean up our seas and oceans. Our vision is to represent what a modern day business should be: product focused and ethically led…"
What about the development of the salmon skin crisps?
I wanted to know more about how there passion fed into the development and production of their salmon skin chips and Dan was more than happy to tell me!
Dan explained: "…When we were developing the brand we wanted to make sure we represented what the modern day consumers care about, and for us there was a clear synergy between our seafood brand and the ocean's, so it just seemed logical to do what we can to help keep the oceans in optimum condition which at the moment they are in need of as much support as they can get. Before, our supplier (Grants, who are an accredited, sustainably-sourced supplier), was throwing our skins in the bin!
When we say we're product focused, ethically led company, it simply means, at the end of the day we are product driven business where the most important thing is making sure our crisps taste the best they can be but we follow the most ethical way of producing our crisps and whats important is that we question each stage of our production to make sure its ethical as can be".
The process of making the salmon skin chips is very simple – first they smoke the skins and then bake them, which Dan says, retains nutrients and the smoking gives them a nice flavour and reduces any overly fishy taste. Their website states:
Sea Chips are 100% natural, very high in protein, carb and sugar free, and high in Omega 3.
Their efforts it seems are paying off! They were recently awarded a BAP certification for best aquaculture process and are the only fish processor in the UK to have this award.
I had to ask about their packaging, which Dan explained it was certainly something they were exploring.
Dan said: "There are only compostable alternatives available but the UK is simply not set up to to actually compost them properly so as soon as there is a viable option we will be switching"
Where can you buy them and what flavours do they have?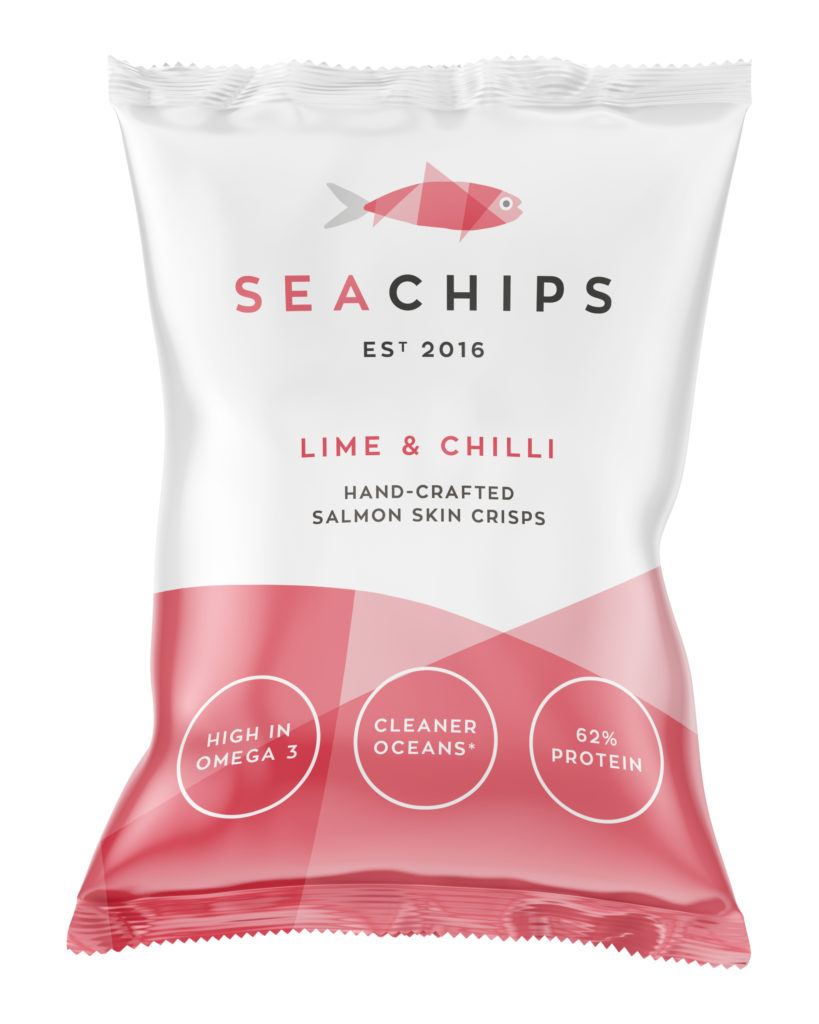 Lightly Salted – Simply seasoned to enhance the flavour, if you love crispy fish skin on its own, then this is the one for you!
Lime and Chilli – Sharp, citrus savoury salmon skin crisp with a kick of a specially blended chilli mix
Salt and Vinegar – Envisage eating fish and chips by the seaside, with lashings of malt vinegar that wafts through your senses with a sprinkle of Cornish sea salt.
I've tried the lightly salted and the salt and vinegar so far and the salt and vinegar is my favourite. They're crunchy and tangy and absolutely delicious! They make a great snack on their own, with a tipple or two, and can also be crunched up to use as a topping on other dishes.
I also have it on good authority that they will soon be launching a salmon jerky  as well as line of pet treats called Sea Snax!
You can buy Sea Chips through outlets such as Superfood Market, Yumbles, Amazon & Muscle Foods. My favourite place to buy them is from Yumbles, as it's a small independent store run by a freediver!
If you want to know more about Sea Chips and what they are doing to help sustainable fishing, check out their website via the button below.

It's not just salmon skin crisps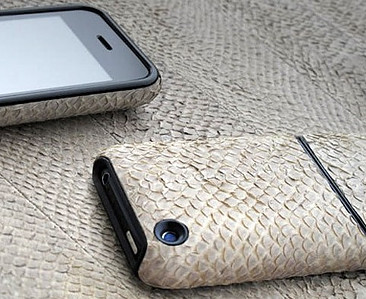 Salmon skin is an incredibly versatile product and has long been used to create salmon leather.
Salmon skin leather is very strong, thin and flexible and of course has great water resistance qualities. It is also reported to be more eco friendly than normal leather derived from cattle skin (even though it is more expensive)  It is often compared to snake skin leather, but it has a much softer feel.
Fish canneries normally dump the skins in the ocean, but in recent years making fish leather is a craft that is gaining renewed interest and is now being used to make footwear, bags, belts, wallets and even laptop and mobile phone covers.
The future of salmon skin
Whether salmon is being used for food, health supplements or leather, provided the salmon used is ethically sourced to begin with, there is some comfort in knowing that no part of the fish needs to go to waste. We just need to make sure our fish suppliers know this.
Learn to freedive with Go Freediving
Go Freediving is the longest established, most experienced and friendliest freediving course provider in the UK, led by world class freediving instructor trainer Emma Farrell, and her team of personally trained instructors. No other course provider has such a good instructor to student ratio, safety record and personal touch.
Whether you're a beginner dipping your toes into the world of freediving, a seasoned pro looking to turn professional, or simply a freediver of any level who wants the best freediving holiday in the world, we're here for you!
Also check out our online guide, The Beginners Guide to Freediving by clicking here!
Keep in touch with everything Freediving
Subscribe to our mailing list for weekly newsletters with exclusive articles, news, films, offers and more!