The best time to do a freediving course depends on many factors. These factors can range from age, general health, fitness, mental wellbeing, through to location, time of year and even which course providers are available at any given time.
If you are wondering when the best time to do a freediving course is for YOU, ask yourself the following questions:
When Is The Best Time To Do A Freediving Course – Question #1: How old am I?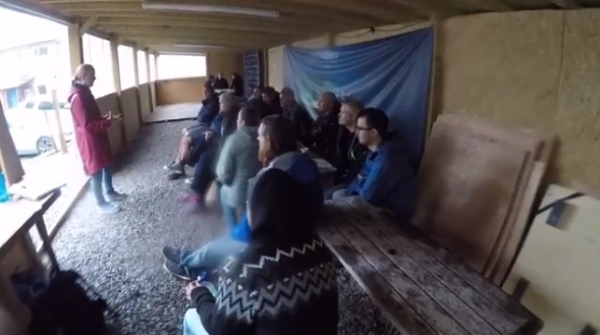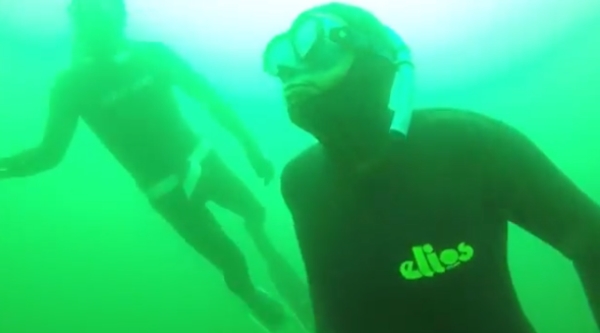 Many people assume that as freediving is classified by many to be an 'extreme sport' there must be lower or upper age limits. While we have seen many very young freedivers , at Go Freediving, we abide by the standards set by RAID, where the minimum age is 12 for the RAID Freediver Course. We believe this is the earliest we can safely and confidently teach our younger students this level (It should be noted that a parent or guardian will also need to take the course with a child of this age). In relation to an upper limit, there really isn't one. We have taught a wide range of more mature students up to mid eighties. So, provided the student is able to pass the standard diving health questionnaire, we don't place any restriction as a result of age. In fact, many of our older students out perform younger students as they have the maturity and wisdom to remain calm and relaxed throughout their dive. In the competitive world many record holders actually achieved their world records in their 50s and 60s! So in terms of age, there really is no 'best time to do a freediving course'!
When Is The Best Time To Do A Freediving Course – Question #2: How fit am I?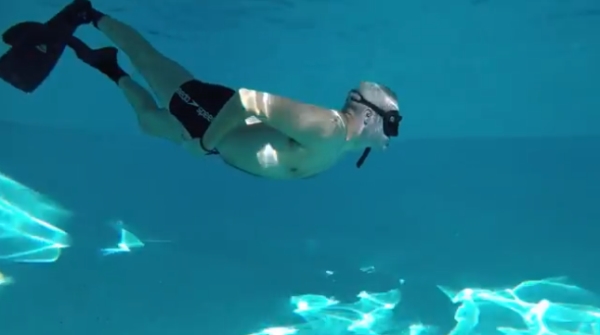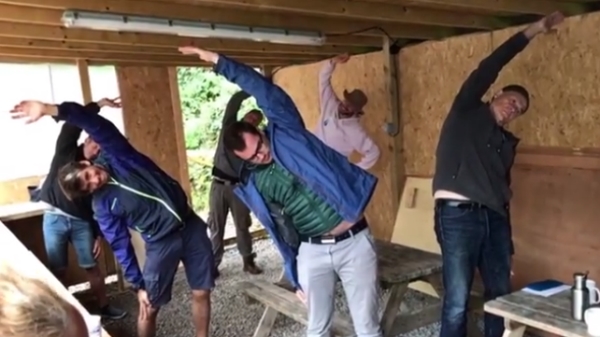 Having some degree of fitness is required for freediving. This does not mean you need to be an athlete. However, it does mean that you need to be able to swim comfortably in open water and also be able to complete a number of techniques and rescue scenarios. You also need to be able to enter and exit the water in a comfortable manner. Also, getting your wetsuit on can be quite a feat! If you are recovering from an illness or believe your general fitness may be an issue, it may not be the best time to do a freediving course. We want our students to enjoy their course and feel challenged and motivated. We don't want your course to feel challenging for the wrong reasons. Here is a link to our health questionnaire, which may help you better assess whether you are healthy enough to undertake a course.
When Is The Best Time To Do A Freediving Course – Question #3: How mentally capable or available am I?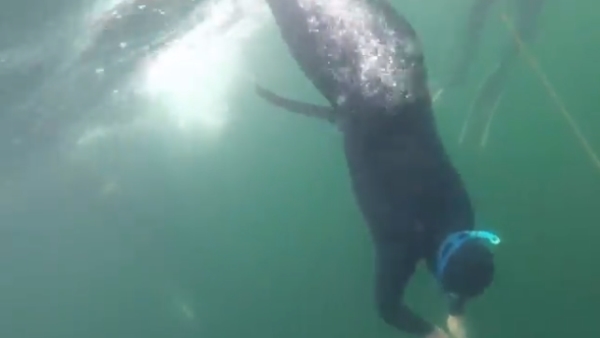 Some students choose freediving because of the positive impact it can have on mental health. We have had many students who suffer with stress, anxiety and fear come to us as they search for alternative ways to manage their condition. Your mental state, in general, should not have a detrimental affect on your overall enjoyment or progression during your course. You do however, need to be honest with yourself and your instructor so that we can take your condition into consideration.
When Is The Best Time To Do A Freediving Course – Question #4: Do I have time to study for a course?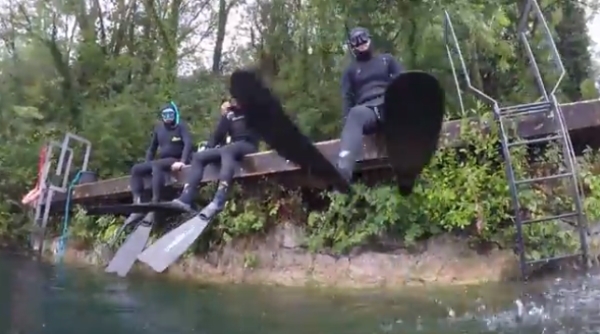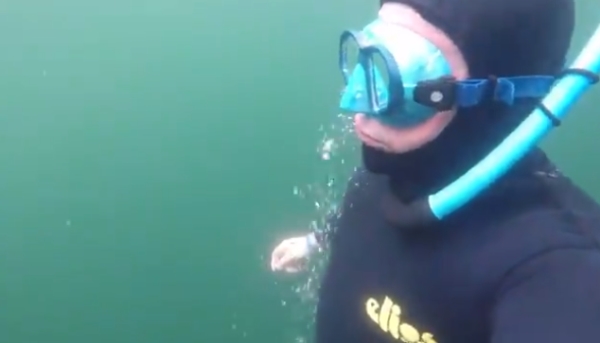 Part of your freediving course is completed online. On average most students can complete this part of the course within 1 – 3 hours. This includes reading the material, completing mini quizzes and passing a knowledge check at the end. For some students this is felt to be the least important part of the course and so they will either complete it a day or so before the practical element of the course, or will rush through the quiz and not absorb the information they have been provided. The knock on effect of this is that it can impact on the enjoyment and feeling of preparedness on arrival for the practical element.
For complete enjoyment we recommend completing the theory part of the course at least a week in advance, and then re-reading the information at leisure in the days leading up to practical sessions. With this in mind the best time to do a freediving course is when you have a little extra time outside of your hectic schedule that can allow for some preparatory work that is an enjoyable part of the course rather than a chore.
When Is The Best Time To Do A Freediving Course – Question #5: Is there a specific reason I need/want to do this course now?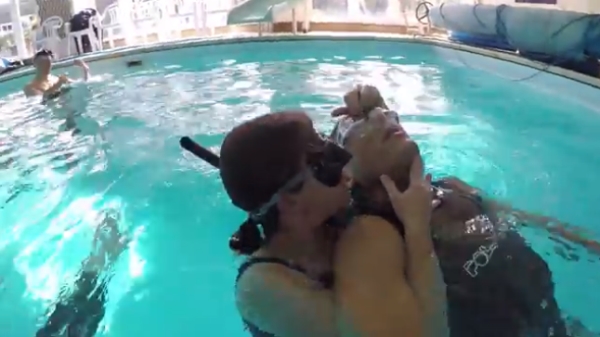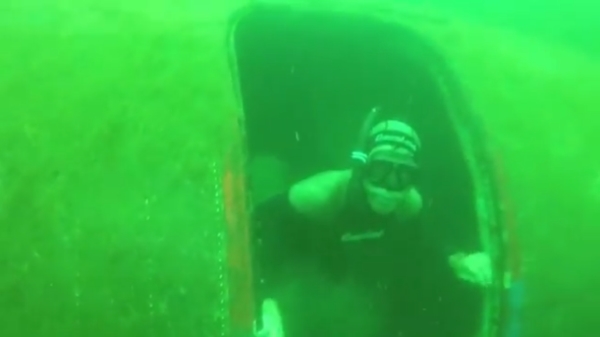 Some of our students do have specific reasons they attend a course at the time they do. For example, they have a job requirement that involves freediving or they are going on holiday or trip and want to maximise their freediving and snorkelling experience. For many however, it is just that they have been considering freediving either in the weeks, months and sometimes even years before and have decided now is the right time. Whenever the best time to do a freediving course is for you, we recommend booking courses as early as possible to ensure you  are able to attend a course on a date of your choosing. Many of our freediving courses are booked well in advance and some even have wait lists for cancellations.
When Is The Best Time To Do A Freediving Course – Question #6: Will the water be cold?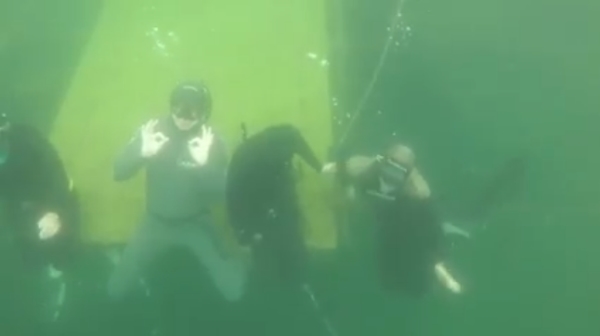 This can be a deciding factor for many students trying to figure out the best time to do a freediving course. Last November we had a group of die-hard students who wanted to freedive regardless of how cold it was. (In fact they are not alone – take a look at this gorgeous freediving film Johanna Under The Ice and you will see how beautiful it can be). For most students, the water temperature is without doubt a factor – and the warmer, the better. We get that! The freediving season in the UK runs from the beginning of April through to mid October. This takes advantage of the best weather we are going to get in the UK and also ensures the water temperatures range from around 16 – 23 degrees. At Go Freediving, to accommodate our British climate we have different thickness wetsuits so that our students who feel the cold can enjoy the comfort of a thicker wetsuit.
Some students will simply decide that diving in the UK at any time of year will simply be too cold, so it is not necessarily when is the best time to do a freediving course, rather where is the best place to do a freediving course! And for those students we offer freediving holidays where they can enjoy learning to freedive in the balmy Red Sea, the Canaries or even further afield. They can live on a boat for a week and literally jump out of bed and into the water, or can stay on land and have a broad freediving holiday mixed with other land based activities.
When Is The Best Time To Do A Freediving Course – Question #7: Is there a course running, local to me?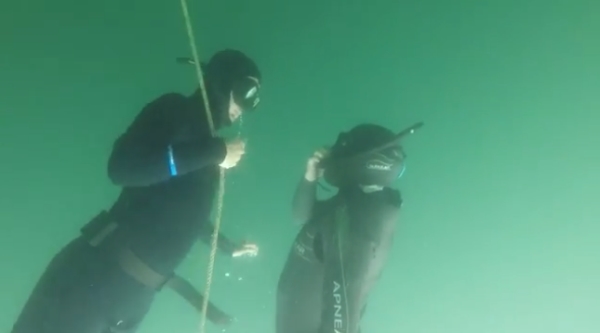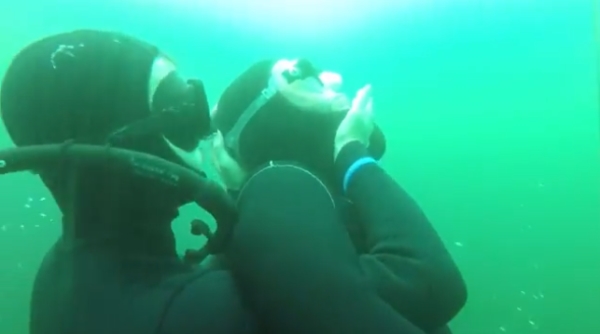 We understand for many students time can be a factor when deciding the best time to do a freediving course. Travelling to a course can not only add time away from home, but it adds additional costs such as overnight accommodation and all the extras that are associated with travelling. However, our courses have attracted students from as far afield as Australia, US, Europe and Canada, all keen to complete a freediving course with an internationally recognised and respected freediving instructor and school. We truly believe we offer an exceptional learning experience for all of our students – one worth travelling the extra mile for. We also ensure we provide a wide variety of accommodation options within their course information to cater for all budgets.
When Is The Best Time To Do A Freediving Course – Question #8: Do I Want To Practice My New Skills After The Course?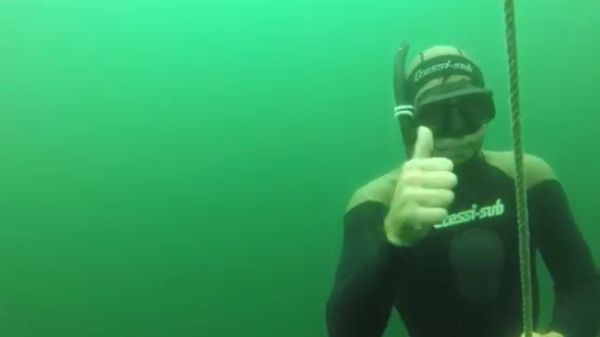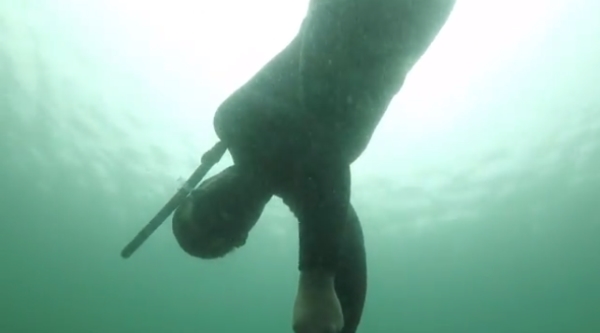 Go Freediving is a thriving freediving school. Not only does it host courses, but it has two busy clubs in Poole and Bath, offers freediving training holidays, freediving relaxed holidays, short UK trips, Club weekend meets and a host of year round offerings to keep students motivated and enthusiastic about their sport. For students who learn at a slower rate, Go Freediving offers 'returning student' deals for students to complete elements of their course. Even though the freediving season ends mid October, our clubs run all year so you don't need to worry about what may be the best time to do a freediving course as you'll always have opportunities to practice your skills.
Check Out Our Latest Freediving Courses Students Who All Agree This Weekend Was the Best Time To Do A Freediving Course!
Class 25th – 26th August 2018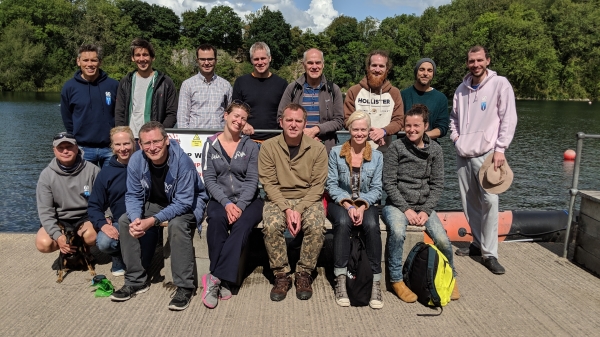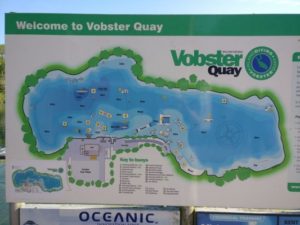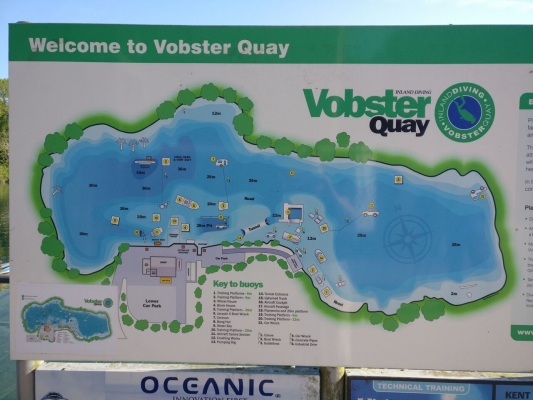 Date: 25th – 26th August 2018
Location: Vobster Inland Dive Centre
Water temperature: 23 degrees
Weather: Some sun & showers, 17 degrees
Visibility: Excellent (10m+)
Instructors: David Mellor, Jorgen Strandquist, Zoe Strandquist.
Assistants: Wayne Overson, Tom Elliott
Students: Stephen, Jeremy, Simon, Marius, Dan, Ole, Tracey, Ian, Hannah and Tony

Want to know what this weekend's students thought of their course with us? Read on!
The reason I did a freediving course is because I am not very comfortable underwater so I wanted to learn how to be more confident and relaxed underwater and that has been achieved! Go Freediving was recommended by a couple of stuntman friends of mine that dive with Go Freediving and so I decided to do it.

Doing this course has helped me to discover that I can do it. We went down to the platform at 10m where we were hanging around, chilling and posing for a photo. I just felt so relaxed and looking back to yesterday morning I would never have believed then that I would be able to do that. It's difficult to choose just one thing, but what I liked most about the course is that I got out of it what I wanted to achieve. It gave me the tools and the knowledge to get what I needed which is good.  

Three benefits of doing this course are getting the knowledge of freediving instead of just trying to do it yourself, the facilities are everything you need and Vobster Quay is perfect and the instructors are fantastic. I would absolutely recommend the course and if you are going to do freediving, you have do it with Go Freediving. Dan Griffiths
My husband found the course and wanted to do it and I am always up for trying new things. I have done some snorkelling and I generally like to play in the water.  My main challenge has been the equalisation but it has been fun. The course has given me more confidence, which is what I really wanted, to be able to go down and to stay under. I liked learning new skills and how you challenge your own body. It was something completely different and I would never had gone that deep on my own. I also saw lots of perch which was nice.

I have been selling the course to people in the changing room all weekend because mostly they have a "I could never do it" response but I tell them that it is actually not that scary because you feel like you are in control all the time. The benefits of doing the course are water confidence and becoming more confident with your own limits. Also, being in control of your breathing, when you're at that point where it is challenging and you really feel like you want to breathe, but being able to calmly get through it is a great confidence builder. I thought it would be scary but its not because you don't go further than what you feel you can.  For the swimmers and the scuba divers it looks scary, but its not, it's a learning experience and accessible.

I am just so much more confident now for when I go snorkelling to be able to go deeper. I feel more in control and I know my own limits. It was really interesting spending time with the different instructors because each one has their own approaches and techniques, especially with equalisation, and it helped me to go down deeper than I had gone with no problem at all. Hannah Weston
I have spent quite a bit of time underwater when doing canyoning and there was a challenge to keep yourself down for as long as you could whilst climbing down the rock face underwater and it felt nice down there. So I looked around for what other sport that might offer that same feeling, found Go Freediving online and booked.

I have discovered that I really enjoy Freediving which I had hoped that I would. I have enjoyed the underwater experience being so deep and without fear so there is a natural feeling of freedom. It feels good to know that you can do it. The benefits of the course are that it builds your confidence in the water, knowing that you can do it and that you know how to do it. I would recommend the course because it is good fun. Ian Weston
When I was on holiday in Greece I was doing some freediving on my own and I so wanted to do this course to learn how to freedive properly. I googled and found this course for this weekend and I was free so that was great. I have learned how to use less energy to go down, to duck dive and how to conserve energy and how to breathe. It was all quite fun.

The best thing was going down to 20m and feeling comfortable without feeling like I had to go straight back up. The benefits of doing this freediving course are you learn to know your limits, how to rescue people and the duck dive was quite nice to learn. I recommend the course if you want to learn to freedive because you will learn to do it properly. Marius Johannesen
I love being in the water and I have been scuba diving for many years. I have been trying to freedive myself and the course has helped me to discover that a lot of what I was doing was bad habits that I have to forget now that I have learned to do it properly. Learning why you should do certain things was really interesting. It's a challenge to change bad habits and also learn the things and steps you need to remember. Even though I managed to get down to depths, I struggled with some of the steps like the duck diving so it was a really good opportunity to learn to do it right.  

Diving down to the crushing works was the highlight for me. I came to it and when I got to the end of it I felt like I had more reserves to go further but I decided to stop there and it felt good, it felt good all the way up.

The benefits of doing this course are that you get to learn to freedive correctly so whether you are holidaying in Greece or spearfishing in Norway you now know how to do it correctly with correct techniques and what you should and shouldn't do. Learning about the body system is good and I can see the importance of that with freediving now.

I would absolutely recommend the course, especially to people who like to snorkel and who like to try the odd deeper dive. It's a relatively compressed course and the number of instructors to students is really good so I felt like I got a lot of feedback and because the instructors rotate I got different feedback which I thought was great. Ole Gaarden
I scuba dive and I saw some people freediving on a holiday abroad and it looked quite interesting. There was a program on television about four or five years ago called Britain's secret seas, that Emma was in, and I just thought she looked so cool, it was amazing. The way that she prepared and just glided down and I really did just think that was so cool. It triggered something inside me and it was amazing. I then watched The Blue Planet and I watched the camera operators filming the whales and of course the whales are scared of the bubbles so they had to freedive. I just thought it would be really cool to learn to freedive a bit so that is how my journey started and my wife got me this course as a gift.

I have discovered freediving is very skill dependant and it will take me time to learn the skills progressively. The week before the course I went to the pool to do some swimming and prepare for the course and that definitely helped me. The instructors are amazingly patient and encouraging which comes from their love of the sport and the difficulties they went through to get where they are today. The instructors will definitely get a big tick from me, they were brilliant.  

The challenge of the course is definitely one of the benefits of doing the course and should you become sufficiently competent then suddenly snorkelling would become a whole new dimension. As someone who sails a lot it would definitely help me as well. The camaraderie is very good and being able to dive with my family definitely brings us closer. I would recommend the course to anyone who is up to the challenge, because learning to freedive is great. Stephen Thompson
My friend Ian found the course and as I like to try new things and learn new things I decided to give it a go. Before I started I was a bit wary of the water, I don't have much experience in the water, I'm not much of a swimmer, I've never been snorkelling or anything like that so it has been a lot of new experiences for me. I have been able to relax into it and had a lot of fun doing it. I like that freediving is a lot of mind over matter as I am interested in meditation and stuff like that so I enjoyed learning how the mind controls the body and how the body reacts to certain things like being at different pressures underwater. Experiencing that and also what you thinking and it quite good having those two things, the physiology and the psychology.

The benefits of doing the course with Go Freediving are that you get really good instruction, it's very personal as well so there is no real pressure to do stuff if you are not comfortable with and it is very safe. I also met a lot of cool people. If you are interested in doing something like this, I would recommend Go Freediving to get proper instruction, it is better to do it with someone who knows what they are doing than going off and doing on your own. Tony Suri
I scuba dived and then discovered freediving at a dive show and I just loved the concept of it. I went online and watched loads of videos and found Go Freediving and I think that freediving is calming which suits my personality. Doing this course I have discovered that I can go deeper than I thought I could and that I can understand the technical side of it which I thought I might struggle with. But getting down underwater and putting everything into practice I discovered that freediving can be everything that I thought it could be which is great.

The best part of the course was the instructor student ratio, the smaller groups made it easy to ask questions straight away and the fact that the instructors are so patient. Doing this course helps build up your confidence in yourself and your capabilities. You get to meet people that love what you love and you have the ongoing club nights to help support you afterwards it is just not a one off but can actually become a way of life.

I would recommend it because I think I am a good example of someone who wanted to do it but had no idea what is involved and actually came out of it just on a high really and feeling like I have achieved something that I have wanted for a really long time. So test yourself and you will be surprised at what comes out of it. Tracey Howes
My wife got me into open water swimming because she is a keen open water swimmer and she got me a ticket to swim the River Dart 10km this September so I have been coming to Vobster to train and the freediving interested me. I think it was really to feel a little more safe or more connected with being in the water and just to feel more at one with it. I was in Greece 3 weeks ago and had I had the knowledge of equalising that I now have I would have been able to swim deeper with the turtle that I swam with. Learning more about the water and learning about the currents and that sort of thing was something I wasn't expecting to learn about but did.

Go Freediving is here in Vobster and I know that Go Freediving knows what they are doing and that people travel great distances to learn freediving with them and that is why I chose them for this course. I have now been able to identify my equalisation problem and know what I have to do achieve it. You learn about your body and what it is capable of doing and it has been really interesting. The instructors are really laid back and easy going and very knowledgeable so I always felt safe with the instructors. I never felt in danger, right from the start I never felt like I was out of my depth as I was learning what I was capable of doing and to not push past that, and that was important.

The benefits of the course are that you learn more about being in the water, you learn your capabilities which makes you feel safe and know your limits, and it is fun to be in the water and engage with the underwater world. Freediving could be a great hobby and I can see myself getting into it and once I have the capabilities, enjoying it with a friend on holidays and abroad. I would recommend the course because it is very structured, and with a lot packed into it there is no shortage of information.  Jeremy Mitchard
I have been diving and swimming under the water for pretty much as long as I can remember and have been snorkeling from the age of about 10.  At the pool I would often do some lengths under water, what I now know as Dynamic No Fins. Snorkeling on holiday I would easily be diving deeper than the other holidaymakers, often swimming underneath them while they were bobbing around like corks, or going down the anchor chain and sitting on the seabed on boat trips when they stopped for snorkelling. Of course I didn't know this was Free Immersion at the time!

In the 90s I did a BSAC sports diver training but I was uncomfortable with all of the gear and equipment and all the prep it needs and didn't follow it up, I was always happier diving with the freedom provided without it. Soon after I saw the Big Blue and was of course captivated and knew that's what I was inside – a Freediver. I assumed though that nobody in the UK did it though and didn't follow up with research. I just continued to snorkel whilst on holiday, but began to realise as I got older (and possibly wiser) that what I was doing was quite dangerous, ie out on my own a couple of hundred metres offshore with no surface support and diving to 10m+. By now freediving videos were appearing in my newsfeed and on Youtube etc. so I decided to investigate.

I initially searched for Freedivng tutorials and of course learned about the dangers and necessity for training and not diving alone. I knew about Vobster as I'm local and wondered if freediving training was there. Of course it is and as I learned more about Go Freediving and Emma's background and credentials I realised how lucky I was to be local and that there was really no other choice.

Doing the course I discovered just how remarkable the human body is and what an amazing thing the Dive Reflex is.

Other than the dives themselves, what I really enjoyed was the peace inducing effects of the breathe up and knowing the buddy/instructor was there keeping me safe. It was almost a spiritual experience.

The benefits of doing a course with Go Freediving are first and foremost the instructors. I really appreciated that we communicated on an equal level as it were, some training I have received in the past was quite ego driven by the instructors and there was none of that. If you want to be the best you can be then be trained by the best possible you can find – Go freediving provides that. And Freediving, is just that 'Freedom' – it helps you be present in the moment without being encumbered by modern life.

I would definitely recommend the course. No one was pushed and we all progressed at our own pace. My pace was quite quick due to my previous freediving experience and was placed in a group with students of similar ability. I know that every student had complete confidence in the instructors. Simon Squires
When Is The Best Time To Do A Freediving Course With Go Freediving?
Go Freediving is the longest established, most experienced and friendliest freediving course provider in the UK, led by world class freediving instructor trainer Emma Farrell, and her team of personally trained instructors. No other course provider has such a good instructor to student ratio, safety record and personal touch. We also offer one of the largest freediving course schedules in the UK meaning you're more likely to be able to take a course when YOU want to – making the best time to do a freediving course a time that suits you.
Whether you're a beginner dipping your toes into the world of freediving, a seasoned pro looking to turn professional, or simply a freediver of any level who wants the best freediving holiday in the world, we're here for you!
Also check out our online guide, The Beginners Guide to Freediving by clicking here!
Keep in touch with everything Freediving
Subscribe to our mailing list for weekly newsletters with exclusive articles, news, films, offers and more!