Earlier this year we reached out and asked club members, students and freedivers to get in touch if they used freediving in the course of their work. We have taught professional athletes, camera operators, photographers, instructors, stunt workers, mermaids, researchers,  marine conservation, rescue divers and so much more so we knew we would hear from a broad range of occupations!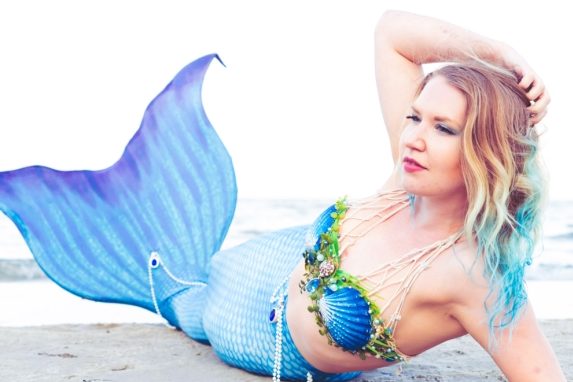 In this article we speak to Linda Ågren, also known as Mermaid Athiraa.  Linda was born in Southern Sweden in 1989, which just so happened to be the very same year that Disney's The Little Mermaid premiered.
She teachers Swedish and English at an upper-secondary school which is her main job but she is also a professional mermaid. She is also a bit of an artist as well, and love's to draw people's portraits. Linda is a nature and animal-lover, and also loves to travel, read, and watch movies.            Photo: @yxzenfoto
Her dream to become a professional mermaid finally became a reality in 2012.
I asked Linda when she first knew she wanted to be a professional mermaid
I was born in 1989, the very same year Disney's The Little Mermaid premiered, and it has permeated my entire childhood from the very beginning. Combined with a love for swimming in the ocean and in lakes (my grandmother always called me her little dolphin), a life-long love for mermaids and the element of water began. I even have drawings of mermaids from when I was around 3-4 years old!
The mermaid accompanied me through my teenage years and into womanhood, changing form and symbolism as time passed – eventually becoming a strong, independent and beautiful role model. No-one can touch her against her will, she is powerful and will drown those who disrespect her. Like water embodied she can become the deadliest raging storm at sea, as well as the most tender, life-giving stream. I always wished to be a mermaid, so when I first found out the existence of fabric tails in 2012 my dream came true! My first dive was a sensation of total freedom.
I just couldn't resist asking and Linda kindly shared some of her childhood drawings with us.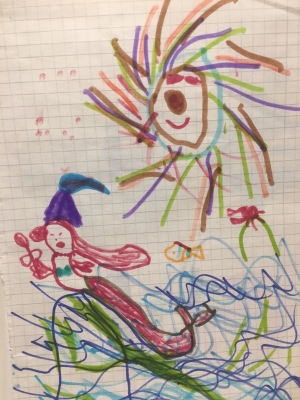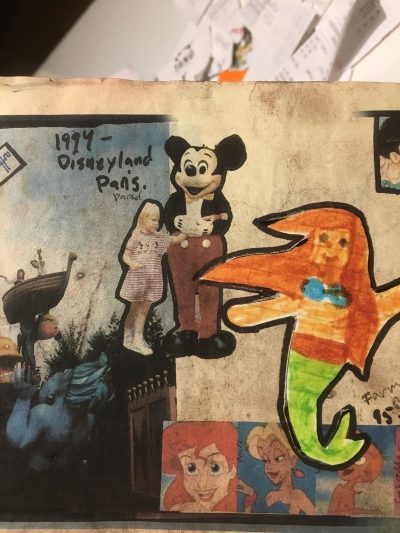 It is evident from these amazing drawings that Linda had a passion for Mermaids from a very young age.
To become a professional mermaid you need a mermaid tail. A mermaid tail, whether it is custom made or not, is most likely the biggest investment you will make in your future as a professional mermaid. Nowadays, mermaid tails are easily accessible and can even be purchased online.
Linda, I am dying to know more about your tail, did you design it yourself or was it designed for you?
I have had many tails throughout my mermaiding career, starting with a simple fabric tail from the2tails to more detailed fabric tails with proper monofins, such as Magictail and Mertailor. The apple of my eye, my treasure and my baby, is however my Merbella tail. I designed it myself and they were very excited to receive my design where I chose the colours, shape of fluke, extra fins, look of scales and with a blended waist.
What is it made of and what is the process of having a tail custom made?
My Merbella tail is made of Silicone. It took me three years to get the final tail (it was supposed to have been one year, but circumstances weren't in their favour). Merbella is a big name in the industry, and their tails have appeared in Hollywood movies, so I thought that if I'm ready to spend this kind of money I need to do it properly. The waiting was indeed long and I had to be patient, and it was a bit scary to know I spent that amount of money (3000 USD, not including shipping and taxes, yes not kidding) but the supportive updates helped.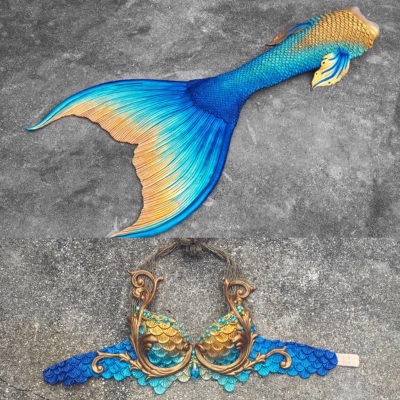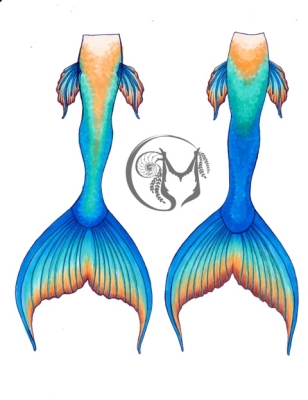 During the process I received some updates and drawings of what the tail would look like.
As a professional mermaid doing aquarium shows and big events, it was a natural step for me to make this investment, but considering the weight and expense I save her for the bigger events and use my detailed fabric tails for children's parties.
I made an unboxing video unpacking all of her 13lbs (with a matching bra!) and I was astounded at how shiny she was. The bronze-blue-teal colours really reminded me of the Swedish flag, and the bronze gave it royal touch. Fit for a queen!
Swimming with her was amazing, like a second skin on your body making you feel beautiful, elegant and smooth.
What is the process to transform from Linda to Mermaid Athiraa, how long does it take?
The transformation of becoming a mermaid starts at home in front of the mirror, depending on the event I use various makeup but always something that matches my tail and which is waterproof. Sometimes I add scales by my eyes to get even more of a "fishy" feeling, and if the event calls for it I could wear elegant crowns fit for a mermaid princess.
For photo shoots it happens that I wear some extra or have a specific theme, and that I have collaborations with makeup artists. I would estimate about an hour to get ready, and I hide my mermaid top underneath my clothes when I leave with my big fin bag. Upon arrival at the event I need to find a secluded place to put on the tail, so that I won't destroy the magic for the children, a process which is quick with a fabric tail but can take up to 15 minutes with my tight silicone tail.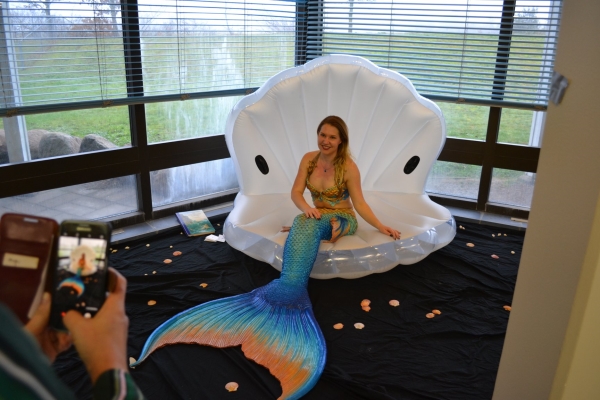 Tell me more about your career and what a professional mermaid does?
A professional mermaid can do a variety of things! I started out with children's parties where I and the kids can swim together, play games, do face painting or some arts and crafts. Later on I started with events where we mostly do meet & greet with the children and they can take a picture with you. Besides interacting with humans I often do photo shoots with different photographers, sometimes with different themes or to showcase a products such as jewelry. After becoming a qualified freediver I also do aquarium shows, where I swim with sharks, rays and turtles, waving at the kids through the glass and blowing them bubble kisses. I hope to move on to greater projects, such as films or galas.
You mention that you are a qualified freediver, what training do you have and how important is freediving in your career?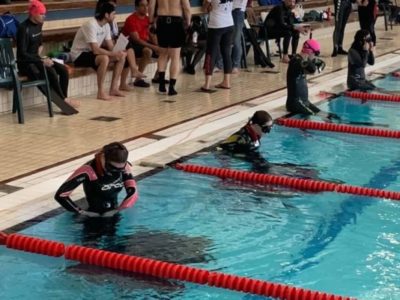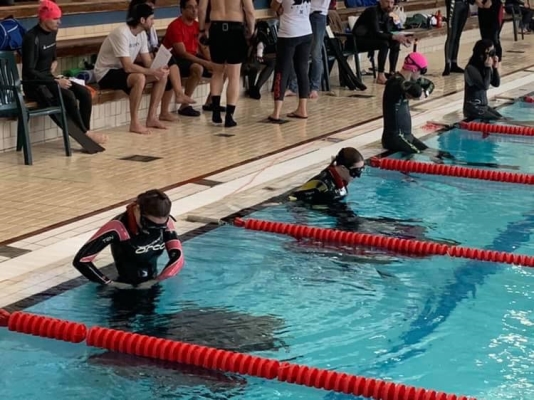 An important aspect of becoming a better professional mermaid is to improve and hone the proper skills, one of these is to stay under water for a long time. This is especially important for mermaids who want to do this professionally, to keep safety in mind as well as not giving mermaiding a bad name in case you have a public accident.
I started with freediving because of a contest – in 2017 I represented Sweden in Miss Mermaid International as our country's first participant, and one of the contests was about dynamic apnea, to see how far we could swim in our magictails underwater.
To prepare for this I joined my local freediving club, and within a month they got me to swim 50 meters.
After the contest I wanted to improve even more for my future mermaid adventures, so I traveled to my mermaid friends and Apneists UK in England to gain the AIDA 2-star certificate where I improved my depth to 16 meters and my breath hold to 3 minutes.
Today I train twice a week at the amazing freediving club Active Divers in southern Sweden, currently holding a personal best of 84 meters dynamic. Active Divers was started in 1997 and we now have approximately 50 members (2018 stats)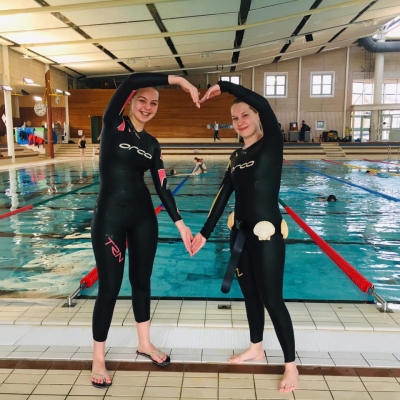 Together with my amazing team, who are supportive and encouraging, we competed in Swedish National Championship in freediving in Sweden in March 2019. Twice a week beforehand, where we focused on maxing our results, so I swam my first 100 while training.
I was sick and nervous during the contest but still OK with my results which included two personal bests:
STA: 3,7min (new pb)
DNF: 61 (new pb)
DYN: 86m
Have you taken part in any other competitions or received any awards?
I competed in Miss Mermaid International in 2017 for Sweden, which had never been represented in this contest before. We spent two weeks in Egypt where we competed in dynamic apnea swimming in our sponsored magictails (not allowed to wear goggles, nose clips, weights… Just natural mermaid look), in underwater photo shoots by the hotel reef and creating your own mermaid look (seashell bra etc). Beside the mermaid contest there were also some classical beauty pageant elements such as walking down the catwalk wearing a beautiful evening gown and showing off a talent on stage. It was an amazing experience where I made many global friendships, many whom I still meet up with, and I'm satisfied knowing I did my best and was at least in the top 10 of the mermaid contests. Today I am the national director for Sweden, making sure that Sweden will get new representatives.
Do you have a special moment during your career that will always stand out for you?
When I made it to TV for the first time, that was a big moment for me. I was more nervous about watching myself on television than I was actually filming it (the reporter said I was strangely calm).  They edited it beautifully so all I could feel was happiness. The broadcast was about my participation in Miss Mermaid International where I competed for Sweden, which was an amazing experience and I still have many friends from all around the world because of it, which was the best prize.
Swimming in an aquarium for the first time was also surreal, knowing the kids could see me from the other side of the glass and that there was live fish around me, especially big turtles! I always try to strive to improve myself, so I have traveled a lot as a mermaid and pushed my boundaries in photo shoots such as sitting on a horse, in the snow, in a waterfall and on a beach with seals during winter, so since I chase my dreams like this most of my mermaid moments are magical!
Photo:Magnus Clarén facebook: https://www.facebook.com/magnus.claren.photographer/
What is the funniest reaction you have received from a child when they first see you?
When they first see me their jaws usually drop and they can't believe their eyes, which is too cute. At parties I pretend that I don't know that much about human stuff, which causes them to show me all possible things and giggle with laughter when I try a hot dog "for the first time", they are always curious if I like it and what I usually eat in the ocean. One of the cutest reactions was a girl who got her first face painting: "this is my first face painting ever, and first time meeting a mermaid – two firsts in one day!".
A huge thank you to Linda for giving up her time to enlighten us about the life of a professional mermaid and how important it is for a mermaid to have a freediving certification. 
We will be chatting to Mermaid Arthiraa again soon, where she will be giving us her Top ten tips for being a mermaid!!!!
Learn to freedive with Go Freediving
Go Freediving is the longest established, most experienced and friendliest freediving course provider in the UK, led by world class freediving instructor trainer Emma Farrell, and her team of personally trained instructors. No other course provider has such a good instructor to student ratio, safety record and personal touch.
If you want to find out what happens on a freediving course – whether you're a beginner dipping your toes into the world of freediving, a seasoned pro looking to turn professional, or simply a freediver of any level who wants the best freediving holiday in the world, we're here for you!
Also check out our online guide, The Beginners Guide to Freediving by clicking here!
Keep in touch with everything Freediving
Subscribe to our mailing list for weekly newsletters with exclusive articles, news, films, offers and more!