Featured image Photo Credit:@layalsibaii
Last time we spoke to Linda Ågren, also known as Mermaid Athiraa she graciously shared her childhood dreams of becoming a mermaid and how she was finally able to realise her dream in 2012 when she became a professional mermaid. While being a professional mermaid may look like the coolest job ever, it requires an immense amount of work, training and dedication.  For the aspiring mermaids among us, Mermaid Athiraa has offered up her top ten tips for being a mermaid to help you understand what it takes to be a professional mermaid.
Top Ten Tips For Being A Mermaid
1.Personality
Just like humans, all mermaids are different and complex with different personalities and identities. There are the innocent mermaids who rescue drowning humans as well as the dangerous sirens who lure sailors to their death. Who are you? Identify your mermaid personality and build a mermaid character that is best for you and that you are comfortable with.
 2. Ease into it
Investing in a top of the range mermaid tail is an expensive investment. Don't go for the biggest or most expensive tail right away, start step by step and make sure you are comfortable! There are plenty of beautifully detailed fabric tails that can be found online for you to use until you are certain that you want to become a professional mermaid.
 3. Beauty
Mermaids are beautiful, so find what makes you feel beautiful. Accessorize! Seashell bras, shiny scales, wigs… you name it! You can create your own accessories to get a matching look that works with your personality. Having the correct accessories will not only make you feel beautiful but will also make your character more realistic.
Studio photo: Natureal.se (Kenny Fransson)
 4. Swimming and freediving
Practise underwater moves and breathholding, so you won't feel like you're clumsy and almost drown in front of your audience. Water in your nose and eyes is not the best feeling in the world, but you can pretend it doesn't bother you. Investing in a freediving course will help you immensely in your mermaid career. Learning freediving techniques will help you to stay underwater for longer periods making the illusion more believable. This is something you should practice as often as possible, joining your local freediving club is a great way to meet new people and get in all the training you need.

Photo: Me doing Dynamic training     
 5. Be kind
In case you do intend do children's parties it is important to be nice and loving, after all you are there to make their childhood magical! Children especially see mermaids as magical and kind and you need to portray this and live up to their expectations each and every time.
 6. Keep the illusion alive
This is so important and cannot be emphasized enough,you always need to keep the illusion alive. Always stay in character and never, ever remove your tail in front on the children if you've already told them that you are the real deal. You need to go to great lengths to keep the magic alive and to keep the children believing in mermaids.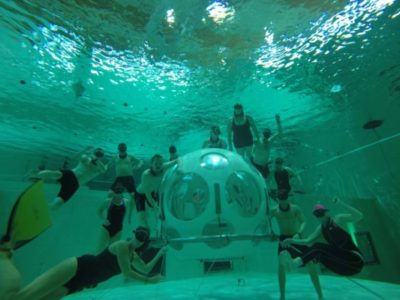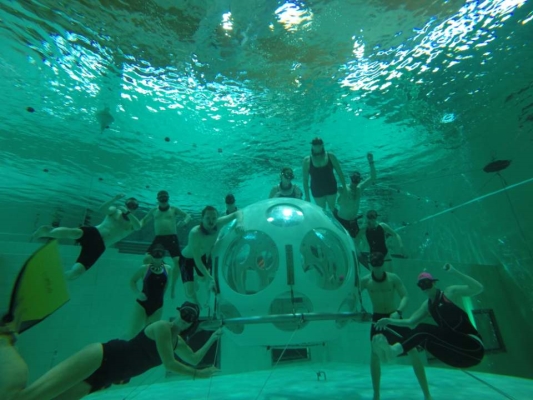 7. Have a buddy
This again shows the importance of  proper freediving training and joining your local freediving club, or if there is no club in your area at least having one diving buddy. If you want to try out a new tail, new moves or breathholding, never do this alone! This is for your own safety, and an accident would give mermaiding a really bad name. The same goes for an event on land, always make sure you have sufficient help to move around.
Photo: An outing with my Freediving club
8. Take care of your body
Spending a lot of time in the pool or saltwater can be hard on your body, to prevent damage or becoming ill you can rinse your eyes and nose with saline solution. Your hair can easily become dry so make sure to moisturize. Always keep your body in great shape by eating correctly and getting regular exercise.
9. Be prepared
The kids will ask you plenty of questions, think about how you will deal with these and learn from the experience. What to say to kids who say you're not real or that they can see your knees? Or parents who blurt out "where did you buy that tail?".  Children can be very unpredictable so it is advisable to practice and have answers ready for any scenario. A bad or irritable response will ruin the magic and the illusion so always be prepared.
10. Marine conservation
As a mermaid you're also an advocate for a healthy ocean, because children adore and are fascinated by mermaids it is a great opportunity to educate them marine life and about collecting trash and how they can help out to save the ocean. Also remember to try and make your look environmental-friendly.
Most importantly you need to be passionate about the ocean and about children. You need to be versatile and open for all types of events such as photo shoots, children's parties and any other opportunity that comes your way. Always stay in character and never do anything that could destroy the illusion. Take the time to learn the necessary skills that will help you be the best mermaid you can be. Being a mermaid is a honor, a privilege and a magical experience so follow your dreams and make it a reality.
A huge thank you again to Linda for her top ten tips for being a mermaid and for all the great work she and her fellow mermaids do.
Learn to freedive with Go Freediving
Go Freediving is the longest established, most experienced and friendliest freediving course provider in the UK, led by world class freediving instructor trainer Emma Farrell, and her team of personally trained instructors. No other course provider has such a good instructor to student ratio, safety record and personal touch.
If you want to find out what happens on a freediving course – whether you're a beginner dipping your toes into the world of freediving, a seasoned pro looking to turn professional, or simply a freediver of any level who wants the best freediving holiday in the world, we're here for you!
Also check out our online guide, The Beginners Guide to Freediving by clicking here!
Keep in touch with everything Freediving
Subscribe to our mailing list for weekly newsletters with exclusive articles, news, films, offers and more!