Welcome to the not-so-secret freediving training diary of David Mellor!
In David's last diary entry we visited the venue for his first competition of the 2019 season -the UK BFA National Pool Freediving Championships. This week we discuss with David what happened at the competition as he unfortunately experienced his first ever black out on day one. He talks about how this happened, what he has learned from it, and demonstrates just how easy it is for even the most experienced freedivers to suffer black outs in freediving competitions.
What Causes Black Outs in Freediving Competitions?
Two of the biggest risks to freedivers are caused by low oxygen levels in the body due to a combination of a long breath hold and other factors. Low oxygen levels (or hypoxia to give its proper name) can result in hypoxic fits or black outs in freediving competitions
A black out is a complete loss of consciousness brought on by hypoxia and can happen underwater (such as a shallow water black out), on the surface, and even after thirty seconds of poor recovery breathing. It can come on with no warning signs or symptoms and usually a freediver suffering one might not even be aware that it has taken place.
Some people worry that black outs in freediving competitions will result directly in damage to the brain, but if the freediver is brought back to consciousness quickly then this will not be the case. A black out is actually your body's way of protecting the brain and other vital organs by losing consciousness.
Related to a black out is a hypoxic fit. This is a loss of motor control (LMC) in the body, ranging from the subtle (a trembling of your hands, for example) to the severe, such as a full-body convulsion. In the past, freedivers have sometimes referred to it as a 'samba' because it can look like the dance of that name. A hypoxic fit always happens on the surface after a dive or breath hold and can be followed by a recovery or a full black out. Again, it can come on without warning and afterwards the sufferer is usually unaware that it has happened.
The risk factors causing hypoxic fits or blacks out in freediving competitions can be many, and it is when multiple factors come into play that avoiding black outs in freediving is not possible.  These are some of the main causes of black out
Hyperventilation
Bad technique
Stress
Poor recovery breaths
Talking and other unnecessary actions
Inexperience
Over ambition
Read more about black outs in freediving in this article
Emma: So what a weekend! Tell how you felt generally before the competition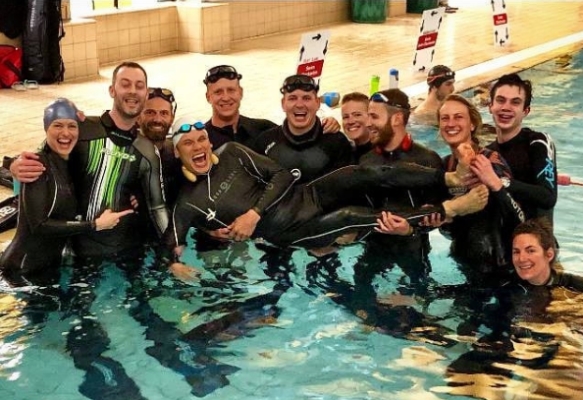 David: I arrived at the venue feeling positive and confident and that if things went well I would have a chance of a podium place. After months of training the day finally came where I could see if all my hard work would pay off. I arrived at the venue feeling positive and confident and that if things went well I would have a chance of a podium place.
I had an idea of what I wanted to achieve in each discipline but didn't want to put pressure on myself so the plan was to just do my best and see what the outcome would be.
Emma: That's a great attitude to have.
David: Yes, I would say I'm a sensible diver and always err on the side of caution when doing max swims but I had trained a lot and in doing that had pushed myself hard but without ever reaching the point where I would get a hypoxic fit or a blackout.
Emma: Yes, I know you're a very competent level headed freediver. Tell us what led up to your first ever blackout. What happened?!
David: My official top came for DNF, I had done 117 metres in training and thought 120 metres was a possibility but my plan was to do 100 metres, do the turn and do three arm pulls which would take me anywhere between 115-120 metres and then come up.
Well what actually happened was that I did the turn at 100 metres, took my three arm pulls but then kept going until 125 metres.
Well the inevitable happened and I had a surface BO. My first one ever and obviously a red card, worse than that, the new AIDA rule for a moderate blackout means in a two day competition you are unable to carry on.
I was gutted but I have to say I think it's a good rule so didn't protest.
That was it…my months of training had gone to waste.
Emma: Oh no! How awful. But you are in training for the whole season, not just one competition, so that training will never be wasted. How did you feel afterwards:?
David: Over the next couple of days I tried to analyse what had happened and what made me carry on when I already had a clear plan of what I was going to do. After mulling it over my conclusion is this:
There are a few things in my general life that have changed, my retirement for one threw me out of my normal routine of things but I'm not blaming that.
I think there were a couple of main factors that together combined to cause me to make a bad call on my dive.
As training had been going well I had thought that if I carried on improving at the rate I had been then 125 metres DNF, 6.00 minute STA and 150 metres bi fins was on the cards. I had already done 117 metres DNF, 5.45 STA and 134 metres bi fins weeks before so why not?
Well that was the first part of my downfall, that seed was now planted in my subconscious mind.
The second part was this:
There are a couple of pool divers that I've always thought were way ahead of me and that one day I would catch them up… But not quite yet as the gap although narrowing was still too big so maybe next year I thought Iwould catch them.
Well, one of them asked me to buddy his DNF which of course I was thrilled to do. He set off on his dive and came up at 116 metres, a white card and he was happy.
My second seed was now planted. I immediately thought 'I have done more than that in training and so now that gap was no longer there…I could beat him!!'
That was my biggest mistake.
Emma: It's not like you to compare yourself to the competition.
David. I know. I never usually worry about what anyone else has done, I just do my best and see what happens but this time it was different.
So as the last part of my dive was happening instead of my normal self saying come up now you've done your three arm pulls, my subconscious took over and it was all about beating this other diver. The ironic thing about all of this is that if I had just done what I had already done in training I would have won, so I didn't need to beat him, I just had to do my own thing and see what happened.
I now realise that my whole strategy for the competition was wrong.
Training had gone well so why did I think in a competition when things are much harder, I could do more? I should have had the mindset that I had trained to do 117 metres DNF so that should have been my max target and even been happy if I came up short of that.
Emma: What do you think you have learned from this?
David: In future I will make a rule with myself never to exceed in competition what I have done in training. Of course this won't guarantee that I won't have another black out but for sure it will reduce the chances.
I'm not looking at this as a set back, I have definitely learnt a valuable lesson and it has made me look at my upcoming competitions in a different way.
I have reset my parameters and am really looking forward to putting my mistake right again.
I actually now feel even more positive about my future freediving
Emma: That is awesome to hear! And probably a great (though unfortunate) lesson to learn so early in the competition season. Thank you for sharing this with us.  Three weeks to Dahab! Bring it on!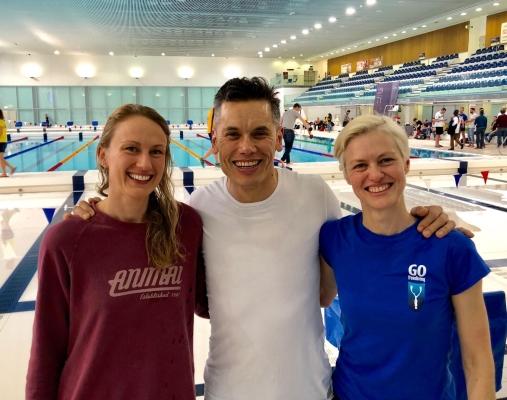 Who Else Competed?
David wasn't the only Go Freediving member taking part in the competition this weekend. Liz Coulson – another member from our Poole club came third in the static event with a time of 5.05 minutes, sharing the podium with Georgina Miller and Alice Hickson. Well done, Liz! And the equally fabulous Tracey Howes secured fourth place in Dynamic No Fins and achieved a new personal best of 84 metres – an amazing result for her first ever competition. Check out their blog coming soon!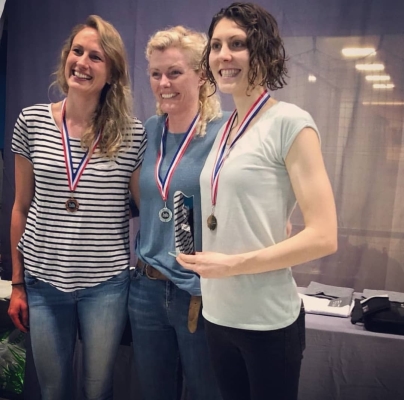 Read Part Nine, Now!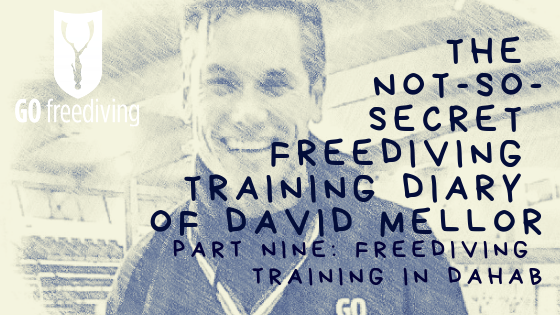 Missed David's previous blog? Check it out, here: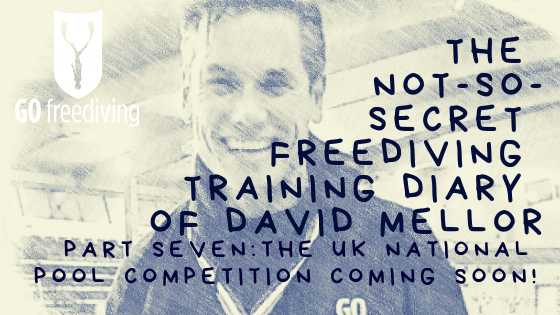 Learn to freedive with Go Freediving
Go Freediving is the longest established, most experienced and friendliest freediving course provider in the UK, led by world class freediving instructor trainer Emma Farrell, and her team of personally trained instructors. No other course provider has such a good instructor to student ratio, safety record and personal touch.
Whether you're a beginner dipping your toes into the world of freediving, a seasoned pro looking to turn professional, or simply a freediver of any level who wants the best freediving holiday in the world, we're here for you!
Also check out our online guide, The Beginners Guide to Freediving by clicking here!
Keep in touch with everything Freediving
Subscribe to our mailing list for weekly newsletters with exclusive articles, news, films, offers and more!
Competitions Countdown!
Personal Bests and Achievements
2019
134m DYNB
*New PB!! 9th Feb '19*
118m DNF
*New PB!! 17th Feb '19*
2018
Male UK Freediving Champion 2018
135 DYN MONO
100 DNF
5.48 STA
60m FIM
57m CWT
41m CNF
Results
2019
To be announced!
2018
2nd Place: Double Dip: 48  with mts fim, 36mts cnf and 46mtrs cwt in Sept
3rd Place: Nationals: 124mtrs dyn, 100mtrs dnf and 5.19 static.
3rd Place: Bristol Blue (Team Event)  135mtrs dyn and 5.48 static
Vostok cup: 50mtrs cwt, 50mtrs fim and 41mtrs cnf in Oct
Redccup: 60mtrs fim and 57mtrs cwt
Competitions
2019
UK Nationals –  Bristol – 9th – 10th March
Mini Comp -Dahab – 5th April
Dahab Championships – Dahab – 25th – 29th April
Philippines Diving Champs – Panglao – 18th – 19th May
Double Dip 2019 – Chepstow – 18th July 2019
World Championships – Nice – Sept
Infinity Depth Games – Cyprus – 13th – 20th Oct
More To Be Announced!
2018
UK Nationals – March 2018
Double Dip –  Chepstow – Sept 2018
Vostok Cup –  Kalamata – Oct 2018
RedCcup  – Egypt –  Oct 2018
Bristol Blue – Bristol – Oct 2018
Video Library
2018
January 2019
February 2019
Qualifications
RAID Advanced Freediving Instructor
Abbreviations and Meanings
DYN – Dynamic
DNF – Dynamic No Fins
DYNB – Dynamic Bi-Fins
CWT – Constant Weight
CNF – Constant Weight No Fins
FIM – Free Immersion
STA – Static
CWTB – Constant Weight Bi-Fins