Welcome to the not-so-secret freediving training diary of David Mellor!
In David's last diary entry we learned about his first ever black out during the UK Nationals and what he has learned from that. This week we're in Dahab! Well, David is! He is there for some serious training ahead of two upcoming competitions in Dahab – the mini competition on 5th April and then the Dahab Championships 25th – 29th April. Also David has received some awesome news: He has made the GB for the world champs in Nice in Sept for FIM and CWT! Well done, David!
Diary Entry: Freediving training started relatively quietly in Dahab. I started the day with yoga at 8am, lots of stretching and breathing exercises, the sessions last an hour then we just walked to an area called the lighthouse and chill a bit before getting kitted up and headed for the water. It's only a short swim out so after about 150 metres out there is over 40 metres depth. Water is 22 degrees and visibility about 20 metres so, good by UK standards, but still a little chilly.
The first session is all about getting comfy again at depth. Harry sets the line at 30 metres and I'm happy with that. I haven't really done any depth since October where I reached 60 metres but with depth you need patience to allow your body to adapt to the different pressures and time to allow your mind to adjust to new thoughts after months of pool training.
It's easy to get carried away and think you can get near what you did previously quite quickly but I thought about this and realised it had taken me nearly 3 weeks of depth training before I reached 60 metres so obviously it's going to take me more than a few days to get back to that, so 30 metres was fine with me.
The session was about 6 FIM dives to 30 metres focusing on relaxation, a bit of mouthfill but also my turn at the bottom. Harry picked up on a few things that I can improve on, especially the turn. The line was limited to 30 metres not only for my comfort but also it means I can do more dives than if I were going to say 45 metres and we all know repetition is the way forward right?!!
So the session ends, I'm happy with my progress and Harry gives me a quick debrief on what I can improve on.
Freedivers do some strange things on land when going over where you can improve and this session was no different. Harry threw the line over the top floor of the restaurant and then I'm among the diners simulating my turns but who cares hey?!
The next day started with yoga at 8am again. The focus is on chest and back stretches and also lots of breathing.
After yoga it's back to the 30metre line again, putting to use what I practiced in the restaurant. Again 6 repeated dives to 30 metres, now the turns are feeling good, much smoother in the transition from freefall to pulling up.
For mouthfill practice I'm thinking about my head position and trying to get a full charge. I have an old habit of bringing my head forward after taking the charge too quickly so Harry is getting me to work on that. Small details you may think but this is all a good foundation for when I go deeper. 6 x 30 metre dives done so no more depth stuff but Harry gets me to drop to 10 metres and do repeated charges and dump the air, so I charge the mouthfill, empty it through my mouth and re charge again. I keep going with this for four or five times until the urge to breath is too strong so I turn for the surface.
Harry noticed I wasn't fully charging, there is more room for air in my throat and cheeks so if I fully charge all of that then bring my head back to a neutral position, slowly, I can maintain constant pressure to my Eustachian tubes. This will allow me to maintain constant pressure for longer and so dive deeper.
In this video you can see me going to 10 metres, and dumping the air after filling my cheeks and throat. I'm getting used to the feeling of being fully charged and being the head back to neutral to keep constant pressure. You can hear me charging under the water!
One of the problems I had before was that my mouthfill would be gone so quickly, now I realise I wasn't really fully charging it so now I can't wait to try it in the water. This is now my new restaurant drill. Locals are beginning to think I'm a weirdo but I remind them that they haven't met Emma Farrell yet!
Videos of David's Freediving Training in Dahab:
Gym Training with kaatsu:
Harry has had me in the gym, doing squats and other training using kaatsu.
Kaatsu training I believe trains the muscle types that don't burn oxygen so you can increase your strength without burning more oxygen through muscle mass. Apparently there are two kinds of muscle groups, one type burn oxygen and the other type don't. That's my very simple understanding of it. By constricting the blood flow to the working muscles it produces lactic much quicker so the training obviously feels much harder. I don't know much about it so I'm seeing how it feels.
You tie rubber bands tight around the top of your legs to restrict blood flow. I did 30 squats, 30 secs rest then 3 x 15 squats with a 30 second rest, using a 20kg plus bar.
The next day my muscles don't ache in the same way as normal training but you can tell you've hard a work out.
Kaatsu Training in the pool:
In this video you can see Harry using kaatsu to train dynamic apnea. Watch till the end and see the agony!
More Freediving Training:
So back in the water with Harry I've been working on my arm pull. Harry pointed out a mistake that most untrained divers do with FIM on their arm pull and once explained it was pretty obvious. My arm pull has changed slightly although it's much better since this video.
What happens is that you just pull the line and as you pull, your other hand comes up, grabs the line and you pull again. The problem with this is that you are pulling against the upward motion from the up coming arm.
In this video you can see more towards the end of the dive that I start pulling only when my other hand is already raised and in position for the next pull. So what you are trying to achieve is pulling a more streamlined shape up with each pull.
I'm buoyant now till 15 metres in preparation for going deeper. I'm wearing 2.25 kg with a 5mm top and 3mm bottoms which is why I'm pulling the line up 😀
The final video of this current training block is me monofinning. I've got my arms by my side because it's easier and more comfortable. It's a 40 metre deep dive and I'm working on getting the ripple technique through my body and a smaller kick.
Find out how David performs in the mini competition and more about his final preparations for the championships in our next blog.
Read Part Ten, Now!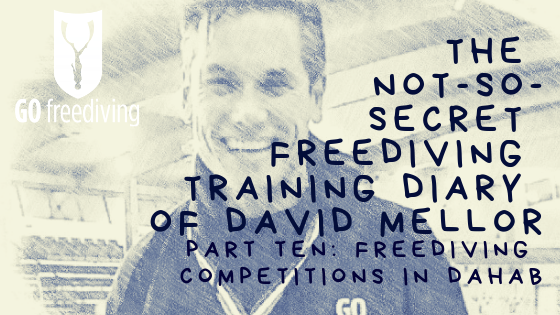 Missed David's previous blog? Check it out, here: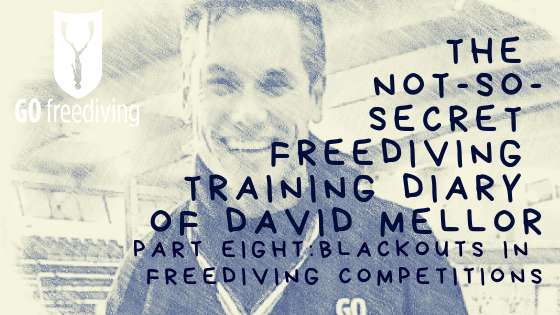 Learn to freedive with Go Freediving
Go Freediving is the longest established, most experienced and friendliest freediving course provider in the UK, led by world class freediving instructor trainer Emma Farrell, and her team of personally trained instructors. No other course provider has such a good instructor to student ratio, safety record and personal touch.
Whether you're a beginner dipping your toes into the world of freediving, a seasoned pro looking to turn professional, or simply a freediver of any level who wants the best freediving holiday in the world, we're here for you!
Also check out our online guide, The Beginners Guide to Freediving by clicking here!
Keep in touch with everything Freediving
Subscribe to our mailing list for weekly newsletters with exclusive articles, news, films, offers and more!
Competitions Countdown!
Personal Bests and Achievements
2019
134m DYNB
*New PB!! 9th Feb '19*
118m DNF
*New PB!! 17th Feb '19*
2018
Male UK Freediving Champion 2018
135 DYN MONO
100 DNF
5.48 STA
60m FIM
57m CWT
41m CNF
Results
2019
To be announced!
2018
2nd Place: Double Dip: 48  with mts fim, 36mts cnf and 46mtrs cwt in Sept
3rd Place: Nationals: 124mtrs dyn, 100mtrs dnf and 5.19 static.
3rd Place: Bristol Blue (Team Event)  135mtrs dyn and 5.48 static
Vostok cup: 50mtrs cwt, 50mtrs fim and 41mtrs cnf in Oct
Redccup: 60mtrs fim and 57mtrs cwt
Competitions
2019
UK Nationals –  Bristol – 9th – 10th March
Mini Comp -Dahab – 5th April
Dahab Championships – Dahab – 25th – 29th April
Philippines Diving Champs – Panglao – 18th – 19th May
Double Dip 2019 – Chepstow – 18th July 2019
World Championships – Nice – Sept
Infinity Depth Games – Cyprus – 13th – 20th Oct
More To Be Announced!
2018
UK Nationals – March 2018
Double Dip –  Chepstow – Sept 2018
Vostok Cup –  Kalamata – Oct 2018
RedCcup  – Egypt –  Oct 2018
Bristol Blue – Bristol – Oct 2018
Video Library
2018
January 2019
February 2019
March 2019
Qualifications
RAID Advanced Freediving Instructor
Abbreviations and Meanings
DYN – Dynamic
DNF – Dynamic No Fins
DYNB – Dynamic Bi-Fins
CWT – Constant Weight
CNF – Constant Weight No Fins
FIM – Free Immersion
STA – Static
CWTB – Constant Weight Bi-Fins