Welcome to the not-so-secret freediving training diary of David Mellor!
Last time David talked about his dynamic training and why listening to your body is so important. This week we follow a typical training  week in the life of David. We look at the training and exercises he is doing to ensure he is the best form possible for the upcoming competitions. So, if you were thinking about a career change to being an international freediving competitor, then check out the training and exercises David is doing, to see what's involved.
David is taking his freediving training very seriously and is currently only having one day 'off'. Whether it's in the pool, the gym, the local park, or on his sofa, our amazing instructor David is putting everything into making his mark on the international freediving scene in 2019!
So, what type of training and exercises does David do in an 'average' week? We've got everything he got up to this week commencing the 4th Feb, including an experiment with a new static preparation and yet another new PB!
If you've missed any of David's previous diary entries, catch up by clicking on his diary pages in the right hand column.
Training and Exercises – Monday
Flexibility and Equalisation practice
Monday starts like every day of the week with diaphragm stretching exercises and equalisation practice as soon as he wakes up. He empties out his lungs, reverse packs about seven times and then takes a mouthfill of air and then does sequential
frenzel mouthfill equalisations. 
Monday is the only day in David's freediving training week which is a rest day, so no pool and gym training. It's so important to build rest into any training program, and doing too much training can result in performances dipping.
Training and Exercises – Tuesday
Flexibility and Equalisation practice plus gym session with personal trainer
Tuesday is the day of his freediving training week where he gets beasted in the gym by his personal trainer Ricardas. Ricardas has built a program for David which works on the specific strength and flexibility he will need for deep and long freedives. In the video from this week you can see him perform a series of exercises which he does twice through, as well as a row, bike and run. As well as the gym he also does his stretching and equalisation training in the morning
Training and Exercises – Wednesday
Flexibility and Equalisation practice plus pool session
This Wednesday started with diaphragm and equalisation exercises as usual, and then in the evening it's the regular night for the
Poole freediving club
It's the first pool session in David's freediving training week and this night he did two exercises. The first was a 50 dynamic with bi-fins swim as slowly as he possibly could. Buddied by Seb, he did 50m in a whopping 2 minutes and 50 seconds.
The next exercise was as many 25 metre dynamic swims as possible in 12 minutes. Check out the video of these below!
Training and Exercises – Thursday
Flexibility and Equalisation practice plus gym session
On Thursdays, after his morning diaphragm flexibility and equalisation practice, David goes back to the gym on his own, usually to stretch, but this week he did breath hold training using the machines.
It's the same principle as apnea walking, whereby you hold your breath on land and exercise. It's important to do this with someone for safety (you don't want to walk and then fall over and hurt yourself), however David sat down and did leg curls instead. This is an excellent way to work the muscles used in finning anaerobically and simulate the hardest part of a deep dive.
David fully exhaled and then did as many leg curls as he could on a full exhale. He then rested a minute and then performed the exercise again. He did this five times, averaging around 14 leg curls per full exhale.
He then fully inhaled and then did as many leg curls as he could on a full inhale. He then rested a minute and then performed the exercise again. He did this five times, averaging around 30 leg curls per full inhale.
After that he repeated the exercise (exhale and inhale) whilst doing reverse leg curls. All exercises were done with 20 kg of weight on the machines. Check out the definition of his leg muscles!
Training and Exercises – Friday
Flexibility and Equalisation practice plus pool session
Near the end of David's freediving training week and it's stretching and mouthfill practice in the morning followed by the second pool session of the week. This week David wanted to experiment with a new static preparation routine. Here is him talking about his plans.
'…So, it's Friday night, and what do normal people do? Well they don't go freedive training do they?! I'm on my way now to the Dolphin pool for our Friday night session. I'm going to try a static tonight. I have a static routine that I already use and it works for me, but tonight I'm going to try something different. Everyone has a different routine. You can ask ten different freedivers and you'll get ten different answers on what their preparation is before a particular dive. Now my static routine at the moment, I feel it's too stressful on my body. Although it works, all the dry prep is too much. I want to shorten that down and make it a bit more relaxing, so I'm going to try something new tonight and see if it works. If it doesn't then I'll just carry on and do what I know works for me. But I think it's good to experiment with different things…'
After the pool session, we spoke to David to find out how it went. He told us:
'…I usually do a series of empty lung max holds for about forty-five minutes, about 8 holds in total. Tonight I did passive exhale holds instead and only a full exhalation hold on the last one. Then I rested for four minutes and then went for a max. I did a 5 minute 45 second hold which is okay, but I think I will go back to my usual routine because I think I can do six minutes…'
We asked him if he has ever experimented with zero preparation, just relaxing and then going for a max. he said:
'…I've tried to do a static dry with no preparation but I struggle to get to 3 minutes. I've noticed my heart rate only goes down when I immerse my face. It actually goes up a bit when I hold my breath dry and only drops towards the end of my breath hold…'
Training and Exercises – Saturday
Flexibility and Equalisation practice plus park run and pool session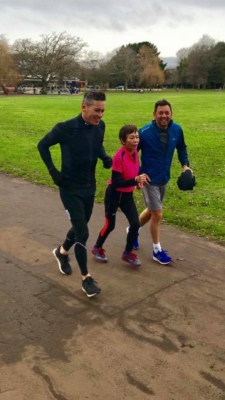 Some people may be having a lie in on a Sunday, but David starts the weekend of his freediving training week with his usual stretching and equalisation exercises, followed by a park run.
This is often a family affair and you can see him here in action with his 79 year old mum!
On Saturday night, David drove to Bristol for a session in a 50m pool.
Going from training in a 25m pool to a 50m one can be psychologically difficult but David rose to the challenge and came away with a new pb!
He did 134 metres in bi fins and knows he's still got plenty more in the tank.
Check out him talking about training in a 50m pool, his new pb and his thoughts on his experiments on Wednesday with a different static preparation
'…So the result of my Friday night Static attempt was a 5 minute 45 breath hold. It was difficult, the new routine I would say wasn't particularly successful.  It consisted of 45 minutes of empty lung breath holds beforehand. Usually I push those breath holds a lot harder but I tried to make them more passive this time but it didn't really work.  I found the whole breath hold very hard so I will keep on experimenting with that.
On the plus side though I was given a slot in Bristol for training in a 50m pool and I managed a new Bi-Fin PB of 134m and I was really happy with that. I came up clean and I think there is more left there that I can improve on. What was interesting about the 50m pool, we train in a 25m pool and you get used to training in the same environment. With a 25m pool when you are doing dynamics the turns come a lot more frequently, so although that's more difficult in the sense that you use more oxygen in the turns and in a 50m pool you don't. Mentally it's tougher because when you get used to training in a 25m pool you know the end is coming soon and you can just do you turn, relax and go again. In the 50m pool I found that I was swimming along where I would normally see a colour change or something in the pool or the T at the end of the line and then I know the end's close, you just seem to keep swimming, swimming and swimming… So mentally it was harder though physically it was easier so that's quite important to know that if you are going to do a dynamic in a 50m pool to actually try and get some time in a 50m pool. So I am quite pleased with that.
I am off to train this afternoon, I will be doing no fins this afternoon just a drill and then maybe I will try a no fins max next week…'
Training and Exercises – Sunday
Flexibility and Equalisation practice plus pool session
It's the end of David's freediving training week and he's doing his fourth pool session of the week! It's a quieter one tonight as regulars Seb and 'diabetes Mike' are abroad this week doing their own training.
David did DNF (Dynamic No Fins) training tonight, and started with 5 x 50 metres with a 65m swim on the last one. There was just a 1 minute rest period in between the swims. He then did 4 x 25 metre no fins sprints with 30 seconds rest between each length.
Check out the last two sets of his 50 metre drill in this video, filmed by Delphine!
So what a freediving training week that was! If you want to find out what David's been up to in the last few weeks, check out our previous blogs of his training. And look forward to next week when we'll be seeing the latest in David's freediving competition training and hopefully a new dynamic no fins pb!
Read Part Six, Now!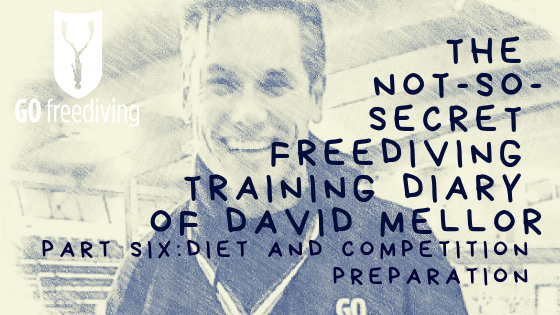 Missed David's previous blog? Check it out, here: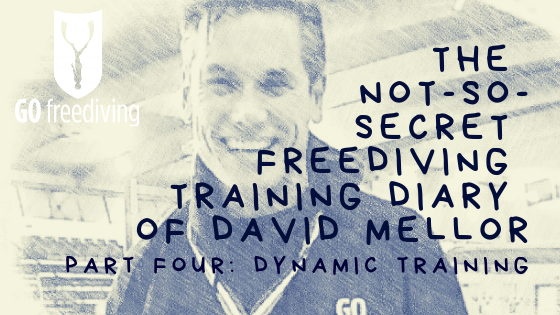 Learn to freedive with Go Freediving
Go Freediving is the longest established, most experienced and friendliest freediving course provider in the UK, led by world class freediving instructor trainer Emma Farrell, and her team of personally trained instructors. No other course provider has such a good instructor to student ratio, safety record and personal touch.
Whether you're a beginner dipping your toes into the world of freediving, a seasoned pro looking to turn professional, or simply a freediver of any level who wants the best freediving holiday in the world, we're here for you!
Also check out our online guide, The Beginners Guide to Freediving by clicking here!
Keep in touch with everything Freediving
Subscribe to our mailing list for weekly newsletters with exclusive articles, news, films, offers and more!
Competitions Countdown!
Personal Bests and Achievements
2018
Male UK Freediving Champion 2018
135 DYN MONO
100 DNF
5.48 STA
60m FIM
57m CWT
41m CNF
2019
134m DYNB
*New PB!! 9th Feb '19*
109m DNF
*New PB!! 27th Jan '19*
Results
2018
2nd Place: Double Dip: 48  with mts fim, 36mts cnf and 46mtrs cwt in Sept
3rd Place: Nationals: 124mtrs dyn, 100mtrs dnf and 5.19 static.
3rd Place: Bristol Blue (Team Event)  135mtrs dyn and 5.48 static
Vostok cup: 50mtrs cwt, 50mtrs fim and 41mtrs cnf in Oct
Redccup: 60mtrs fim and 57mtrs cwt
2019
To be announced!
Competitions
2019
New Dates Announced!
UK Nationals –  Bristol – 9th – 10th March
Mini Comp -Dahab – 5th April
Dahab Championships – Dahab – 25th – 29th April
Philippines Diving Champs – Panglao – 18th – 19th May
Double Dip 2019 – Chepstow – 18th July 2019
World Championships – Nice – Sept
Infinity Depth Games – Cyprus – 13th – 20th Oct
More To Be Announced!
2018
UK Nationals – March 2018
Double Dip –  Chepstow – Sept 2018
Vostok Cup –  Kalamata – Oct 2018
RedCcup  – Egypt –  Oct 2018
Bristol Blue – Bristol – Oct 2018
Video Library
2018
January 2019
Qualifications
RAID Advanced Freediving Instructor
Abbreviations and Meanings
DYN – Dynamic
DNF – Dynamic No Fins
DYNB – Dynamic Bi-Fins
CWT – Constant Weight
CNF – Constant Weight No Fins
FIM – Free Immersion
STA – Static
CWTB – Constant Weight Bi-Fins