Welcome to the not-so-secret freediving training diary of David Mellor!
Last time David talked about his pre-competition training and what his freediving diet consists of. This time we talk to him about his first upcoming competition – the UK BFA National Pool Freediving Championships on the 9th and 10th March – just a few days away!
The competition, hosted by Bristol Freedivers and the British Freediving Association (BFA) is a two day event being held at Hengrove Park Leisure Centre, Bristol.
This is not a new venue for David. He took part in his first ever freediving team competition here, at the end of 2018 and did rather well! You can read all about that competition, here.
This time the National Pool Freediving Championships is over two days:
Saturday 9th March involves  the discipline  Dynamic No Fins (DNF) in a 25m pool
Sunday 10th March involves the disciplintes Static (STA), Dynamic (DYN) / Dynamic Bi-Fins (DYN-BIFINS) in a 50m pool
National Pool Freediving Championships – The Venue
The venue for David's first competition of 2019 will be in Bristol at Hengrove Park Leisure Centre. This centre is a long way from the dank, crumbling leisure centres you may expect! This one is pretty swanky!
It is easy to see why this venue was chosen for the National Pool Freediving Championships. Not only does it boast a heated ten lane 50m competition pool for dynamic and dynamic bifins, the pool can be altered to create a 25m pool for dynamic fins. The floor is also adjustable and can offer a floor height of 1.2m for static and 2m for dynamic.
If you're not competing, but fancy cheering David on, there is plenty of seating, poolside as well as all the facilities you would expect from a competitive venue.
National Pool Freediving Championships – The Events
As David mentioned in a previous interview a recent change to the AIDA rules means that for the first time ever there will be the opportunity to compete in a Dynamic Bi-Fins category. The National Pool Freediving Championships is the first competition in the UK since this change was introduced in January, so it is going to be an exciting time as national DYN-BIFINS records are going  to be set!
The National Pool Freediving Championships has been structured so that the DYN-BIFINS and the DYN(Monofin) will be running at the same time, so athletes will need to choose which of the two disciplines they wish to enter. This means there will  be a maximum of three events athletes can enter:
Dynamic No Fins

Static

Either Dynamic or Dynamic BiFins
National Pool Freediving Championships – The Schedule
The structure for both days, is as follows:
Saturday 9th March
​12.00        Registration opens
14.00       Athlete briefing
14.30       Registration closes
                   First athletes pool side check in
15.30        Dynamic No Fins Competition
18.00       Awards and prizes for DNF
19.00       Social drink and food
Sunday 10th March
​9.00               Registration opens (Sunday only athletes)
9.30                Athlete briefing
10.00              Registration closes
                          First athletes pool side check in
11.00               Static Competition
13.45               Break
15.45              Dynamic/Dynamic Bi-Fins competition
18.00             Competition finishes
18.30              Awards and prizes
19.30              Social drink and food
National Pool Freediving Championships – The Scoring
The AIDA Competition Rules and Scoring System will be used and points will be awarded as follows:
For the Static Apnea event, each athlete will be awarded 0.2 points for each second of immersion.
For the Dynamic Apnea events, each athlete will be awarded 0.5 points for each metre of distance travelled.
Scoring points is important for David as each point will help his ranking and eligibility for later competitions, as AIDA ranking will be applied to all disciplines.
In this particular competition the winning athletes will be those who achieve the highest score (after any deductions). In each discipline there will be a category for male and female winner. There will also be an overall winner, determined by the combined score across all disciplines.
As in the competition David and the Poole teams entered at the end of last year, there will also be a Best Newbie award too.
So, What Has  David Been Doing Since We Last Spoke To Him?
We managed to grab a quick interview with David as he prepares for the upcoming competition. We talk training, diet and nerves!
Emma: Not long until your first competition of the season! How are you feeling?
David: I'm feeling good!

Emma: Excellent! Have you made any changes to your exercise routine now that the competition is almost here?
David: Yes, I have tweaked my training to more breath hold exercises. I am still working on flexibility and strength but have now prioritised empty lung and full lung leg curls front and back and have started more apnea walking. This will hopefully get my muscles used to working with higher levels of CO2.

I only have 2 more gym sessions left as I will rest with gym work from the Tuesday before the comp to allow my muscles to be as fresh as they can be. I will do a good stretching session on the Thurs with an apnea walk after in the morning and then total rest with only a simple stretching session Friday morning.

I may try one more long swim with bi fins just to see if the empty lung work I've been doing helps with the lactic I felt when I did 134mtrs.  I only have 3 more pool sessions now before the comp, the last being on weds evening so it would be good to get a no fins drill in for one of those sessions.
Emma: So still plenty of training going on then! When do you arrive for the competition?
David: I'll be driving to Bristol on the Friday afternoon and staying in a local hotel so I can arrive at the comp feeling fresh without worrying about traffic etc.
Emma: And what about your diet? Any changes there?
David: Food wise is much the same as it has been over the last few months, clean eating, lots of fish, chicken and vegetables and no caffeine.

I plan to fast from Friday early evening in readiness for static on Saturday and then eat oats with blueberries and cocoa etc a couple of hours before my DYN. After I will eat some baked salmon and sweet potatoes with broccoli.

I will drink plenty of water and also some Beetroot and ginger juices given to me by JU-ICE-IT. I will drink the juices throughout the duration of the competition.
Emma: Any nerves kicking in yet?
David: I'm feeling physically strong after all the training and also mentally good too. I'm not nervous at the moment as I've been more focused on my training… but,  I'll see how I feel nearer the time!
We wish David the very best of luck, and will keep you up to date
with how his first competition went very soon!
Read Part Eight, Now!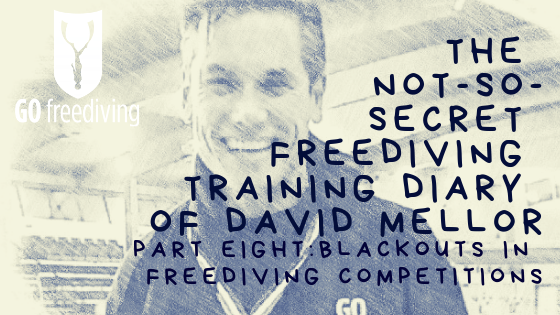 Missed David's previous blog? Check it out, here: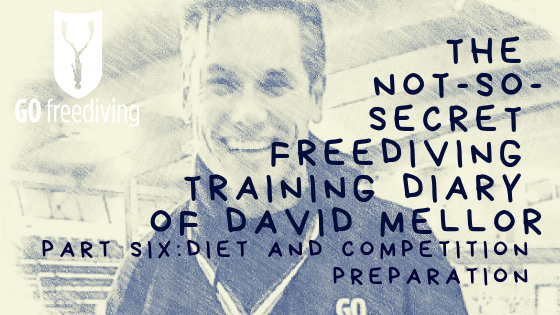 Learn to freedive with Go Freediving
Go Freediving is the longest established, most experienced and friendliest freediving course provider in the UK, led by world class freediving instructor trainer Emma Farrell, and her team of personally trained instructors. No other course provider has such a good instructor to student ratio, safety record and personal touch.
Whether you're a beginner dipping your toes into the world of freediving, a seasoned pro looking to turn professional, or simply a freediver of any level who wants the best freediving holiday in the world, we're here for you!
Also check out our online guide, The Beginners Guide to Freediving by clicking here!
Keep in touch with everything Freediving
Subscribe to our mailing list for weekly newsletters with exclusive articles, news, films, offers and more!
Competitions Countdown!
Personal Bests and Achievements
2019
134m DYNB
*New PB!! 9th Feb '19*
118m DNF
*New PB!! 17th Feb '19*
2018
Male UK Freediving Champion 2018
135 DYN MONO
100 DNF
5.48 STA
60m FIM
57m CWT
41m CNF
Results
2019
To be announced!
2018
2nd Place: Double Dip: 48  with mts fim, 36mts cnf and 46mtrs cwt in Sept
3rd Place: Nationals: 124mtrs dyn, 100mtrs dnf and 5.19 static.
3rd Place: Bristol Blue (Team Event)  135mtrs dyn and 5.48 static
Vostok cup: 50mtrs cwt, 50mtrs fim and 41mtrs cnf in Oct
Redccup: 60mtrs fim and 57mtrs cwt
Competitions
2019
UK Nationals –  Bristol – 9th – 10th March
Mini Comp -Dahab – 5th April
Dahab Championships – Dahab – 25th – 29th April
Philippines Diving Champs – Panglao – 18th – 19th May
Double Dip 2019 – Chepstow – 18th July 2019
World Championships – Nice – Sept
Infinity Depth Games – Cyprus – 13th – 20th Oct
More To Be Announced!
2018
UK Nationals – March 2018
Double Dip –  Chepstow – Sept 2018
Vostok Cup –  Kalamata – Oct 2018
RedCcup  – Egypt –  Oct 2018
Bristol Blue – Bristol – Oct 2018
Video Library
2018
January 2019
February 2019
Qualifications
RAID Advanced Freediving Instructor
Abbreviations and Meanings
DYN – Dynamic
DNF – Dynamic No Fins
DYNB – Dynamic Bi-Fins
CWT – Constant Weight
CNF – Constant Weight No Fins
FIM – Free Immersion
STA – Static
CWTB – Constant Weight Bi-Fins