David's Dahab Competition Preparation is all about NOT overtraining, eating more protein and using his latest stretching toy!
Welcome to the not-so-secret freediving training diary of David Mellor!
In David's last diary entry David talked about his his first depth competition of 2019 in the Blue Ocean Mini Comp in Dahab. This time we talk to him about his Dahab competition preparation using his latest fitness equipment, how he is avoiding over training and how he is trying to maintain his body weight.
David talks about his Dahab Competition Preparation
I'm training two days on and one day off to make sure I don't over train for the next Dahab competition- it's really easy to do here and I have already seen a few people do that. After nearly 4 weeks I'm still keen every time I get in the water so for sure the schedule works for me.
Since finishing with Harry I have hooked up with a nice group of people and have found it easy to find training buddies with their own buoys so I'm saving the cost of going to a dive school. I would say though that this suits me as I'm working on what Harry has taught me so I would still advise divers to go to a coach or centre first to make sure they are training in the correct way.
One of those people is Renee Blundon, seen below with me and Oliver after a 21-15-9 pull-up, thruster and burpie workout competition!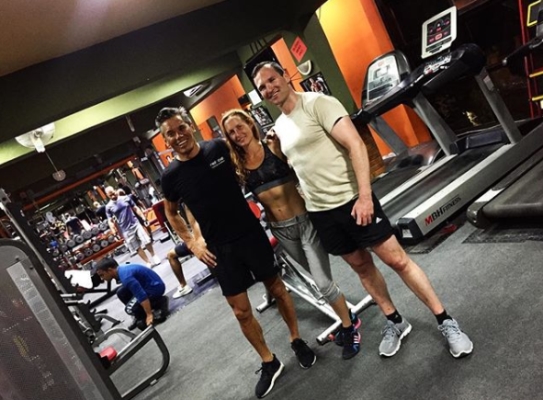 Renee lives in Dahab is a US national freediving record holder and is also a member of the US freediving team. She was also one of the instructors on the recent Red Sea liveaboard holiday with Go Freediving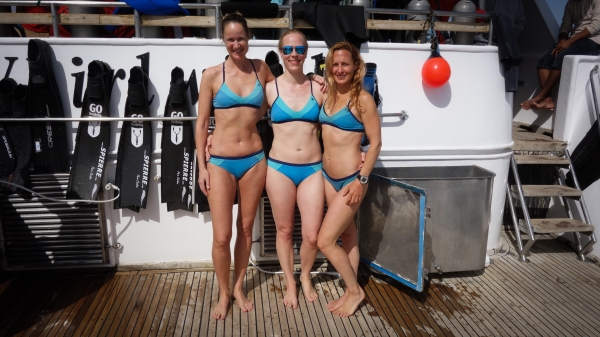 I have now reached 55mtrs in FIM, I'm still really fresh when I surface so it's still equalisation that's holding me back. Saying that I am improving, my bad dives are now 51mtrs and I feel with a few tweaks here and there I will be reaching 60mtrs soon. I know I have the strength and breathold to go beyond that so I have no negative thoughts in my preparation before a dive.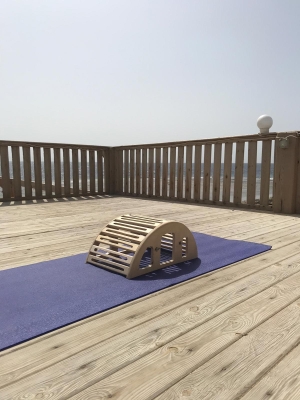 It's now just over a week before the Dahab competition so I am doing a few monofin dives as I've neglected that discipline to concentrate on my equalisation. FIM I would say is the best discipline to do while working on EQ as it's more relaxing and you can always fin up to maintain form for CWT.
My new stretching toy is made by Andrea Zucchari, I've modified to make it lighter for travel and it comes apart easily to fit into my luggage. The rack obviously is good for back flexibility, with your bum on the floor it's a good upper back stretch, with your bum half on the rack it's a good lower back stretch. Also it's very good for opening up your chest, it's possible to increase your lung capacity by continually stretching with full lungs on the rack. I had extra slots put in on the bars and made the side holes bigger to lighten it. Renee has some that haven't been modified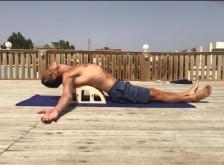 Renee provides three instructional videos regarding how to use the Back Rack on her instagram page, here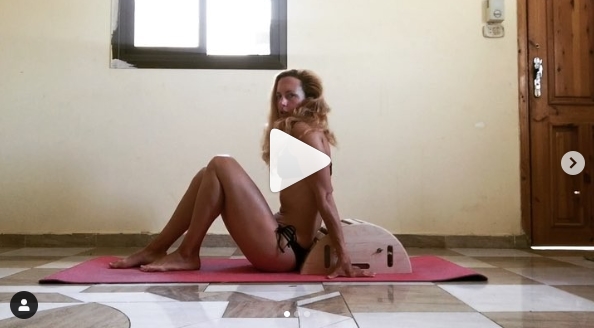 As well as training with Renee, David has been eating with Renee too! Renee has recently converted to an all meat carnivore diet to improve health and performance. David has been losing weight since leaving the UK (and ditching whey protein shakes) due to his increased training regime. He has also increased his protein intake through meat to increase his lean body mass.
After losing 5 kilos since arriving in Dahab,  David needed to increase his protein intake. Here Renee is preparing a meat feast!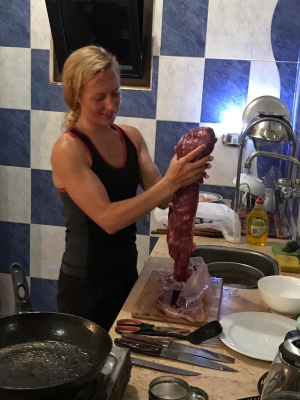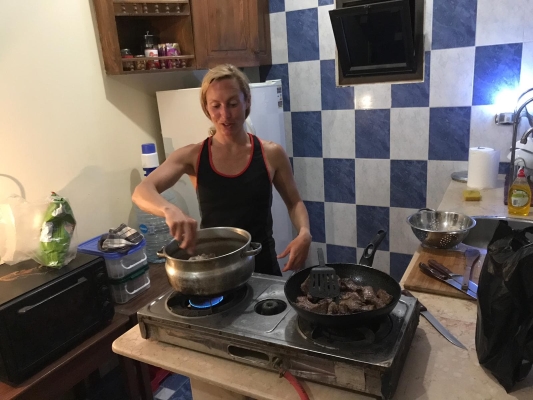 The competition is here! Tune in next time to find out what happened!
Read Part Twelve, Now!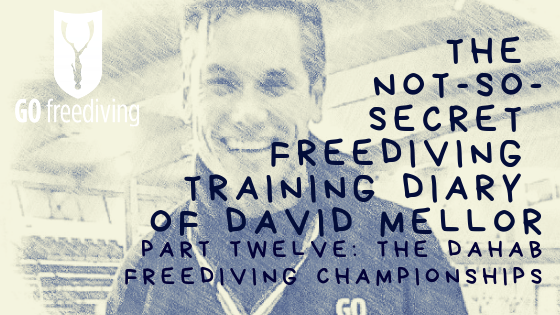 Missed David's previous blog? Check it out, here: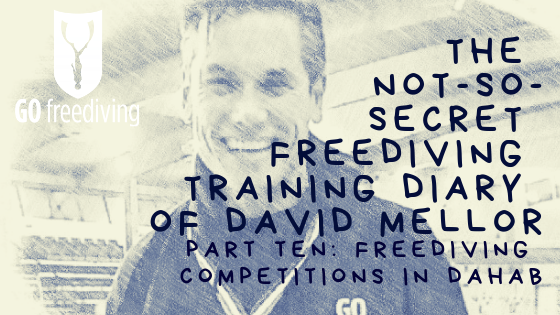 Learn to freedive with Go Freediving
Go Freediving is the longest established, most experienced and friendliest freediving course provider in the UK, led by world class freediving instructor trainer Emma Farrell, and her team of personally trained instructors. No other course provider has such a good instructor to student ratio, safety record and personal touch.
Whether you're a beginner dipping your toes into the world of freediving, a seasoned pro looking to turn professional, or simply a freediver of any level who wants the best freediving holiday in the world, we're here for you!
Also check out our online guide, The Beginners Guide to Freediving by clicking here!
Keep in touch with everything Freediving
Subscribe to our mailing list for weekly newsletters with exclusive articles, news, films, offers and more!
Competitions Countdown!
Abbreviations and Meanings
DYN – Dynamic
DNF – Dynamic No Fins
DYNB – Dynamic Bi-Fins
CWT – Constant Weight
CNF – Constant Weight No Fins
FIM – Free Immersion
STA – Static
CWTB – Constant Weight Bi-Fins
Qualifications
RAID Advanced Freediving Instructor
Personal Bests and Achievements
2019
134m DYNB
*New PB!! 9th Feb '19*
118m DNF
*New PB!! 17th Feb '19*
2018
Male UK Freediving Champion 2018
135 DYN MONO
100 DNF
5.48 STA
60m FIM
57m CWT
41m CNF
Results
2019
Mini Comp – Dahab – 52m BiFins
2018
2nd Place: Double Dip: 48  with mts fim, 36mts cnf and 46mtrs cwt in Sept
3rd Place: Nationals: 124mtrs dyn, 100mtrs dnf and 5.19 static.
3rd Place: Bristol Blue (Team Event)  135mtrs dyn and 5.48 static
Vostok cup: 50mtrs cwt, 50mtrs fim and 41mtrs cnf in Oct
Redccup: 60mtrs fim and 57mtrs cwt
Competitions
2019
UK Nationals –  Bristol – 9th – 10th March
Mini Comp -Dahab – 5th April
Dahab Championships – Dahab – 25th – 29th April
Philippines Diving Champs – Panglao – 18th – 19th May
Double Dip 2019 – Chepstow – 18th July 2019
World Championships – Nice – Sept
Infinity Depth Games – Cyprus – 13th – 20th Oct
More To Be Announced!
2018
UK Nationals – March 2018
Double Dip –  Chepstow – Sept 2018
Vostok Cup –  Kalamata – Oct 2018
RedCcup  – Egypt –  Oct 2018
Bristol Blue – Bristol – Oct 2018
Video Library
2018
January 2019
February 2019
March 2019
April 2019