Following the amazing rescue of Harry the Hawksbill Turtle during December, Pash (one of our freediving instructors) was awestruck by the Olive Ridley Project and wanted to help.
We are so excited to follow her story, as she is helping in the most wonderful way. She was accepted onto their volunteer programme and is currently in the Maldives for two weeks helping the sanctuary alongside Dr Minnie! Go Pash!
Here is Pash's Diary:
Some background
The Olive Ridley Project (ORP) is a UK registered charity so relies heavily on donations to stay afloat. There are a number of ways you can help, Fourth Element sell a small range of ORP t-shirts, you can buy dog leashes made from ghost nets, both of these with profits going to the charity. If you are lucky enough to visit one of their centres in the Maldives, you can buy merchandise, such as bracelets made from ghost net. You can also donate online or even adopt a turtle (you don't get to keep them though!). So many ways to help the charity, however the one that caught my eye was volunteering. I did a bit of research, and you can apply to volunteer at the Turtle Rescue Centre at Coco Palm resort in Baa Atoll. Basically you pay to come and work!
Getting there
I'd worked with charities before, so I had an idea of what I was letting myself in for, and in exchange for my donation and voluntary work, the charity would teach me more about sea turtles, their plight, what to do with injured or sick turtles and so on. In the midst of Lockdown 3.0, the possibilities of international travel looked pretty unlikely. However I did some research, and made some phone calls including the Foreign and Commonwealth Development Office and the Home Office on a couple of occasions. After explaining fully what I wanted to do, the Home Office said that I had a legally permitted reason for travel and I could go ahead. I thought long and hard about whether it was the right time to go away, and although not ideal I decided to do it. I managed to get a covid vaccination 4 weeks before travel was due, and having to have a PCR test before travel ensured I was covid-free before I set off, so the risks were mitigated somewhat.
Much like travelling four months before in December, I was dubious as to whether this would actually get off the ground (pardon the pun!), but the day of travel arrived and again to my surprise I was off. I managed to get a direct flight to Male, the capital of the Maldives. A few WhatsApp messages when I got to the airport and a bit of confusion later, and I was boarding a Trans Maldivian Airways seaplane, bound for the island!
I've arrived in the Maldives!
I arrived in Coco Palm and was met by Dr. Minnie, the turtle vet. Before I was allowed to start working, I had to have another negative PCR test and quarantine until the result was received, so we took care of that immediately and Minnie took me to my staff quarters. There was an issue with the plumbing, so I had to hang about outside for a little while, getting munched on by mosquitos, but eventually I was allowed in to escape all the bitey things.
Dinner was brought to my room that evening (room service from Dr. Minnie), and by mid morning the next day I had the all clear and was allowed out of my room and around the island. My confinement was over!
Meeting the patients and getting straight down to work!
First thing was a tour of the centre to meet all the patients. When I arrived there were 10 patients, 9 Olive Ridley turtles and a Chinese soft-shelled turtle (a fresh-water species). On my first day I cleaned a drained tank, which involves chlorine, water, a selection of scrubbing brushes and brooms, and some enthusiasm! I cleaned all the tanks after feeding (turtles are messy eaters!), had a go at making a bracelet from ghost nets, fed a turtle, and helped with turtle first aid treatment.
Many of the turtles that come through the centre are the victims of ghost nets. Ghost nets are discarded or lost fishing nets that float on currents for decades or longer. The Olive Ridley turtle is a deep sea turtle, they aren't generally found on reefs like Green or Hawksbill turtles, they are pelagic and are at sea most of their lives drifting around in the same currents where ghost nets end up. Therefore, a disproportionate number of Olive Ridley turtles are found in ghost nets, compared to other species.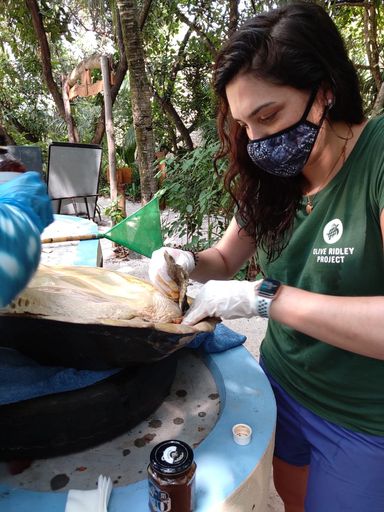 When turtles get caught in nets, they generally cannot get themselves out. They struggle, which simply serves to entangle them further, and they can sustain all sorts of wounds from ligature marks to amputation. If they are not found in time, the outcome is more permanent, sometimes they are held under the surface by the way they are entangled, often they just get weaker and weaker which can take weeks, and die from exhaustion and starvation. A fairly horrible and sad ending either way.
Those which are lucky enough to be found and make their way to the rescue centre come is with some pretty nasty injuries sometimes.
Which leads me back to the first aid! The first hurdle, removing the patient from the tank. In this case, our patient was resting on the bottom of his tank at 2m deep. Not interested in being removed from his nice comfortable resting place, although I can't imagine why not, this was a chance for my first lesson in turtle handling. It consisted of me carefully placing a net under said turtle and scooping him up on it to the surface in what I have to admit was a pretty undignified experience for the turtle!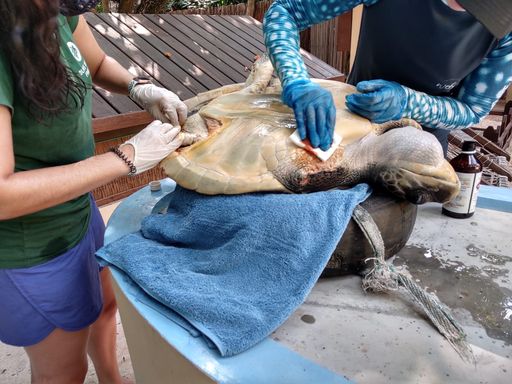 At the surface, lead vet Claire who was also on site at the time, grabbed the turtle and removed him from the water, placing him onto a wheelbarrow with padding (I say padding, it was actually an old car tyre with a towel on top, which actually serves the job surprisingly well!), and moving him to a large flat surface where his wounds could be checked.
Next thing was to flip the turtle onto his back (again with the tyre as padding), at which point he calmed down considerably. This meant Claire could check and treat his wounds, he had a severe skin infection between his carapace (shell) and his skin. Claire showed me small pocketing areas that needed to be cleaned (and were a bit stinky to be honest).
His wounds are most likely the cause of rubbing against the net that was entangled around him. He was treated with betadine and manuka honey which is used for its anti-bacterial and anti-fungal properties.
After his wounds were seen to, he could go back into his tank for the evening, and I'm sure he breathed a sigh of relief as he hit the water and swam to the bottom of his tank to avoid any more treatment!
Day 1 was done, I'd learned so much already and I needed sleep as Day 2 was due to start with a new arrival…
Read Day 2, HERE!

If you would like to donate to the Olive Ridley Project, you can do so HERE
Want to learn to freedive with the best? Learn to freedive with Go Freediving!
Go Freediving is the longest established, most experienced and friendliest freediving course provider in the UK, led by world class freediving instructor trainer Emma Farrell, and her team of personally trained instructors. No other course provider has such a good instructor to student ratio, safety record and personal touch.
Whether you're a beginner dipping your toes into the world of freediving, a seasoned pro looking to turn professional, or simply a freediver of any level who wants the best freediving holiday in the world, we're here for you!
Also check out our online guide, The Beginners Guide to Freediving by clicking here!
Keep in touch with everything Freediving
Subscribe to our mailing list for weekly newsletters with exclusive articles, news, films, offers and more!