Pash is settling in quickly, cleaning, looking after turtles and making ghost net bracelets to sell.
Today Pash helped with a seaplane delivery, a turtle with an amputation and a mysterious egg! Oh, and she also started teaching Dr Minnie to freedive!
Day 2
After approximately 1.5 hours of sleep thanks to jetlag, I was up early to meet our new arrival. The ORP have a collaboration with the TMA seaplanes, who will fly turtles to the rescue centre at no cost, which is much needed as boats can often take days depending on which atoll they are coming from.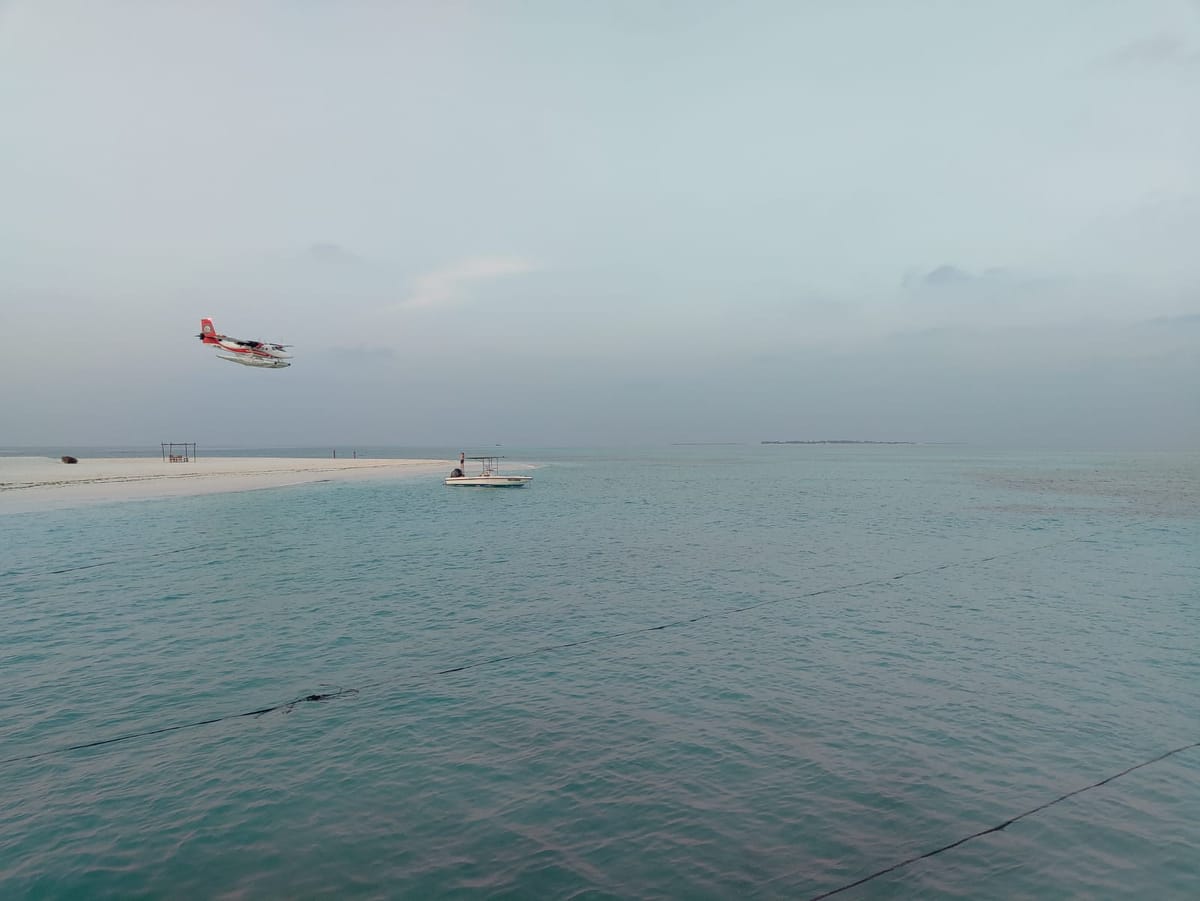 A bit bleary eyed but quite excited Minnie and I waited on the jetty as the seaplane landed, then took a boat out to collect our new patient. Honu (named by her rescuers) was keen to be out of her crate. There was a fair bit of bumping around on the short trip back to the rescue centre. We had a quick check of her wounds, and got her into a tank so she could recover from her journey.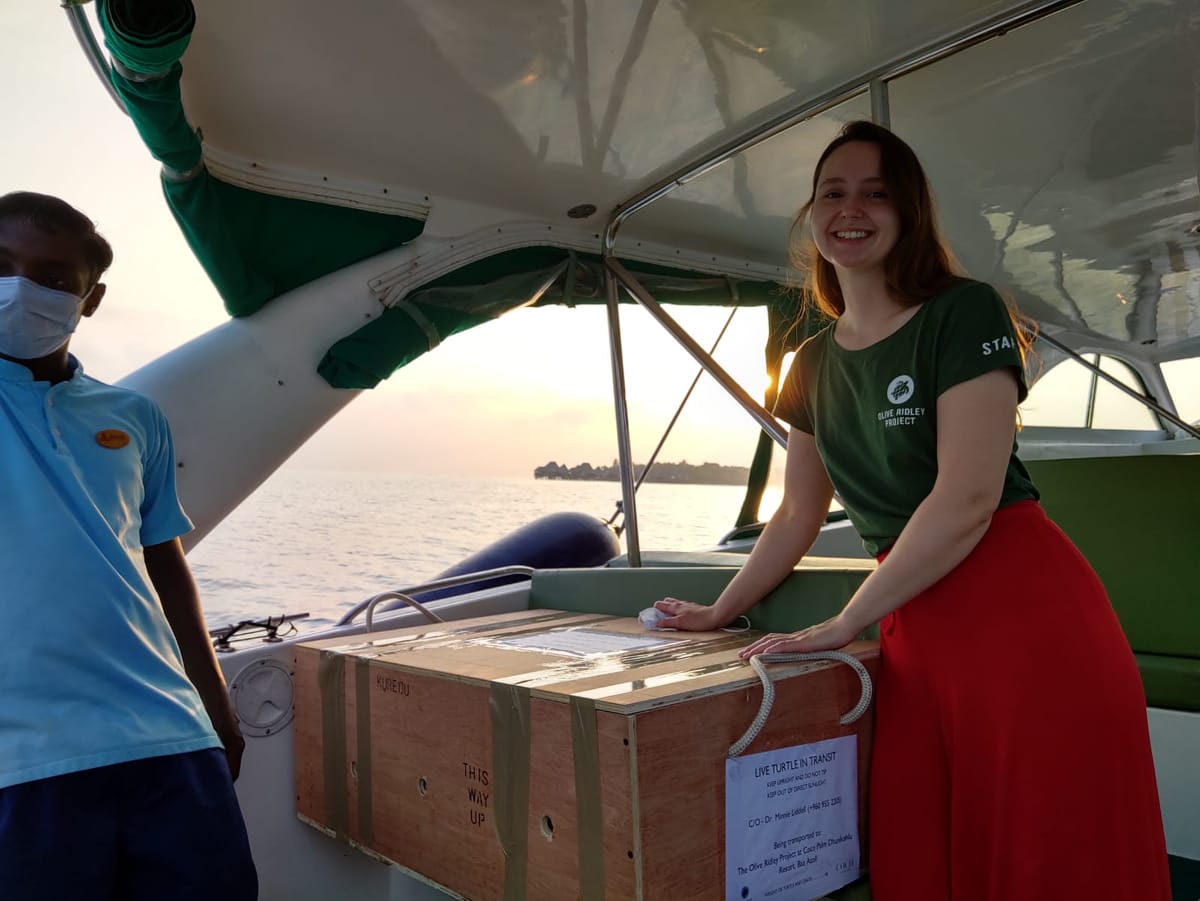 Another Olive Ridley turtle, also the victim of ghost nets, her left fore flipper was already amputated through her entanglement. The rest of the day was taken up with cleaning of tanks, feeding, and showing guests around the centre, explaining about ghost gear and the types of injuries it can inflict.
We also needed to treat Hubert, the Chinese softshell turtle. Hubert is not a native species of turtle to the Maldives. He is a fresh water turtle who would typically be found in fresh and brackish water, such as rivers, lakes and ponds. So he was a long way from home. He was found wandering the streets in the capital, Male. Most likely he had been illegally imported to the Maldives as a pet. The species is categorized as vulnerable in the wild, threatened by loss of habitat and as they are used for food, such as turtle soup. They are however farmed in large numbers for food.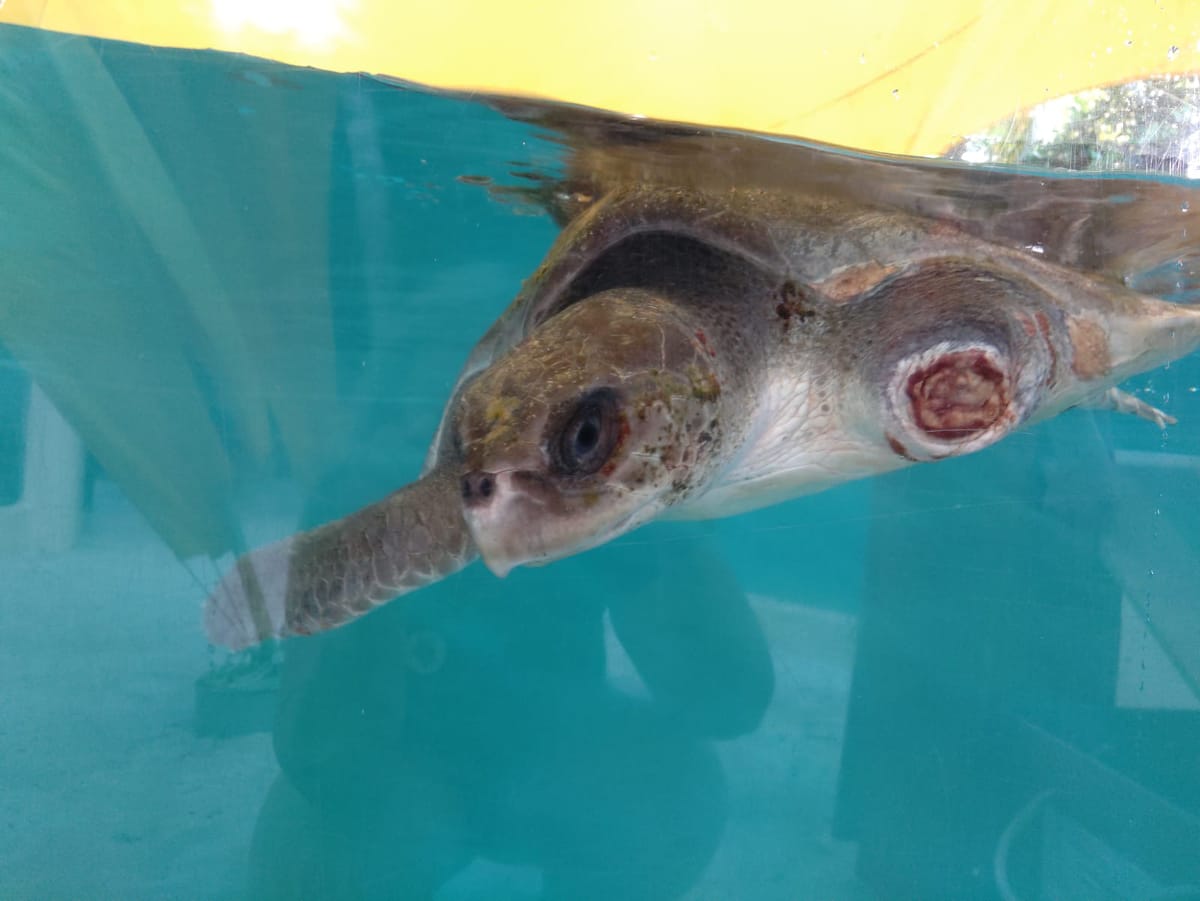 Hubert was suffering from a fungal infection on his skin, so he typically has 12 hours in water, 12 hours out of water with an anti-fungal skin cream applied. After the cream applied, he was popped back into his temporary home. There is no way to release Hubert in the Maldives, as there is no suitable habitat for him, and rehoming him is extremely unlikely as he was an illegal import into the country so has no paperwork required to ship him to a new location. ORP are trying to fund raise in order to buy him a suitable aquarium, pump and filtration system so that he has a forever home, albeit quite a few miles of where he started out!
A bit of excitement in the afternoon, when a guest ran to the clinic cradling a slightly cracked white egg gently in his hands which he found in the shallows while swimming. Convinced it was a sea turtle egg, he brought it straight to the clinic for Minnie to check. He was extremely concerned that it already had a slight crack in it and wondered if the vet could do anything. On looking at it, Minnie knew immediately it was not a sea turtle egg. Turtle eggs are round with a soft shell, and this was ovoid with a hard shell, some type of bird egg. Minnie was fairly certain it was a chicken egg. She tentatively cracked it open at the back of the clinic, just to be sure. Expecting yolk and white to come running out, she was pretty surprised to find it was a hard boiled egg. Much hilarity ensued, and the guest who had found the egg and so carefully and quickly rushed it to the clinic also saw the funny side of it.
As well as helping out at the rescue centre, one of the other things we had wanted to do during my time on the island was to teach Minnie the vet to freedive. The ability to safely freedive when releasing or rehabilitating sea turtles would be incredibly helpful. So, after work was done for the day, Minnie and I headed for the beach. Very different from our usual teaching location of Vobster in the UK, I found myself giving a breathing class under a palm tree with the azure waters lapping around my toes.
Lesson done and we walked into the water to don our fins to start confined water training. We started with finning technique and body positioning which Minnie cracked pretty much straight away. Then we talked rescue, and we did some practice rescue skills, which again Minnie nailed. By this time it was getting towards dinner time, so we did a little more finning practice as the sun went down over the island and called it a day.
Day 3: Click HERE!

Missed Day 1? Read it  HERE

If you would like to donate to the Olive Ridley Project, you can do so HERE
Want to learn to freedive with the best? Learn to freedive with Go Freediving!
Go Freediving is the longest established, most experienced and friendliest freediving course provider in the UK, led by world class freediving instructor trainer Emma Farrell, and her team of personally trained instructors. No other course provider has such a good instructor to student ratio, safety record and personal touch.
Whether you're a beginner dipping your toes into the world of freediving, a seasoned pro looking to turn professional, or simply a freediver of any level who wants the best freediving holiday in the world, we're here for you!
Also check out our online guide, The Beginners Guide to Freediving by clicking here!
Keep in touch with everything Freediving
Subscribe to our mailing list for weekly newsletters with exclusive articles, news, films, offers and more!