As Pash settled  into a routine of cleaning tanks, taking turtles for sea swims for rehabilitation she explains why some black tip reef sharks were taking a keen interest in the group on a rehabilitation sea swim for the turtles!
Day 3
Now into a routine, I opened the centre up in the morning with the young Maldivian intern Zein. We cleaned another tank (and had a karaoke session at the same time – the acoustics in the tanks are great!), fed the turtles and showed guests around. After lunch it was decided to take one of the long-time residents, Azura – an adult female – for a sea swim. Sea swims are really important for sea turtle rehabilitation, it helps them to practice swimming for longer distances than is possible in the tank, and for the ones with amputations they need to relearn how to swim and dive. In the tank Azura refuses to dive. This is part physiological, part behavioural. We'll come to that.
Azura has been at the centre since April 2019. She had an amputation of her left fore flipper as it was damaged in ghost nets and was unfortunately not salvageable. She had a couple of other surgeries, and after about six months at the centre she looked to be nearly ready for release. She was transferred to a partner centre for where sea swimming was performed fairly regularly.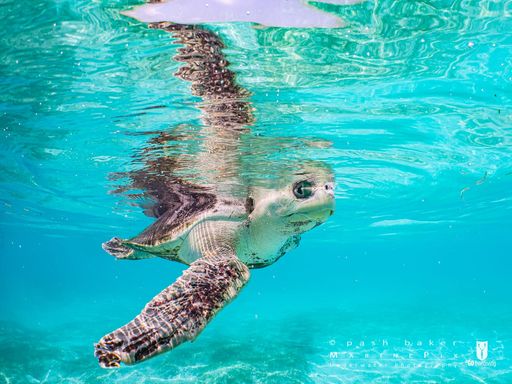 Everything was looking good, but in July 2020 she was moved back to Coco Palm for logistical reasons. In November 2020 she was diagnosed with elbow osteomyelitis a joint infection in the elbow of her remaining flipper. The diagnosis came after repeated poor performance on sea swims, when in October she was diving to seven metres for around three minutes. The infection caused inflammation of the joint and swelling in her remaining flipper. She had a six week course of antibiotics followed by an eight week course of anti-fungal medicine, which settled this down.
Now to her current problems. She is floaty. Very floaty. Sometimes when sea turtles are floating for a long while, the air in their lungs can become redistributed to the top of their lungs making it harder for them to dive, as it affects their buoyancy. Azura certainly can dive, although she needs a fairly long run up to make a shallow angled descent. The tanks are not big enough to facilitate this "run-up", and she doesn't make any attempt to get under water when she is in her tank, even for food.
She had been taken on sea swims previously with differing levels of success. She hadn't been for a few weeks due to how busy the centre had been, but with a new intern, me as a volunteer and a couple of other vets on site, we had sufficient to both man the centre and take Azura for a long overdue sea swim. To get to the beach, we used the trusty wheelbarrow to transport Azura down to the water's edge. Once in the water we paddled her out a little way and then hung back letting her get her bearings and get used to being in the ocean again. For about the first 20 minutes she sat floating with her back flippers clasped together, much like a child folding their arms when they don't want to do as they are told!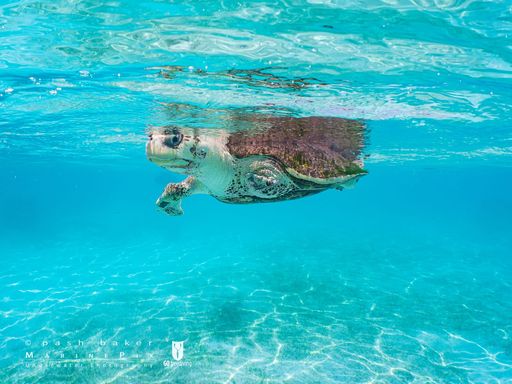 This went on for some time and while we kept a watchful eye on her, Minnie headed to the kitchen to get some fish to try and tempt her to move. This seemed to work! She eventually unclasped her rear flippers and began to take some deeper breaths. We all held our breaths (literally and figuratively) to see whether she would attempt to dive, and after a few more breaths, she didn't disappoint. The last few sea swims with her had been disappointing, so it was really encouraging to see her diving.
After a few three metre or so dives, she dived to eight metres. I went down to photograph her and she seemed comfortable with my presence and let me take a few shots before I surfaced.
In total, on that dive she stayed under for around five minutes. We decided this was a good place to end and we turned back for shore. The current had pushed us some way out, and we had a mammoth swim back, trying to push a sea turtle. One of the group had cleverly headed back in earlier to collect a kayak, and we put Azura on the front of the kayak so we could swim in un-hindered by turtle!
On our long swim back in we were noticing some pretty close passes by black tip reef sharks.
It then dawned on me that Minnie had given Zein the young intern the remaining fish to hold. I told her to get rid of it, which she quickly did and funnily enough we didn't see the sharks again. It took around fifteen minutes to swim back to shore, there was just time to do an afternoon feed, quick clean up and then back to the room for a rest!
Day 4: Read it HERE

Missed Day 2? Read it  HERE

If you would like to donate to the Olive Ridley Project, you can do so HERE
Want to learn to freedive with the best? Learn to freedive with Go Freediving!
Go Freediving is the longest established, most experienced and friendliest freediving course provider in the UK, led by world class freediving instructor trainer Emma Farrell, and her team of personally trained instructors. No other course provider has such a good instructor to student ratio, safety record and personal touch.
Whether you're a beginner dipping your toes into the world of freediving, a seasoned pro looking to turn professional, or simply a freediver of any level who wants the best freediving holiday in the world, we're here for you!
Also check out our online guide, The Beginners Guide to Freediving by clicking here!
Keep in touch with everything Freediving
Subscribe to our mailing list for weekly newsletters with exclusive articles, news, films, offers and more!