Day 7 and today Pash convinces Honu to eat crayfish, tells us about the sanctuary favourite among guests – Disco,  and how the resort marked the world wide event Earth Hour.
Saturday saw medication for Amber, Sunan and Maadhu. Some wound care was also performed, checking stitches, scar tissue and so on. New arrival Honu still hadn't shown much interest in food, but today the kitchen had some left-over crayfish, so I decided to give it a go and see if she would eat. Miraculously, she finally started eating consistently. This is pretty normal when new turtles arrive, it can take several days to calm down and settle enough to eat. After polishing off the lobster, we tried some fish and again, she showed a fairly keen interest.
We had noticed in the days since her arrival that she had developed "proud flesh" around her nostrils. This is an inflammation of the skin, and we were concerned that it may affect her ability to breathe. This is most likely due to her repeatedly swimming into the glass and the side of her tank for the first few days after her arrival.
Turtles are obviously not used to being confined, and can struggle with understanding their tank boundaries when they are first introduced into the tanks. It was decided to keep a close eye on the inflammation to check whether medical intervention in the coming days was required.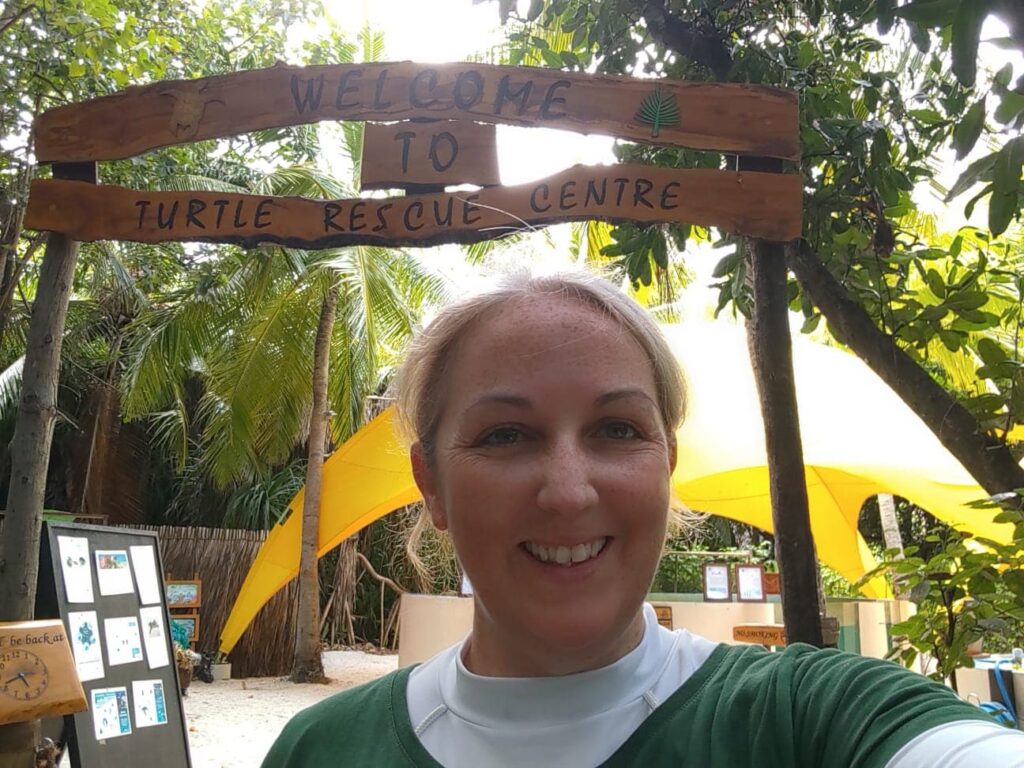 One of the other key roles which is included in my role as a volunteer is to show guests of the resort around, talk to them about the turtles and explain why they are there and crucially what individuals can do to help. Guests often have favourite turtle patient, and one of the most adored turtles is Disco (Discovery). Disco is a juvenile Olive Ridley, weighing just 6.85 kg on arrival at the centre.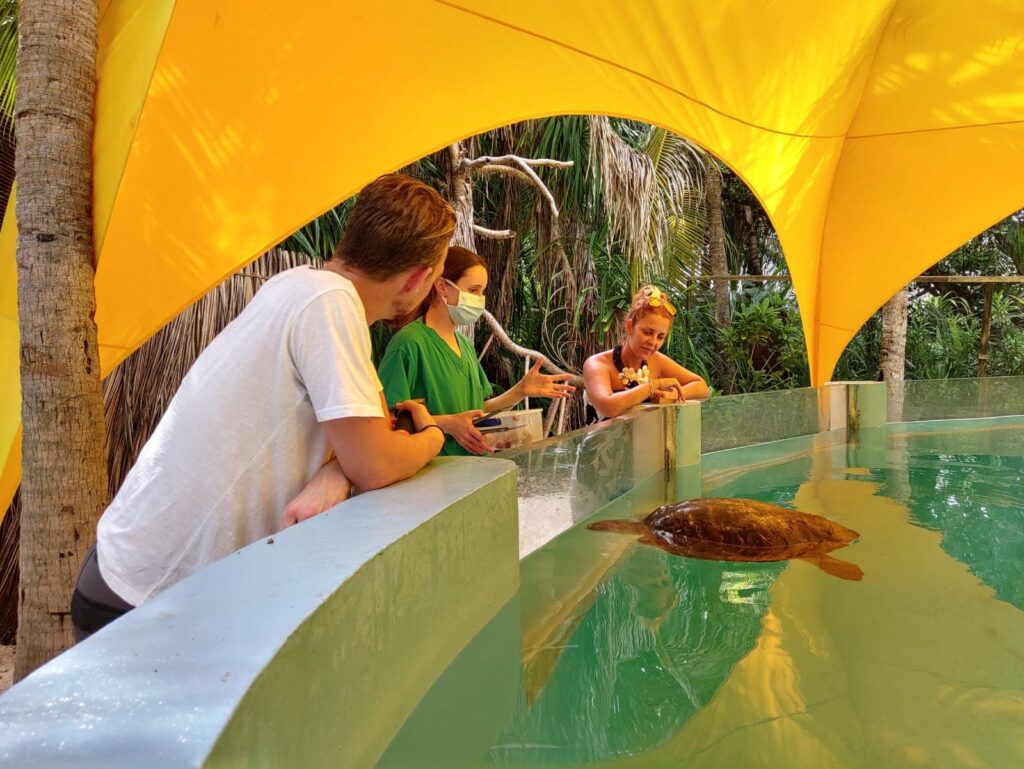 Disco was found entangled in a ghost net that had already amputated her right flipper. She arrived at the centre in February 2020 and was also buoyant on arrival. She has had procedures performed to remove some of the excess air trapped in her body cavity, but she still needs time for this to resolve. Although Disco cannot dive she swims fairly well with one remaining fore flipper, and she is very food-orientated, but a messy eater.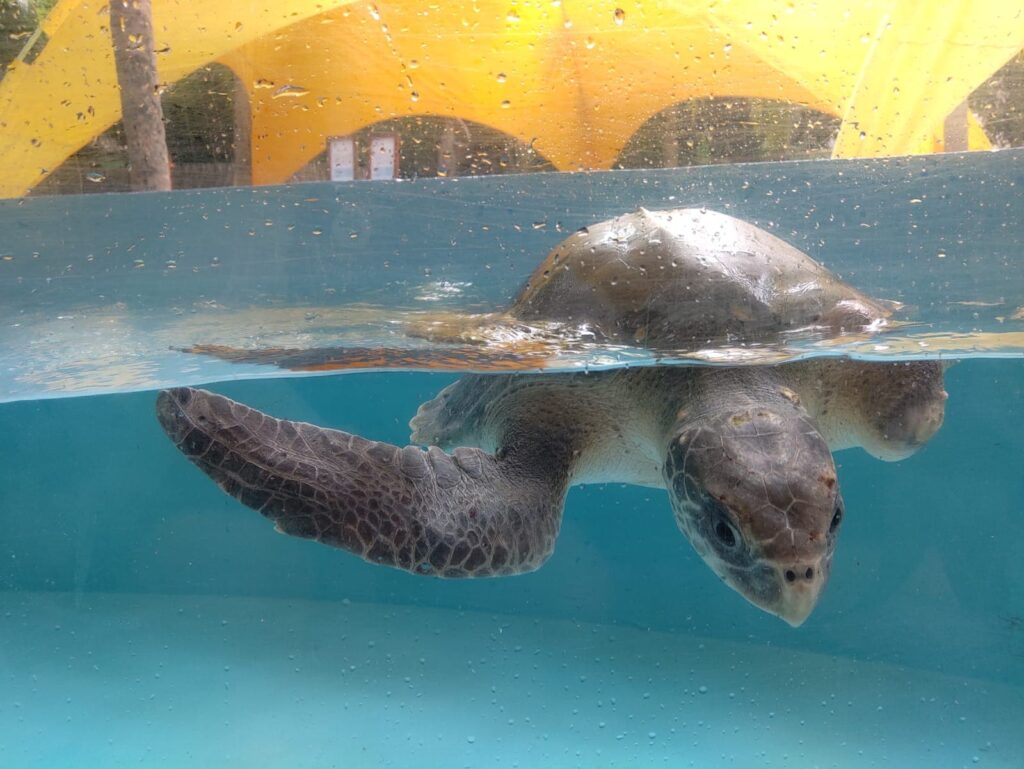 That night, the Coco Palm acknowledged Earth Hour. This is a worldwide movement organized by the World Wide Fund for Nature, which encourages people to turn off non-essential lights for an hour, annually on a given day towards the end of March.
In the resort, most of the lights were switched off and small tea lights were lit. The Earth Hour logo was recreated in the sand and lit using tealights, and guests and staff were asked to make pledges, something they could change about their lives to support the planet.
With most resort lights off we headed to the beach to look at the stars, but just our luck, the sky was completely overcast!! Done for the day we headed for bed and a well deserved sleep.
Day 8: Read Day 8 HERE

Missed Day 6? Read it  HERE

If you would like to donate to the Olive Ridley Project, you can do so HERE
Want to learn to freedive with the best? Learn to freedive with Go Freediving!
Go Freediving is the longest established, most experienced and friendliest freediving course provider in the UK, led by world class freediving instructor trainer Emma Farrell, and her team of personally trained instructors. No other course provider has such a good instructor to student ratio, safety record and personal touch.
Whether you're a beginner dipping your toes into the world of freediving, a seasoned pro looking to turn professional, or simply a freediver of any level who wants the best freediving holiday in the world, we're here for you!
Also check out our online guide, The Beginners Guide to Freediving by clicking here!
Keep in touch with everything Freediving
Subscribe to our mailing list for weekly newsletters with exclusive articles, news, films, offers and more!