Day 8 and a supermodel volunteers for a day, a bird visits the sanctuary for drink, a turtle loses part of it's shell and Pash searches for Harry…all in a day's work at the Olive Ridley Project!
The day started rather bizarrely with a non-turtle patient. One of the resort staff rushed in with a small parrot-like bird (not a native species!).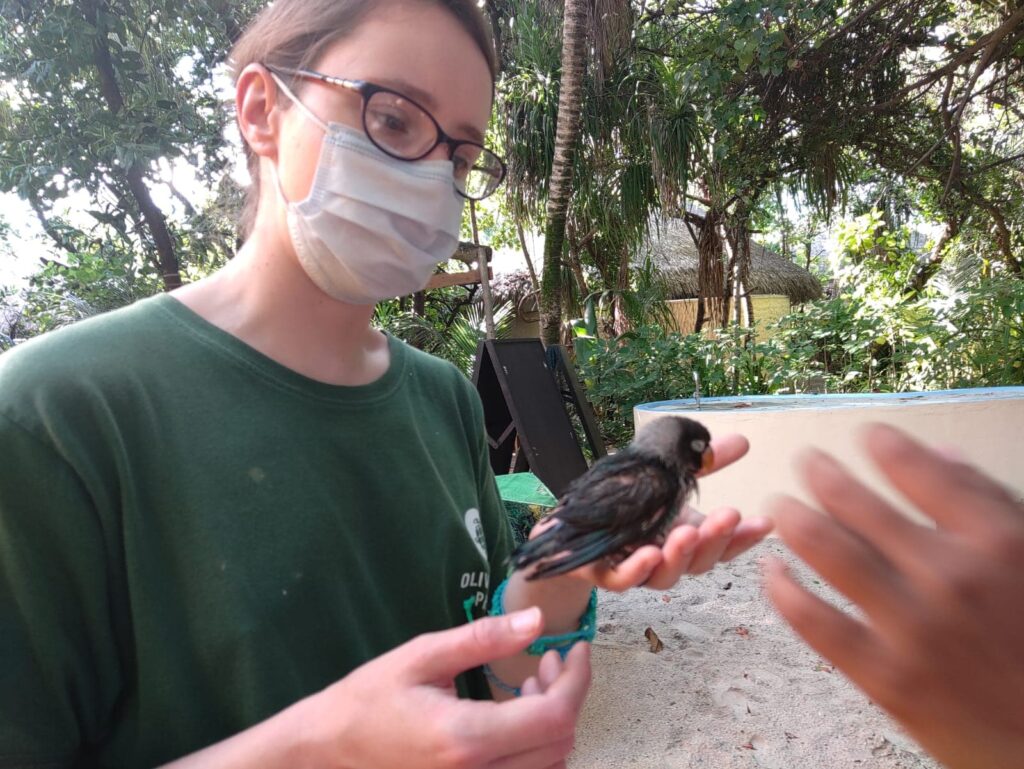 Many Maldivians keep birds as pets, as dogs are forbidden in the Maldives, and most resorts don't allow cats. The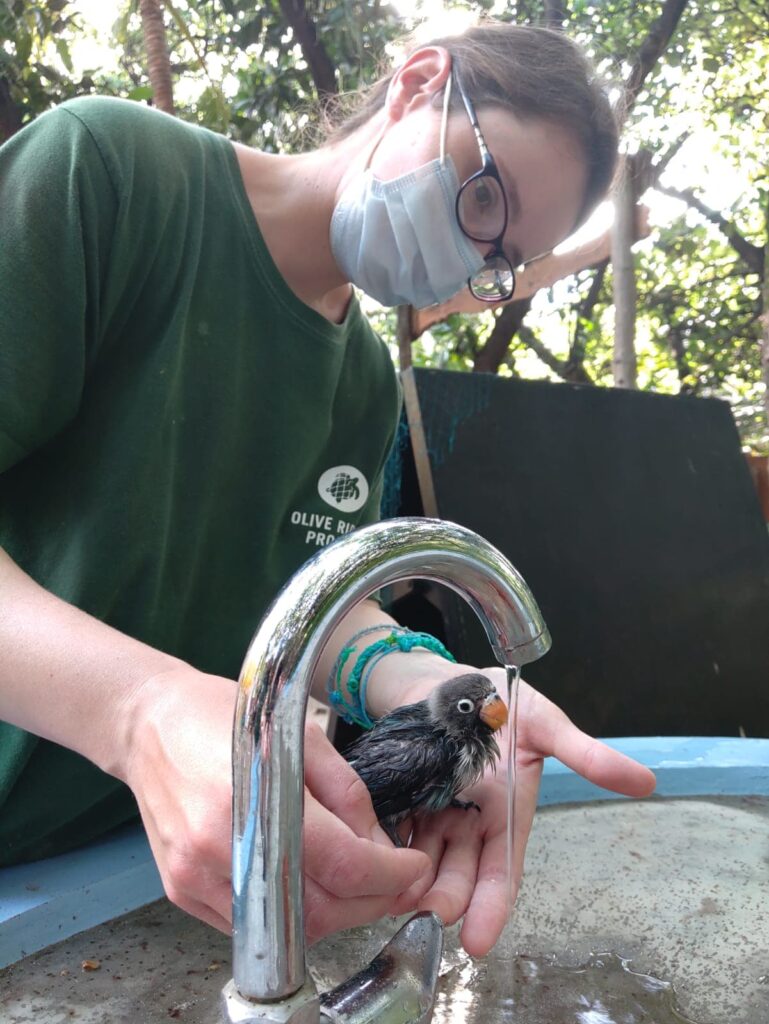 bird had been found in the sea – in the shallows and was in a bit of bedraggled state.
The first thing Minnie did was to try the bird with some fresh water as it was most likely dehydrated. It seemed pretty keen to drink from the tap, and after this Minnie took the bird into the clinic to dry it off and assess it. Several people claimed the bird, but one member of staff actually had photos of it, so we knew we had found the correct owner, and it went back home!
We had a special volunteer helping today. Supermodel Birgit Kos was visiting the island with her boyfriend Sven, and they were completely smitten with the turtles and in awe of the project .
Wanting to get involved, Birgit was not afraid to get busy, and started off with a turtle spa for Honu.
Whilst Dr Minnie and lead vet Dr Claire Petros attended to wound care, Birgit was tasked with scrubbing Honu's shell to remove algae. Dr. Minnie injected some anti-inflammatory medicine into Honu's nose where the flesh was inflamed to try and settle it down a bit. Then Honu was back in her tank and it was time for wound care for Seaheart, Sunan and Maadhu.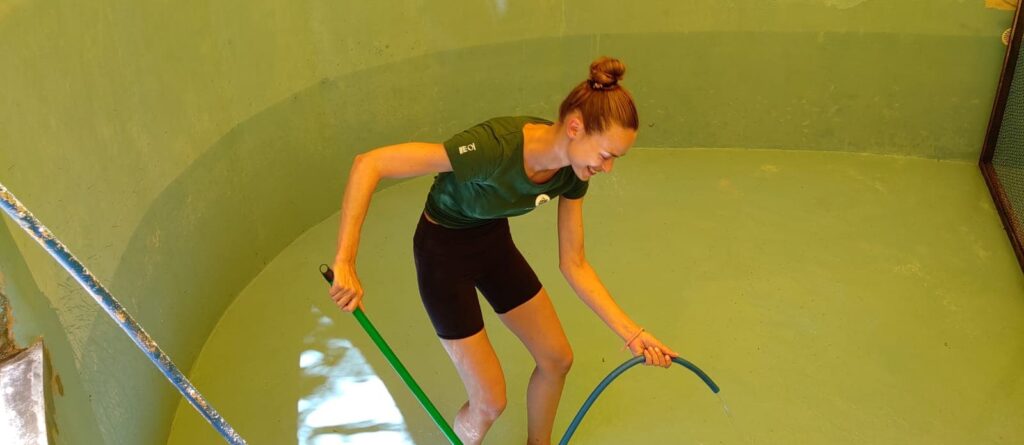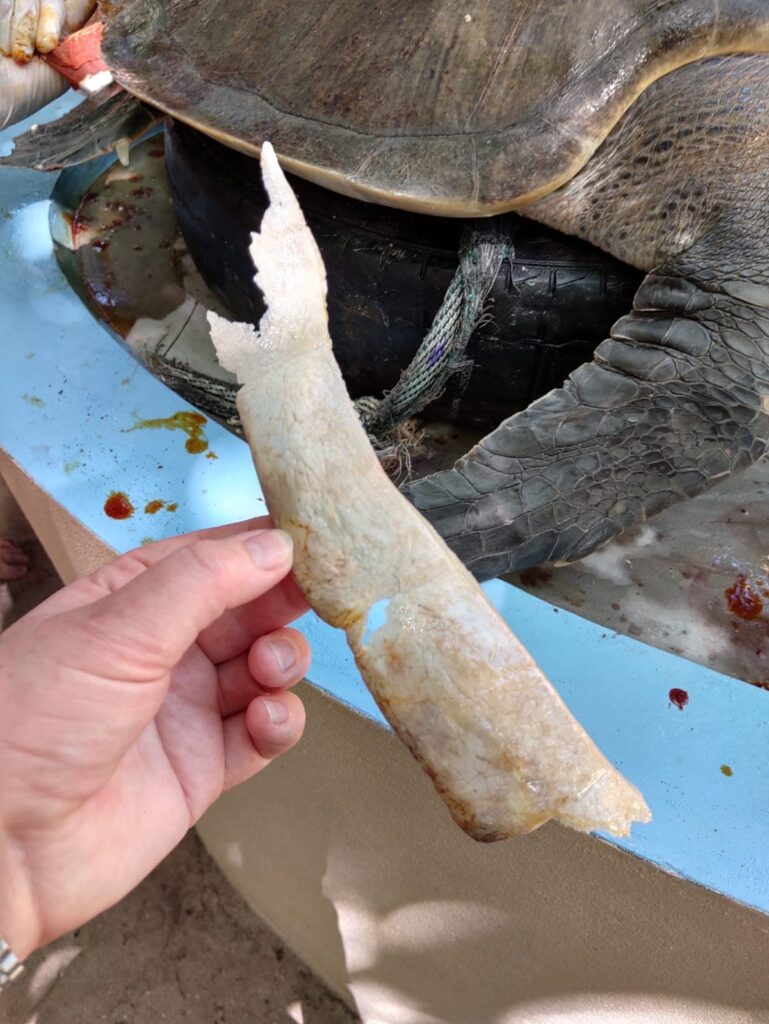 Sunan was found again entangled in ghost net (in fact another patient, Maadhu was also found in the same net) in North Male Atoll. Sunan had been at the centre for just under a month, and sustained such serious injuries to his front left flipper that it needed to be surgically removed. He also had significant damage to the skin around his back legs, and the back edge of his shell.
We call him a "he", although we actually do not know his sex, he is a sub-adult and it is difficult to tell the sex of a sea turtle until they reach maturity. Sunan is responding well to medication, and it is hoped that he will be able to be released in a few months. While attending to his wounds, it was noticed that his shell which was damaged by entanglement in the net, was beginning to come away on the underneath side (the plastron).
Vets Claire and Minnie gently removed the pieces of shell, to expose healthy tissue underneath. The pieces of shell were swabbed to be cultured to check for signs of infection. It seems strange to remove pieces of shell, but it promotes the growth of healthy tissue, and it was essentially rotting, so was better removed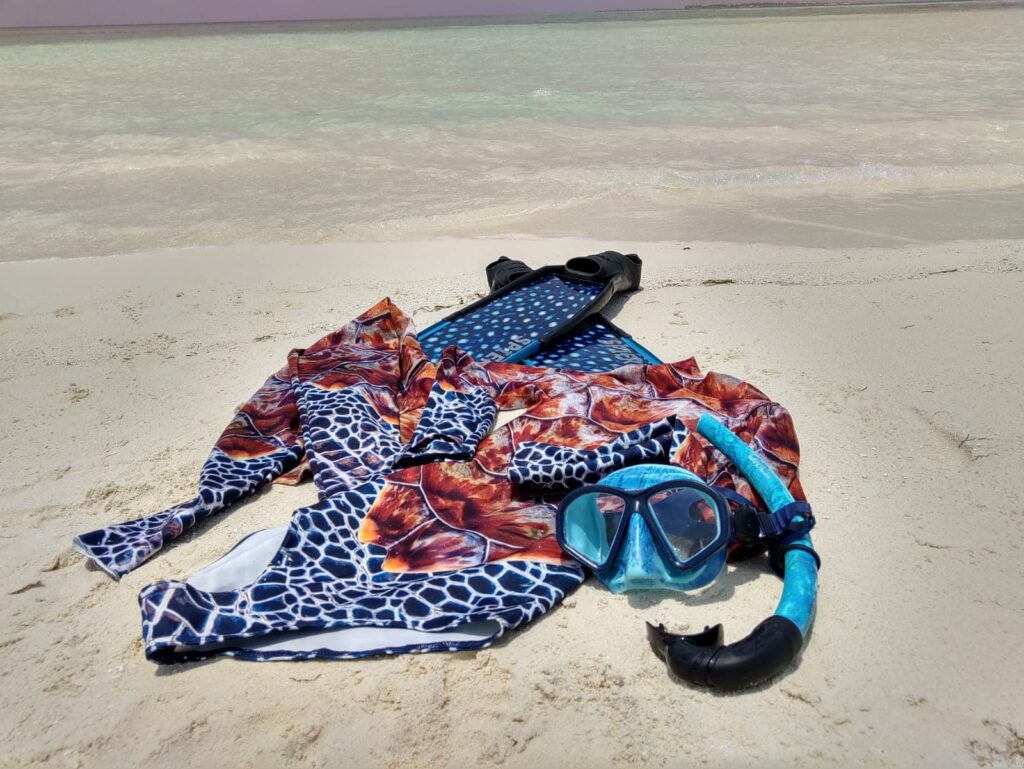 than left.
That afternoon Zein the intern and I went on a turtle seeking expedition at a nearby island. This is the reef where our rescued Hawksbill turtle Harry had been released a few days earlier.
I donned a head to toe turtle rash vest and legging combo in the desperate hope that it might convince turtles to come and take a close look.
Sadly we didn't spot a turtle, but it was a good opportunity to spot other reef inhabitants and take some photos.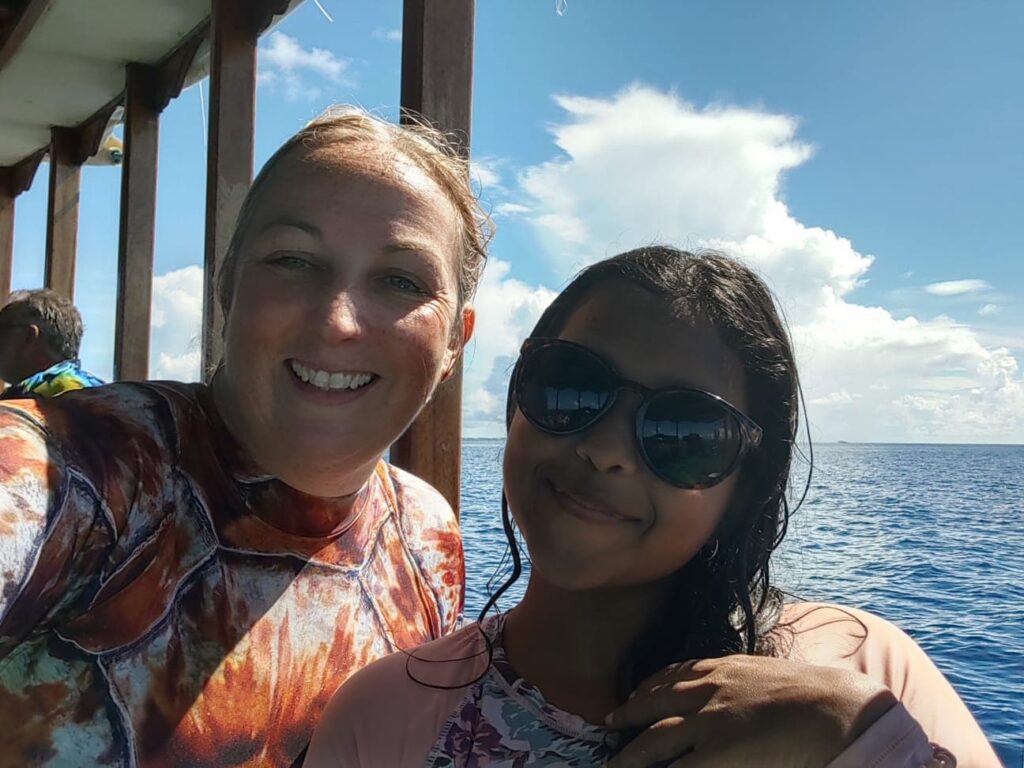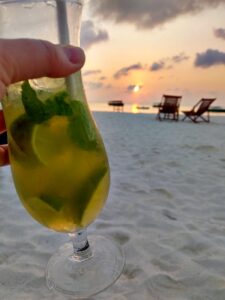 Back at Coco Palm it was time for Minnie's next freedive session. We warmed up with some Free Immersion (pulling down a line – a good warm up to make sure ears and sinuses are equalizing ok) before moving on to more duck dive practice.
Dr. Claire also joined us, and although already a competent freediver I was able to give her some tips to improve her technique. We freedived until the sun set, and with fading light decided it was time for a quick shower and dinner.
Day 9: Read Day 9 HERE

Missed Day 8? Read it  HERE

If you would like to donate to the Olive Ridley Project, you can do so HERE
Want to learn to freedive with the best? Learn to freedive with Go Freediving!
Go Freediving is the longest established, most experienced and friendliest freediving course provider in the UK, led by world class freediving instructor trainer Emma Farrell, and her team of personally trained instructors. No other course provider has such a good instructor to student ratio, safety record and personal touch.
Whether you're a beginner dipping your toes into the world of freediving, a seasoned pro looking to turn professional, or simply a freediver of any level who wants the best freediving holiday in the world, we're here for you!
Also check out our online guide, The Beginners Guide to Freediving by clicking here!
Keep in touch with everything Freediving
Subscribe to our mailing list for weekly newsletters with exclusive articles, news, films, offers and more!