Rescuing an endangered Hawksbill Turtle
In December 2020, Go Freediving Instructors Emma Farrell and Pash Baker had an incredible opportunity to save a male Hawksbill Turtle.
Find out from Pash how they discovered 'Harry the Hawksbill' and initiated the mammoth task of his rescue, but first, what is a Hawksbill Turtle and why are they endangered?
What is a Hawksbill Turtle?
According to Wikipedia:
The hawksbill sea turtle (Eretmochelys imbricata) is a critically endangered sea turtle belonging to the family Cheloniidae. It is the only extant species in the genus Eretmochelys. The species has a worldwide distribution, with Atlantic and Indo-Pacific subspecies—E. i. imbricata and E. i. bissa, respectively.

The hawksbill's appearance is similar to that of other marine turtles. In general, it has a flattened body shape, a protective carapace, and flipper-like limbs, adapted for swimming in the open ocean. E. imbricata is easily distinguished from other sea turtles by its sharp, curving beak with prominent tomium, and the saw-like appearance of its shell margins. Hawksbill shells slightly change colors, depending on water temperature. While this turtle lives part of its life in the open ocean, it spends more time in shallow lagoons and coral reefs. The World Conservation Union, primarily as a result of human fishing practices, classifies the turtle as critically endangered. Hawksbill shells were the primary source of tortoiseshell material used for decorative purposes. The Convention on International Trade in Endangered Species outlaws the capture and trade of hawksbill sea turtles and products derived from them.
Some background about the trip as told by Pash
2020 was without question a challenging year for most. For the Go Freediving team, this was no exception. Our season usually begins with a Red Sea liveaboard trip around March and April, which for obvious reasons was unfortunately cancelled. The first few courses of the year went the same way with a nationwide lockdown. However, we eventually were able to restart courses, albeit slightly differently than the years before. Anyone who attended a course or club day at Vobster Quay would no doubt have met or at least seen our newest recruit to the Go Freediving team, Bob. (Bob for those of you who have not had the pleasure was a shiny silver inflatable rubber "man" for practicing rescue skills. He was the butt of a lot of jokes throughout courses and sadly ended the season with a fatal puncture, RIP Bob).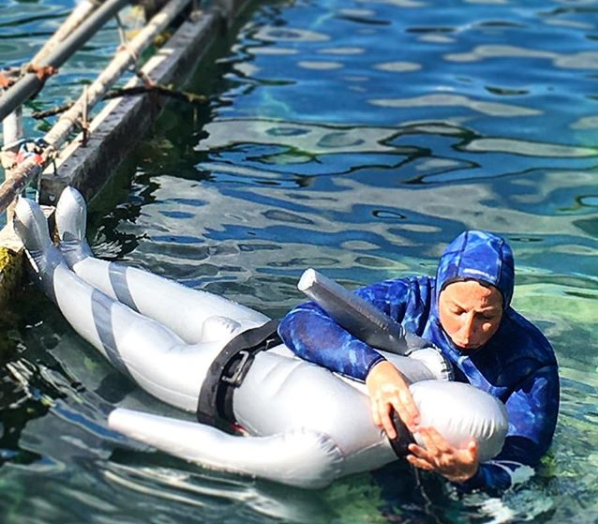 However, in spite of fairly major covid-inflicted restrictions and the delayed start to the season, we had a really fantastic year. We crammed in more courses than I thought possible, introduced freediving to lots of new students, and caught up with past students and friends. The season was due to end with our delayed Red Sea trip, which yes you guessed it, was also cancelled.
The year had been pretty fraught, working non-stop, and Emma and I were very keen to get away. When Egypt was a no go we decided to get away for a beach holiday, preferably somewhere we could freedive. Cyprus seemed like a good option, so it was booked! PCR tests done, packing done, and then 48 hours prior to flying… same old story, Cyprus went on a "no go" list and again we were faced with another cancelled trip.
Undeterred (and actually pretty desperate by now), we searched for somewhere we could actually go, that was open, and would be relatively low risk. Holidays were still going to the Maldives, so we decided to take one last punt and booked a 7 day trip just before Christmas. Neither of us really believed it would happen, and I asked my boyfriend Rob on an almost daily basis what were the chances of us actually going. I think we started on about 50%, and the morning of the trip as he drove us to the airport we still only got to 98%!
Arriving at the Maldives
To our delight, the trip went ahead. We headed to Ellaidhoo in Ari Atoll.
Once we arrived on the island, we crammed in some lunch, half unpacked (just the important stuff, dive gear), and headed into the azure waters just outside our room.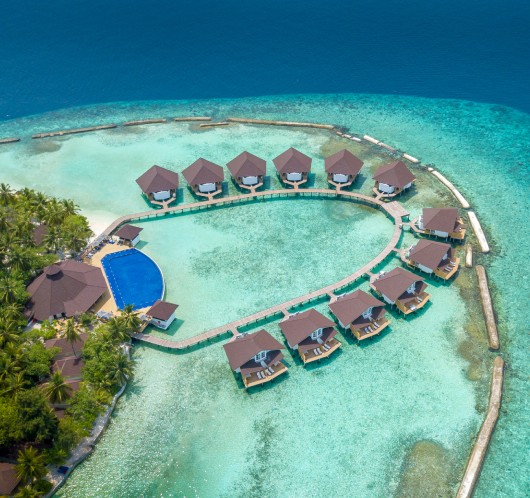 We swam out from the lagoon which surrounds the island, and the reef around us was teeming with life. Hundreds of red-tooth blue triggerfish (the Maldivian equivalent of the Red Sea anthias!), Picasso triggerfish, clown triggerfish, huge jacks, even huger giant trevally and sharks. A lot of sharks. I'm certain our shouts and whoops must have been heard from the shore. Everywhere we looked there was a shark. For two ocean-lovers this was just the perfect start to our trip! We even spotted a small turtle on our first day, just cruising the reef.
Finding Harry the Hawksbill Turtle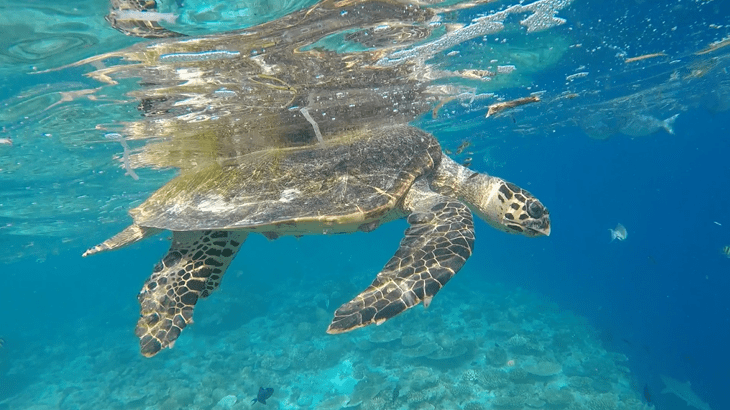 The rest of our holiday was eat, freedive, sunbathe, read, eat, freedive, eat, sleep. You get the general picture. We were seeing loads of marine life every time we set foot into the water, sharks ever-present, the odd turtle, just fabulous stuff. Towards the end of our time on the island we got into the water timing it for the current to take us along the island, where we would exit the water and walk back.
Some time into our session we spotted a huge slick of rubbish, a mixture of plastic and organic plant matter seemingly. We moved away from it, not wanting to be drifting in amongst all the rubbish when Emma spied a shark. She was following it and filming when I heard an almighty yell from her. She had found a lifeless turtle in the rubbish slick.
At first we thought it dead, but as we neared we could see it moving, but not in good state of health. We didn't even have to communicate what we would do, we were going to try to save this turtle. I approached slowly to get a proper look.
I could tell from the shape of him and the size of his tail that he was a male Hawksbill, a critically endangered species of turtle. As I neared he made no attempt to move away from me. Gently holding his carapace, I steered him out of the rubbish slick. Emma got the attention of a holiday maker on the beach and asked her to go to the dive centre and expect us there with a sick turtle. We drifted along the island in the current, me with the turtle, Emma with my big camera and video camera.
And so, to rescue Harry!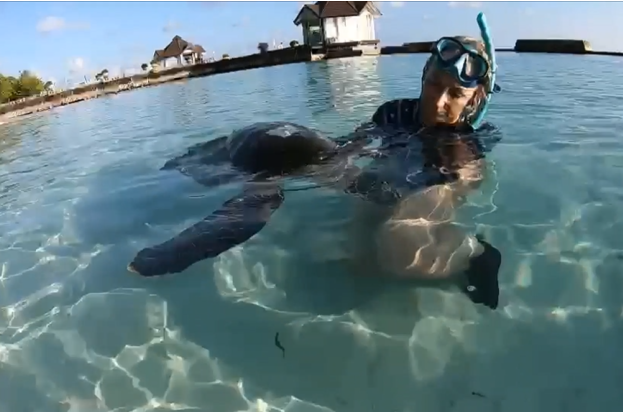 As we neared the entrance to the lagoon at the dive centre Emma went on ahead to get help. I stayed in the water with the turtle, who by now we had named Harry, to fend off tourists wanting selfies. There were a few people genuinely interested and wanting to help, and others who asked if their small kids could stroke the turtle. To which I obviously said no! This turtle was sick, but Hawksbills have a hugely powerful jaw, and I wasn't sure how he would act to being crowded.
The dive centre were wanting to help, but had no idea what to do. It was at this point that Emma took charge on land. She managed to find the number for a British vet working with sea turtles in the Maldives at the Olive Ridley Project.
Dr. Minnie explained what we needed to do, and after drafting some strong people from the beach, we got Harry out of the water, and swaddled in wet cloths and towels whilst a transport crate was custom-built for him. He was loaded into his crate later that day, ready to be shipped to Male on a speedboat in the morning for his onward seaplane journey to Baa Atoll where Dr. Minnie was waiting from him.
His journey was not however as straightforward as first planned. On arrival in Male it was found that his crate was too large for the seaplane so he was loaded onto a cargo ship. Which subsequently broke down. And then was delayed further by rough seas. Eventually though, after a 2 day journey confined to his crate, he safely made it to the island where Minnie was ready to treat him.
What was wrong with Harry? What does it take to rescue and care for an endangered Hawksbill?

If you would like to donate to the Olive Ridley Project, you can do so HERE
Want to learn to freedive with the best? Learn to freedive with Go Freediving!
Go Freediving is the longest established, most experienced and friendliest freediving course provider in the UK, led by world class freediving instructor trainer Emma Farrell, and her team of personally trained instructors. No other course provider has such a good instructor to student ratio, safety record and personal touch.
Whether you're a beginner dipping your toes into the world of freediving, a seasoned pro looking to turn professional, or simply a freediver of any level who wants the best freediving holiday in the world, we're here for you!
Also check out our online guide, The Beginners Guide to Freediving by clicking here!
Keep in touch with everything Freediving
Subscribe to our mailing list for weekly newsletters with exclusive articles, news, films, offers and more!