David is a BFA Depth Champion!!
Welcome to the not-so-secret freediving training diary of David Mellor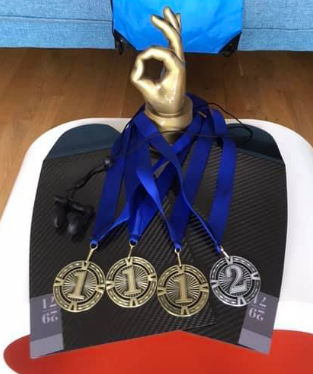 David is off again! This time to Kalamata, Greece. But before he went, he gave us the low down on his recent  victory at the BFA (British Freediving Association) National Depth Championship in Chepstow at the Double Dip.
David's strategy for the BFA Nationals
"…Leading up to the Double Dip competition I had done a couple of depth training sessions there on a Friday before helping to teach with Go Freediving at the weekends.
Although I wasn't able to do any depth dives while teaching, the couple of hours spent in the water with students was still helping towards my cold water tolerance. I knew the water would be cold in Chepstow so it was useful for me.
My training sessions there started really tough. I was struggling to get to 40mtrs but within the two final training sessions  I'd worked out some of my equalisation problems and was starting to get nearer 50 metres.
I wasn't sure what to announce for the competition but on my last training session, a day before the competition I managed to get to 42 metres CNF and 53 metres CWT so now I was feeling a lot more confident about my announcements.
I have been trying to stick to my rule of not announcing anything deeper than I'd done in training so I was very happy with my last session, I was feeling much better about my diving in cold water.
The competition was held over 3 days but with 4 depth disciplines so the Saturday was designated as the day to do 2 dives, hence the name double dip.
My strategy for the competition was to get my physically hardest dive out of the way whilst I was still fresh and then on the second day in the morning I would do the easiest discipline first FIM and then CWT bifins in the afternoon. My thinking was that FIM was arm use only and bifins was legs only so it made sense to do those dives on the same day. The last day I would do CWT mono which again was a different muscle group so I hoped I'd still be fresh.
CNF is the one discipline that I have a slight concern about, because I consider it the hardest, so by doing it first I would get it out the way and then I can relax more for the other dives…"
BFA National Depth Championships: Day One
"…The BFA Depth Competition day arrived and it was raining heavily. The air temperature had dropped from the previous weeks of hot weather so staying warm before the dive became a priority.
I was feeling good because I had done a very similar dive only the day before. My warm up dive was a 20 metre hang of around 2.15. I could feel the cold even at 20 metres but my 5mm suit was doing its job. The hang felt good and I was happy how it went.
I got out of the water to prepare for my second warm up dive (in the previous hot weather this would warm me up but as the weather had changed I could feel the chill and had to put a big coat on). My second warm up was a FIM dive to 30 metres – this was just to see how my mouthfill equalisation was working and also to check my freefall. That all went well so I was all set.
Official top came and the dive went pretty much how I planned it:
5 arm pulls to break buoyancy
2 softer ones to gain momentum for freefall
42 mtrs arrived pretty quick and I was on my way up
I surfaced nice and fresh and got my white card
I was happy with the dive but definitely could feel my arms getting tired towards the end. It was a dive that I had failed to do in the Philippines in a thin wetsuit and 29 degs water so to complete it this time in a 5mm suit and 9 degs water at depth was very pleasing…"
BFA National Depth Championships: Day Two
"…The second day came and I had announced 53 metres FIM and 52 metres CWT bifins.
I have done both dives before but not in such cold conditions. I used the same warm up routine as the previous day and official top came. Off I went and was soon into freefall, it felt great, equalisation was good, my freefall position was good, I was feeling relaxed and I thought it was in the bag.
Mistake!!!
I missed an equalisation and couldn't get it back, I had to turn at 49.7 which was downgraded to 49 metres and I received a yellow card. I lost a point for no tag and another 4 points ( one point per metre short) so the dive then was down graded to 44 metres.
I was slightly annoyed with myself because the dive felt great and I should have got a white card from it.
My inexperience showed on this dive, I should have grabbed the line to slow myself down and then got the equalisation I needed to finish the dive but I didn't. Instead, I kept dropping at a fast pace and was trying desperately to get one more which obviously by then was impossible.
Anyway lesson learnt and hopefully I'll remember for the next time I'm in that position.
We had a break for lunch and I just ate a small portion of oats as I know that works for me. Two hours later we were back in the water.
Again, the same warm up routine.
I like bifins so was confident about the dive. I'd announced 52 metres. Official top again, a quick duck dive, a few relaxed fin kicks and I was soon in freefall. It didn't feel good. I wasn't as relaxed as I should have been so I maintained my freefall for longer than I should have before I took my mouthfill.
In cold water I had been taking it at 14 metres but this time I took it at 18 metres, this made it more difficult and I didn't get a good charge, so I tried to recharge, this caused me to swallow and I lost a lot of what I had. I couldn't recharge again so I had to make do with what I had.
I knew it wasn't enough to get me to the bottom but I just thought I'll keep going until my mouthfill runs out. I felt the pressure in my ears build so I turned – it wasn't worth risking an injury.
I surfaced disappointed as it wasn't a very nice dive but was surprised to see the official watch read 49.6 metres. Another yellow card and with penalty points the dive was down graded to 45 metres…"
BFA National Depth Championships: Day Three
"…The final day came and because of my 2 yellow cards I changed my Announced Performance (AP) from 52metrs to 50 metres. I really didn't want another yellow card but still wanted a challenging dive so I settled on 50metres.
Once again the same two warm up dives. They felt good and so I was ready.
I didn't want to make the same mistake as my bifin dive so I decided I would do my duck dive and kick really gently to stay as relaxed as possible and take my mouthfill at 14 metres.
It worked, I entered freefall nice and relaxed and got a good charge, a small top up a few mtrs later and now all I had to do was relax, drop and equalise. I hit the plate nice and relaxed and got my tag, up I went and with a clean surface protocol I got my white card!
I was very happy with that dive!
For anyone who hasn't dived in changing thermos with 9 degs at depth I can tell you it makes equalisation very difficult so I have to say I was pleased with my overall performance and once again I had learnt some valuable lessons…"
BFA National Depth Championships: The Results
"…The competition was over and I was super happy to find out that I had won 3 of the 4 disciplines and was placed as the overall men's winner! It was even sweeter when I realised the competition was classed as the BFA National depth championship!!.."
Where Next?!
"…I fly to Kalamata for the next stage of my training and I will be interested to see how I get on in warmer waters!.."
What the BFA had to say about the event:
"…Alice Hickson & David Mellor are the 2019 BFA National Depth Champions!
In order to win the title of National Depth Champion, Alice and David had to complete dives across all four of the depth disciplines: Constant Weight (CWT), Constant Weight Bi-Fins (CWT-B), Constant Weight No Fins (CNF) and Free Immersion (FIM). Alice swam down to 48m CWT, 47m CWT-B, 42m CNF and 46m FIM and David to 50m CWT, 45m CWT-B, 42m CNF and 44m FIM. Alice, who now holds both the national depth and pool titles for 2019 and David, who was named the 2018 National Freedive Champion at the end of last year are proving what well rounded athletes they are…."
Missed David's last blog? Catch up with everything, here:
Learn to freedive with Go Freediving
Go Freediving is the longest established, most experienced and friendliest freediving course provider in the UK, led by world class freediving instructor trainer Emma Farrell, and her team of personally trained instructors. No other course provider has such a good instructor to student ratio, safety record and personal touch.
Whether you're a beginner dipping your toes into the world of freediving, a seasoned pro looking to turn professional, or simply a freediver of any level who wants the best freediving holiday in the world, we're here for you!
Also check out our online guide, The Beginners Guide to Freediving by clicking here!
Keep in touch with everything Freediving
Subscribe to our mailing list for weekly newsletters with exclusive articles, news, films, offers and more!
Competitions Countdown!
Results
2019
Mini Comp – Dahab – 52m BiFins
Dahab Championships – 2nd Place!
BFA Depth Championships – 1st Place!
2018
2nd Place: Double Dip: 48  with mts fim, 36mts cnf and 46mtrs cwt in Sept
3rd Place: Nationals: 124mtrs dyn, 100mtrs dnf and 5.19 static.
3rd Place: Bristol Blue (Team Event)  135mtrs dyn and 5.48 static
Vostok cup: 50mtrs cwt, 50mtrs fim and 41mtrs cnf in Oct
Redccup: 60mtrs fim and 57mtrs cwt
Personal Bests and Achievements
2019
134m DYNB
*New PB!! 9th Feb '19*
118m DNF
*New PB!! 17th Feb '19*
43m CNF
*New PB!! May '19*
2018
Male UK Freediving Champion 2018
135 DYN MONO
100 DNF
5.48 STA
60m FIM
57m CWT
41m CNF
Competitions
2019
UK Nationals –  Bristol – 9th – 10th March
Mini Comp -Dahab – 5th April
Dahab Championships – Dahab – 25th – 29th April
Philippines Diving Champs – Panglao – 18th – 19th May
Double Dip 2019 – Chepstow – 18th July 2019
World Championships – Nice – Sept
Infinity Depth Games – Cyprus – 13th – 20th Oct
More To Be Announced!
2018
UK Nationals – March 2018
Double Dip –  Chepstow – Sept 2018
Vostok Cup –  Kalamata – Oct 2018
RedCcup  – Egypt –  Oct 2018
Bristol Blue – Bristol – Oct 2018
Video Library
2018
January 2019
February 2019
March 2019
April 2019
Abbreviations and Meanings
DYN – Dynamic
DNF – Dynamic No Fins
DYNB – Dynamic Bi-Fins
CWT – Constant Weight
CNF – Constant Weight No Fins
FIM – Free Immersion
STA – Static
CWTB – Constant Weight Bi-Fins
FRC – Functional Residual Capacity
Qualifications
RAID Advanced Freediving Instructor